"Kids will explore different aspects of printmaking techniques— once the class is done, they might even be able to teach their parents," CJ Norwood explained about the Printmaking Intensive for kids 6-8, offered at ARTworks November 30 & December 2, 7 & 9, 14 & 16 from 4-5:30pm.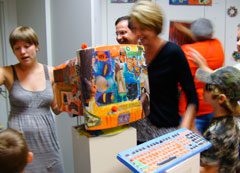 CJ is studying Arts Education at Armstrong Atlantic University in Savannah, while she works at ARTworks in Beaufort. She's often in the office of the Arts Council of Beaufort County within ARTworks, or in one of the many studios during the afterschool sessions there, and she was the director of ARTworks' ARTblast program this past summer. In July her own artwork, including an amazing ceramic armadillo, was juried into the "Earth Inspired 2009" show established to benefit the Coastal Conservation League, held at the USCB gallery on Carteret Street in Beaufort.
Back to Printmaking at ARTworks for kids— "This printmaking intensive will include some history of printmaking and process, and creating prints that can repeat in different colors and mediums," CJ said. "We'll discuss what artists use to create print the process of basic printmaking."
This six-session class is $45, and is part of the fall intensives series that included Radical Riveting with Peggy Carvell; Basketry, Tradition to Innovation with Kim Keats; and Sewing Basics with Pat Willcox. CJ's recent "Hooked on Recycling" class in the most recent afterschool program was an impressive load of fun, and included a decoupaged computer monitor and keyboard, transforming pollutionary electronic waste into surprising and colorful sculpture.
The next afterschool @ ARTworks starts week of January 11th; seats are limited, and scholarships and family discounts are available. From its office in ARTworks in Beaufort Town Center, the Arts Council of Beaufort County promotes and nurtures the arts 365 a year, and works as an independent, non-profit service organization that is not a function of, or funded by, the Beaufort County government. www.beaufortcountyarts.com, 843-379-2787.