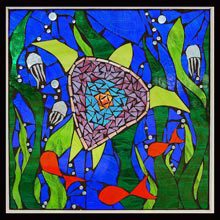 The Art Market at Historic Honey Horn, a juried fine art and craft outdoor festival, is set for April 28th and 29th on Hilton Head Island. The Coastal Discovery Museum is pleased to announce that artwork in media including: clay, wood, fibers, metals, glass, jewelry, watercolors, oil, mixed media and photography will be on display and for sale.
The event will host 90 artists from as far way as Washington and Ohio and well-known local artists will share the spotlight during this weekend-long event. Each artist will compete for prizes totaling up to $5,000. All artists will have original works for sale – there's something for everyone at The Art Market.
The show is open to the public on Saturday from 10 a.m. – 5 p.m. and on Sunday from 11 a.m. – 4 p.m. There is a $6.00 per car parking donation, while admission to the show is free. Demonstrations will be held throughout the weekend. Food and beverages will be available for purchase during the event.
If you'd like to stay longer, from 5:30 until 7:00 pm. on Saturday evening, April 28th, an artist's reception will honor the prize winners. Admission to the party is $20.00 and you will have a chance to mingle with artists and enjoy food and beverages from many of Hilton Head Island's best restaurants. Reservations for the party are required and may be made by calling 843-689-6767 ext 224.
The Art Market was first held at the Coastal Discovery Museum at Honey Horn in 2002. Since then, it has grown in reputation for having some of the finest artists in the region participating. While many artists return year after year, citing Honey Horn as one of their favorite spots on the 'art festival circuit,' first time artists are also presenting this year.
Honey Horn is a name that has existed for over two centuries, possessing a rich cultural and natural history legacy. It is described by many as the last significant parcel of undeveloped open space on Hilton Head Island. Consisting of 69 pristine acres at the juncture of the Cross Island Parkway and Highway 278, the property is filled with salt marshes, stands of live oaks, open fields, and a unique collection of some of the oldest structures that exist on Hilton Head Island. The Discovery House at the Coastal Discovery Museum opened in October 2007 and is open daily from 9 – 4:30 and Sunday 11-3. For more information, please visit the Museum's website at www.coastaldiscovery.org