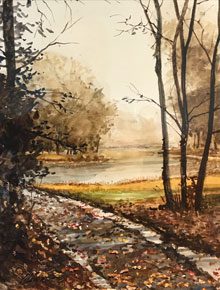 La Petite Gallerie is located in a lovely historic space on Calhoun Street in old town Bluffton. Featuring five of the area's favorite painters and two talented sculptors, this special collection of art is an ever-changing delight, with many pieces spilling out into the adjacent garden. The gallery's artists include Rose Cofield, Don Nagel, Kevin Palmer, Wally Palmer, Murray Sease, Lauren Terrett, and Bill Winn. 
In July, the gallery artists were happy to donate a portion of their sales to Bluffton Self Help, a wonderful local organization that helps those in the community in need of food, clothing, educational and financial assistance. They provide programs that promote self-worth, dignity, and create a pathway to personal success.In August, the artists joined together for another "giving back" project. Kathy Oda, their garden glass artist, organized them to paint on glass for an online and in-person auction with proceeds going to charity. The project raised $350 Bluffton Self Help.
In addition to the pastel, acrylic, oil and watercolor paintings you'll find blown and fused glass, whimsical and soulful clay pieces, wonderful copper "spinners," fish, turtles, birds and other fun garden art at La Petite Gallerie. When you visit, you're likely to catch one of the artists on duty sketching or painting on the shady garden deck!
La Petite Gallerie is located at 56 Calhoun Street in downtown Bluffton. For more information, visit www.lapetitegallerie.com
Above: "Autumn" by Bill Winn of La Petite Gallery