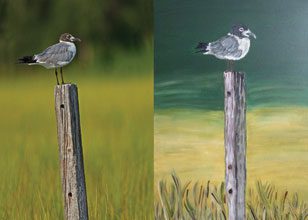 Two Lowcountry artists, Georgina Kimbell and Kendra Natter, join forces in a fun, lighthearted exhibit Every Artist has a Point of View at Art League Gallery June 1-25, with an Opening Reception on Wednesday, June 1st from 5-7pm. Natter's photographs and Kimbell's paintings will convey their love of the Lowcountry.
    Georgina Kimbell enjoys the challenge of every new painting. She is inspired by humor, her grandchildren and her passion to become a better artist. Kimbell implores anyone interested in creating art to "be brave, try everything until you begin to see yourself in your art."
    Kendra Natter has not been far from her camera since she began taking photographs in 2011. She was born hard of hearing and being able to use her eyes to capture beauty is something she never thought possible. Natter enjoys "the challenge of capturing photographs that get up close and personal with tiny objects," like her favorite subject, dragonflies.
    Both self-taught artists have a unique point of view. To add to the fun, Kimbell will be exhibiting her painted interpretation of several of Natter's photographs. Kimbell and Natter hope everyone that views their work will be inspired to create art through their own point of view.
    Art League of Hilton Head Gallery located mid-island inside Arts Center of Coastal Carolina, 14 Shelter Cove Lane, Hilton Head Island, 843.681.5060, www.artleaguehhi.org