Two Bluffton artists, Richard Coyne and Jim Simon, are displaying their work in the lobby of Coastal States Bank, next to the Bluffton Post Office on Highway 46. The exhibit will run through January 2010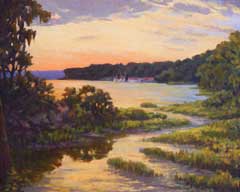 Richard Coyne is a "plein air" painter who specializes in Lowcountry scenes. He's showing oil paintings such as A Bluffton Sunrise and Sunset on the May, a high-quality giclée print. He paints exclusively outside and captures the sun's fleeting light on the May River and Lowcountry landscape.
Jim Simon's Recent Paintings show his unique artistic vision and refreshing colors. In bright pastel tones he renders seascapes with lavender water, as in South Port, North Carolina, acrylic, or the sun light crisply reflecting in foliage of changing seasons. He finds his motifs along the East coast from New England to Florida.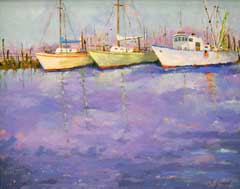 This very handsome show is worth a detour, a visual treat of quality and colors that pop! Both artists are members of the Art League of Hilton Head and the Society of Bluffton Artists. All artwork is for sale and viewing is free to the public. Coastal States Bank hours are 8:30 am to 5:00 pm, Monday through Friday.