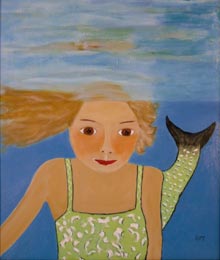 The Charles Street Gallery presents new work by Benton Lutz, April 20 through May 5, 2012. Meet the artist at the opening reception, 5:30-until on Friday, April 20th, with live music by the Side Street Walkers. Lutz is well-known in the Lowcountry for his thoughtful humor, visual storytelling and daring paintbrush.
In this show, Lutz revels in feminine beauty, how it's displayed on the big screen by Jessica Rabbit (from the movie Who Framed Roger Rabbit) and how women themselves reveal it in their fashion rituals. From his artist's statement—
"Two of my professional modalities in therapy with children are art and play therapy, which fits me perfectly because all I'm ever doing with paint is playing. In other words, I don't take myself very seriously when it comes to painting. But I do pay attention to what's around me and what is said to me. Paying that kind of attention is the highest price one will pay for anything.
"Painting is a way of losing touch with the need to be right or proper; it is my therapy. The world is too full of the need to be right, or to be proper, or to be critical of one's self or others. So play (in whatever form it takes) is essential and restorative.
"Whenever I notice that my studio is filling with paintings, I think to myself, "I better have a show and see if any of this can find a new home." The thing that I noticed, this time around, was that I had been painting many representations of women. There were images of women everywhere. Thus, I thought the Feminine Mystique would be a good theme for the show. I hope you like it, I had fun playing with paint."
The Charles Street Gallery is an established source for Lowcountry and international art, presented within a carefully renovated house surrounded by a lush garden in the middle of Beaufort's historic district. 843-521-9054, http://www.thecharlesstreetgallery.com, 914 Charles Street 29902.