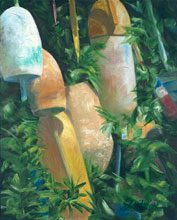 The SOBA Gallery is happy to introduce Joan Moreau McKeever as the Featured Artist in November with her show entitled "From Maui to Maine and Back to the Lowcountry." As you might expect the body of work is a range of scenes inspired by Joan's travels, painted with skill and attention to detail. You can almost smell the salt air viewing her coastal landscapes and the scent of Plumeria in a gorgeous floral scene. 
Joan is a native of Connecticut and has an art and music background, studying and performing violin, viola and voice. She was introduced to the world of art as a little girl encouraged by her "Uncle Teddy" – Ted Davies, a renowned woodcut artist – who sat her on a stool in his studio and put a piece of charcoal in her hand. Later she was mentored by Richard Montross, attended the Vancouver School of Art, then the University of Alaska, and later, the American Academy of Dramatic Arts in New York. Professionally she ran advertising companies in Alaska and Connecticut before joining The Wright Companies, as their award-winning Marketing and Creative Director. While raising her two boys she also became a very successful Realtor.
The longing for a return to the arts was prompted by Joan's visit a few years ago to the
Emily Carr University of Art and Design – once her alma mater, Vancouver School of Art. Additionally, weeks spent in Maui with her husband Tom sparked and reignited the "artist in her bones," beginning with sketches and ink drawings, which her artist/blacksmith son now carves into linoleum for prints. Since moving to South Carolina, she has been fascinated with the "Low Country" and its beauty, and has returned to painting full time, mostly in oil and acrylics. In her words, "there is abundant joy in creating and sharing, and by doing so, I hope to make a small difference in the lives of others along the way."
Please join us to meet Joan, enjoy her fabulous show and the work of over 100 other member artists, at an opening reception with refreshments, Sunday November 13 from 3-5 pm. The show runs November 7 – December 4.
The SOBA gallery is open from 10 until 5 pm Monday – Saturday and Sunday from 11:30 am – 3 pm, and is located at the corner of Church and Calhoun Streets in Bluffton.
For more information visit sobagallery.com or call 843-757-6586.