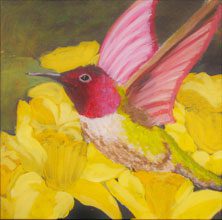 Local high school students exhibit artwork at SoBA gallery
Artwork from more than 50 Bluffton and May River high school students will be on display through February 1 at The Society of Bluffton Artists (SoBA) gallery in Old Town Bluffton. An opening reception is slated from 5-7 p.m. January 10 at the gallery. These events are free and open to the public.
"It's Hip to be Square" is an exhibit that challenged students and SoBA members to create art using a square format. Students from Bluffton High School's National Art Honor Society and Painting classes explored a variety of subjects working in acrylic on gallery wrap canvas. Photography 2 students used photo emulsion lift techniques to display Lowcountry images. May River High School Art 1 students experimented with montage and mixed media to create lively, textured surfaces on canvas.
The students' artwork will hang along with SoBA members' art during the January show. The student pieces are available for purchase for $75 per piece. Proceeds from the students' art will fund SoBA's Naomi McCracken Scholarship, which benefits students who plan to pursue an art-related degree.
"We are excited about this opportunity to feature so much young talent alongside established artist members," said Andrea Pejeau, an event organizer and Bluffton High School art teacher.
The success of last year's high school art exhibit — which featured three Bluffton High School students from the Advanced Placement art program — inspired this year's AP art students to use the 12×12 format as part of their 15-piece portfolio. 
"I'm looking forward to competing alongside other local art students for this year's SoBA Naomi McCracken Scholarship," said Jake Kuzia, a Bluffton High School AP art student who plans to major in graphic design at Winthrop University.
About The Society of Bluffton Artists:
SoBA is the flourishing art hub in Bluffton's historic District at the corner of Church and Calhoun streets. SoBA offers regular art classes, featured artist shows, exhibitions and more. Please visit www.sobagallery.com for a complete calendar of events and other information or call 843-757-6586.
Top Left: Cover image by high school student Diana Garcia
Bottom Right: Scarlett Ery, from left, and Kathryn Maloney are Painting 1 students from May River High School participating in the featured artist exhibit at The Society of Bluffton Artists gallery.