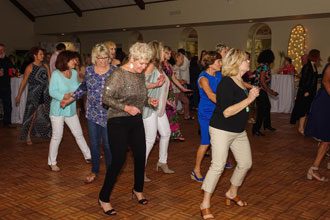 The Beaufort Beach Ball Fundraiser & Auction presented by Merrill, A Bank of America Company, will be held Saturday, Jan. 18 from 6 pm – 11 pm at Tabby Place in downtown Beaufort.  It's a Palm-Beach inspired beach party with a Lowcountry twist, the perfect opportunity to don your favorite sundress, swankiest shorts and fancy flip flops in January! 
 The Beaufort Beach Ball raises money for the Wardle Family YMCA Capital Campaign which annually funds specific capital projects at the Y.  This year's project is new flooring for the facility common areas, plus a renovation to the lobby, creating a more welcoming and modern atmosphere. Tickets to the Beaufort Beach Ball are $65 per person or $120 per couple and can be purchased at the YMCA in Port Royal (1801 Richmond Avenue) or online: beaufort-jasperymca.org. Tickets at the door on the night of the event are $75 per person. 
The night includes live music and dancing to the Charlotte-based band Men of Distinction, silent auction, raffle, delicious heavy hors d'oeuvres prepared by Chef Greg Lightner and students from the Battery Creek CATE program and lively libation at our cabana bar. The price of admission includes (2) drink tickets for cocktails, wine, or beer per guest and unlimited non-alcoholic beverages. Additional drink tickets will be for sale at the event.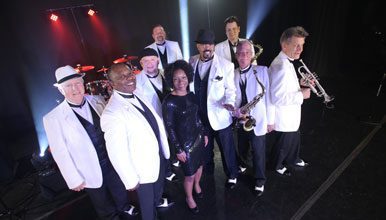 "This is the second year of the Beaufort Beach Ball theme for our capital fundraiser and we are so excited to bring Men of Distinction to the Lowcountry, says Dolores Fuller, Beaufort Beach Ball volunteer committee chair. "We're also thrilled to have the CATE program and Chef Lightner back as our caterer as well as Salt Marsh Brewing providing their popular and delicious craft beers. We are grateful to our supportive presenting sponsor Merrill, A Bank of America Company, and bar sponsor Carolina Air, Inc. who are back again this year and welcome Schiller & Hamilton Law Firm as our food sponsor."
Upon arrival at the Beaufort Beach Ball guests can grab a drink, purchase Entertainment Package raffle tickets, peruse our silent auctionand socialize with other Y supporters. The Cammy Award winning super band Men of Distinction will play from 6:30 to 11 pm starting the night out smooth and stylish with sophisticated arrangements of big band and jazz and ending it with an all-out rocking dance party by night's end!
The Entertainment Package Raffle includes a 50" ONN 4K Ultra HD LED TV, SONOS Playbar plus installation (a $1250 value); raffle tickets are $5 each and 3 for $10. The raffle will be drawn at the Beaufort Beach Ball but you do NOT need to be present to win. Raffle ticket are on sale now at the Y in Port Royal and can be purchased at the event on Jan. 18. 
 This year's silent auction includes accommodations at several resorts such as Montage Palmetto Bluff, Sonesta Hilton Head Island, Walt Disney World Park Hopper tickets, original works of art, jewelry, private golf lessons, restaurant gift certificates, rounds of golf, pest control services & mosquito treatment, guided fishing trip, airline tickets, unique Lowcountry experiences, and much more!  The silent auction will be live and open for bids starting on Friday Jan. 10 at 9 pm and can be previewed prior to the 10th by visiting the auction page :  charityauctionstoday.com/auctions/beaufort-beach-ball-fundraiser-auction-2020-10035or via the YMCA website:beaufort-jasperymca.org. The auction ends at 9:30 pm on Jan. 18.
"We are blessed to be a busy YMCA with over 5,000 active members", said Kaylin Garst, YMCA  Branch Executive Director. "The demand on our programs and facility continues to grow, and we are committed to improving our facility for the benefit of members and the community. All funds we raise at the Beaufort Beach Ball will assist us in these improvements, including the 'refresh' of our lobby and facility in Port Royal."
The YMCA would like to acknowledge all the sponsors of this event and they can be viewed on the YMCA website and the silent auction web page as well as at the Beaufort Beach Ball. Special thanks to in-kind sponsors: Adams Outdoor Advertising, Amazing Event Rentals, Battery Creek CATE Program, Beaufort Alarm & Sound, Captured Moments Photography, Lowcountry Weekly/The Island News, Lowcountry Radio Group, New South Shirts, Palmetto Vending, Tabby Place/The Beaufort Inn, and  Triple "B" Restaurant Group/Salt Marsh Brewing.
About the YMCA:The Wardle Family YMCA was charted in 1990 and opened its doors in June 1996.  The YMCA is a locally autonomous non-profit organization made up of voluntary membership that is open to individuals of all ages, race, religion, incomes and abilities. The mission of the Beaufort-Jasper YMCA of the Lowcountry is to put Christian principles into practice through programs that build healthy spirit, mind and body for all.  The Beaufort-Jasper YMCA of the Lowcountry currently serves approximately 10,000 individuals annually through the programs and services provided in Beaufort and Jasper counties.  beaufort-jasperymca.org