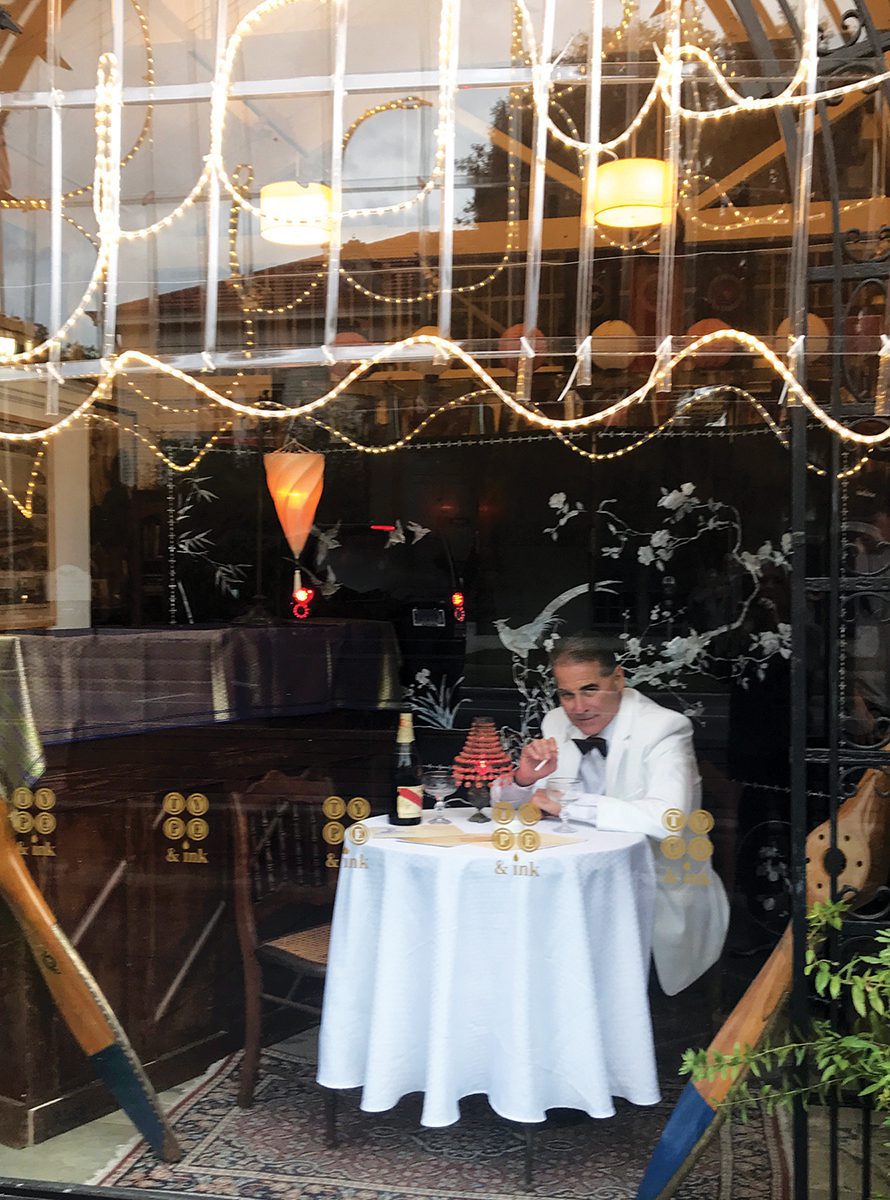 Wherein the Author Gets a Window Into the Movie Business. Literally.
By Mark Shaffer, Editor at Large
This is it. I finally made it into the movie business. It's almost like I imagined it would be as a kid. I'm dressed to kill in a white dinner jacket and black bowtie, hair combed back like a mid 20th century matinee idol, cigarette in my right hand (unlit), my left hand caresses a tumbler of bourbon. I am positioned – no, posed – at a café table shrouded in linen and littered with vintage World War II identification papers in both French and German.  At my back is an old fashioned upright piano. All of this and me are on display in the massive center window of Beaufort's NeverMore Books. And if you haven't figured it out, I am a very poor stand-in for Humphrey Bogart's iconic Rick Blaine character in Casablanca, the cynical, world-weary American ex-pat owner of Rick's Café American and some of the best lines ever uttered on film. 
"Of all the gin joints in all the towns in all the world, she walks into mine." 
"I remember every detail. The Germans wore grey. You wore blue."
And, "Here's looking at you, kid."
But this isn't Casablanca, and I don't have any lines. Nope. I am literally window dressing as part of a scene in Stars Fell on Alabama, the first feature to shoot in Beaufort in 20 years. So, it's kind of a big deal, and, as the title suggests, it's not actually set in the Lowcountry.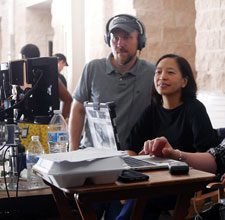 The film comes by way of L.A. based husband and wife filmmaking duo, VW Scheich and Uyen Le (right). They're familiar faces in town as Beaufort International Film Festival regulars and spent two years in Beaufort trying to get another film off the ground. That didn't happen, but the time was not wasted.  "It had a huge impact," says Uyen, "because the friends we made over that time really came through in helping to make Stars Fell."Enter Ron and Rebecca Tucker. They created the Beaufort Film Society (BIFF parent organization) as a way to bring the movies back to Beaufort. After more than a decade of near misses and false starts, the pieces began to fall in place after Ron got a call from LA last spring.
"VW & Uyen are three time winners at BIFF, so the association was already established," says Ron. "VW said he was going to direct a movie soon and he wanted to bring it to Beaufort." As for the Alabama setting, not to worry, says Ron. "We'd already done it once in Forrest Gump." 
Good point.
The Tuckers came aboard as producing partners via the BFS and began to lay the groundwork within the community to bring the film home.  
Meanwhile, back in the window…
Five days into a 17 day shoot and we've experienced all four seasons plus something I'll just refer to as a freakish intermittent monsoon. That's what's happening now as I sit in my window watching sheets of frigid rain blow sideways down Craven Street. 
The bookstore is packed to the rafters with equipment, cast, crew and extras all waiting for a break in the weather to dash outside and shoot a key scene in front of my window. Cinematographer Wey Wang monitors a Doppler app on his phone. VW stares into the street like a man who has not slept for a long time.  "Beaufort averages four rainy days in November," he says, "I think this is all of them."
Actually, I think to myself, if this keeps up next November's going to be gorgeous. 
"Welcome to the movie biz," quips my friend David Anderson. "It's a lot like the military: hurry up and wait." 

Dave would know, having intimate experience with both. When the business was booming in and around the Lowcountry back in the 1980's & '90's, he and a stellar list of locals made a good living crewing big budget Hollywood films. 
"Die Hard III paid for my house," he says. 
Dave's been retired from the film business for a while, applying his highly refined skill set to good use elsewhere and creating NeverMore Books with his wife Lorrie. 
It's no accident that when you step into the store it feels like passing through a portal to pure whimsy, which is why VW & Uyen recruited Dave as Art Direct on Stars Fell.
Apart from VW's meticulous storyboards and Wey's lighting and camera choices, the look of the film – the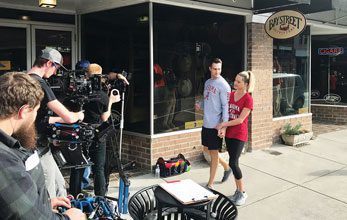 sets, props and the miscellaneous details lost in the back focus of the shot – that's Dave. I've watched him build props in his carport for weeks and the scene we're trying to finish is the culmination of one of his most demanding tasks for the project.
To paraphrase the official synopsis, the basic plot of the film has to do with Hollywood agent Bryce Dixon returning to Alabama for the first time in 15 years for his high school reunion. When he finds out he's the only member of his old gang still single, he convinces his client, starlet Madison Belle, to pretend to be his girlfriend.
When word gets out the star struck town folk hold a contest decorating storefronts in classic movie themes. To pull this off Dave and his assistant dressed out a number of downtown storefronts in homage to the likes of Psycho (that's Dave with the knife), Jaws, Singing in the Rain, Casablanca, and more. During the course of the scene the two main characters, played by James Maslow and Ciara Hanna, discover a mutual attraction which culminates in an intimate moment right in front of yours truly, the Bogie in the window. The only problem is that when they began shooting this scene about five days ago it was mostly sunny and about 80 degrees until right before the final shot. My shot. Then the skies opened up. Since then the weather's forced a more "fluid" schedule, no small feat considering the complicated logistics involved in moving around a small army of people and support vehicles in a town like Beaufort. But the scene is essential and the rest of the shooting schedule is locked into reserved locations. VW makes the call as they wrap up a scene across the river at Beaufort Academy. It's now or never, and "never" is not an option.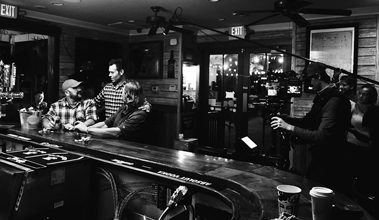 I get an urgent heads-up call from Dave.
"This is going to be crazy. You need to be ready as soon as they get set up."
I drop what I'm doing, hustle down to NeverMore and put on the Rick Blaine monkey suit and wait. And wait. And when that gets dull, I wait some more.  
"Like the military," says Dave as he walls me into his carefully curated still life in the giant central display window. Now I know what a prop feels like. It is a strange thing to be a piece of a set.  I'm to pose per VW's direction and freeze while the camera in the street pulls out of the window to capture the moment between James and Ciara. And since this is a culmination of a sequence that began on a warm day, they are back in shorts and T-shirts, bundled in arctic jackets between frantic takes during short breaks in the weather. The street's been blocked off to accommodate two camera and sound crews, a couple dozen extras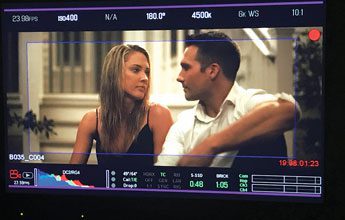 with carefully choreographed assignments, and a vehicle that rolls in to deliver another actor to the scene. Everyone and everything has to reset after each take and the weather is not cooperating. When VW calls for a take, production assistants remove the actors' parkas and they run in place to stay warm. This is repeated again and again over the course of a several hours and wave after wave of rain. No one complains. No one. 
Finally, somewhere behind me, from the inner depths of the stacks, VW speaks the words we've all been waiting to hear.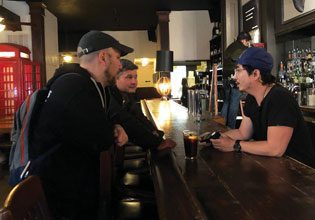 "Got it. Moving on."
The Assistant Director shouts it out on the street. "Moving on!" 
And just like that my small piece of film history is done. I relent to the temptation of the whiskey that's been sitting in front of me for the last three hours. Anyone who knows me can tell you this a record. 
As Dave begins to dismantle the window I ask him if all of this had inspired an interest to get back in the business. He answers before I finish the question.
"NO."
Moving on.
Above:
Mark Shaffer as "Bogie" at NeverMore Books
Filmmakers VW Scheich & Uyen Le
The Shed in Port Royal, set "dressed" by David Anderson
"Stars" stars James Maslow and Ciara Hanna on Bay Street
Scene shot in Old Town Dispensary in Bluffton 
Ciara Hanna and James Maslow on the monitor
Director VW Scheich, Screenwriter Robert Windom, and Cinematographer Wey Wang at the Old Bull Tavern