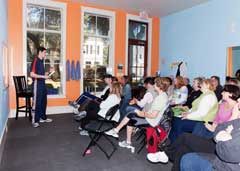 We are more than halfway through our Fat-to-Fit Weight Loss Contest and I thought it fitting to use this submission to highlight some of the most important lessons our contestants have learned thus far on their journeys as well as discuss in depth the fat loss tips shared at our recent Weight Loss Workshop.
Before any of the contestants got started almost all of them came to me with one of these statements:
• I'm tired of these miserable diets that never work and are impossible to stick with
• I am unable to lose this excess weight around my mid section
·• I am not feeling attractive because of this extra layer
• I'm not fitting a work out into my schedule even though I know I should
• I have tried workout video but they are boring and un-motivating
• I do cardio 3 times a week and barley see any results
The problem is that people have been lied to and deceived by large corporations and unscrupulous marketers. Most people who are trying to lose fat are doing it all wrong – and they don't even know it! Well, I take that back…they realize it when they don't see their desired results.
We pride ourselves on being a teaching training center. Through our group training, our contest contestants have learned the importance of the four major components in weight loss. These components, nutrition/supplementation, cardio, resistance training and accountability and motivation, are the real deal, no nonsense solutions to true weight loss.
1) Nutrition/Supplementation plays a huge role, and simply put, it is just calories in versus calories out. However, before anything else, you must know your daily expected caloric burn. Through our online program, trainees know what theirs is down to the minute.  They can also log their food and track where they are for the day based on what they have eaten and what they have burned. We also have our own EarthFIT nutrition formula that helps take people to another level in their fitness. In short, it all comes down to moving more and eating less.
2) Cardio– Many waste their valuable time and energy running long distances to lose weight. This is actually one of those instances where there is a quicker fix. There is no need to run on a tread mill for an hour or more to lose weight. You can actually get the same results or better in only 20 to 30 minutes with proper interval training.
3) Resistance training is key to permanently raising your metabolism. If you add a pound of muscle to your body you can increase your resting metabolic rate and burn up to an extra 50 calories a day with that one lb of muscle. If I were to add 10lbs of muscle to you, (10lbs x 50 calories = an extra 500 calories burned a day!) you would burn an extra 3500 calories a week and there are exactly a 3500 calories in a lb of fat. Who wouldn't want to burn extra calories just sitting down?
4) Accountability and motivation trump all the above. Without someone holding you accountable for your eating and cardio habits outside the gym and pushing you through your resistance training inside the gym, it will be difficult to get the desired results. Even I, a trainer, get much better results when I train with one of my trainers.
All of our contestants are winners, no matter who actually earns the title. The knowledge they have gained and the strides they have made in their individual journeys are amazing.
But it's not just our contestants and trainees who we aim to educate. We at EarthFIT like to share the "good news" with our community. Last weekend, we held a free weight loss workshop that filled rapidly. That told us that the need for information like the above and more is great. We were pleased to see people from all walks of life at the workshop eager to learn. I explained the four components listed above to the attendees and shed a great deal of light on some of their greatest misconceptions about fitness and fat loss.
One of the attendees, Julie Jones, is a new trainee whom we find inspirational. She came to us with a goal of losing over 80 lbs. in order to enter the Air Force, a life-long dream of hers.  It's a tall order, but with dedication like hers, it is totally achievable.  Within just three weeks of group training she has lost 14lbs! She truly inspires me because she gives her all during every moment and has followed our program and has achieved great success in a short period of time. We are behind her all the way and will see her through to her goal. Clients who commit to our program and coaching seriously will see amazing results!
EarthFIT's group training platform, exercise plans, nutritional strategies and accountability and motivation provide a comprehensive 21st Century solution that addresses the challenges of weight control in today's society. EarthFIT is committed to providing fresh solutions based on the most up-to- date technology and science coupled with the human touch, understanding and compassion of an expert fitness professional. But don't take our word for it. Numerous clients have shared their stories in an online testimonial that we invite you to browse on our website, www.earthfitnessgym.com. There you'll also be able to sign up for our free fat loss report.
When it comes to fitness, "Aim Higher. Train Smarter. Live EarthFIT!"