Beaufort's biggest run will include an evening of races, great food and family fun – all to benefit the new Riverview Charter School
Runners will take their marks at sunset on March 20, 2010, racing to benefit Riverview Charter School. The Beaufort Twilight Run and Oyster Roast drew close to 1000 people its first year from all over the Lowcountry and throughout the U.S., and this year the race organizers are expecting even bigger crowds.
The Twilight Run is open to athletes and spectators of all ages (registration required to participate). The evening kicks off at 5:30 pm with the kids' fun run, followed by a timed, USATF sanctioned 8K run, and the 5K fun walk. The course runs through the coastal community of Habersham, with picturesque views along the marsh and beneath the sprawling live oak trees.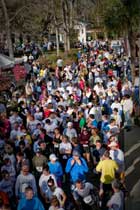 Race Management Systems co-owner, Danny White, responsible for the Twilight Run's 8K timing and course certification, commented about last year's race, "This is definitely one of the best 'first-time' events I've ever worked. The course is one of the most scenic in South Carolina, there's no doubt…and it's fast!"
Cash prizes will be awarded to the top male and female 8K finishers in several categories: top 3 overall winners, masters overall, active duty military, and hometown hero (Beaufort County resident). Male and female 8K age group awards will also be given. All participants of the kids' fun run will receive an award. Registration discounts are available online to active duty military.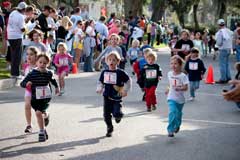 The post-race festival includes food, music and fun! The Oyster Roast, catered by Sea Eagle Market, is open to the general public, and will include a lot more than just oysters! Oyster roast tickets, kid's meal tickets and race registration can all be purchased online at www.BeaufortTwilightRun.com. Prices go up on March 19, so make your reservations now.
Riverview Charter School Development Chair and the event's coordinator, Jody Hayward, is thrilled about the overwhelming response and interest in the 2010 Beaufort Twilight Run and Oyster Roast. "We are really excited about this year's race – especially now that our school is open and so many of our students and their families will be there to enjoy it. The response that we received from the runners last year was awesome, and this year's registrations are coming in from all over the Southeast – we're looking forward to another great event!"
For more information about The Beaufort Twilight Run and Oyster Roast visit www.BeaufortTwilightRun.com. Proceeds from the race will benefit Riverview Charter School: a FREE, public school authorized by the Beaufort County School District and open to all Beaufort County students K-8th Grade (www.RiverviewCharterSchool.org).