Lady's Island Elementary Performing Arts students breathe new life into timeless classics.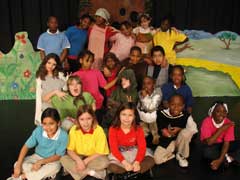 During this year's Beaufort County School District sponsored Drama Festival held at the Arts Center of Coastal Carolina on Hilton Head, a group of 3rd and 4th grade drama and musical theatre students of Lynda McLain(drama) and Kristin Brady (music) studied and performed Hans Christian Andersen's THUMBELINA. Later in January, this troupe of actors also performed for the Gala Opening of the new Arts Center at Beaufort High School along with Seriously Fun-e Clowns, Seaside Singers and the gifted dance troupe called LEAP, taught by Theonette Labyzon, the school dance instructor.
COME FLY WITH US! This is not an airline commercial but an invitation to the community to think happy thoughts and fly to Never Land with the 4th grade students and 2nd and 3rd grade LEAP  dancers, who are preparing the magical classic by J.M. Barrie PETER PAN, slated for Tuesday March 23rd at 6:30pm at the Beaufort High School auditorium.
Included will be songs from the 1950's stage version with Mary Martin and a marvelous Captain Hook , who is a BCSD Music teacher and wants to remain anonymous so he can surprise his students who will be attending!
The story has all the adventure of Never Land with Lost Boys, Tinker Bell, Mermaids, Indians and of course, Pirates! Seated is limited so reservations are highly recommended.
$3 for Adults and $2 for all students up to 8th grade.( ID required for Middle School) Call the Drama room at 322-2293 for ticket information.