Next February the Beau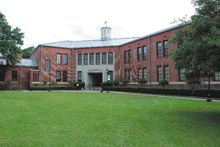 fort International Film Festival takes up residence in its new home at the USCB Center for the Arts. As festival organizers looked to take the event to the next level they had only to cross Carteret Street to find a kindred spirit in the Center's Director, Bonnie Hargrove. (
Read about changes at BIFF here.
) In the brief span of about eighteen months Hargrove has positioned the Center for the Arts at the forefront of the visual and performing arts in the region through strong community involvement and support. In 2010 the Center joined the digital age with Hi-Def broadcasts of The Metropolitan Opera – a huge success – and a technological investment that opened the door to a new dimension of possibilities.
A PERFECT FIT
Mark Shaffer: How did the Beaufort International film Festival wind up at the Center for the Arts?
Bonnie Hargrove: We've been hosting the awards ceremony for the last two years and we've loved
having them. It's been a perfect fit for our venue. We're also moving more toward Media Arts and film and turning this into more of an arts campus, so that ties in the film festival. We also knew from our experience with the Met Opera series we started last year that it would be a great fit for BIFF. The university also put in a substantial investment in equipment.
We have 461 seats. We have all the equipment that [Festival Director] Ron Tucker normally has to rent and bring in for each event, plus this gives us an opportunity to work with some of the filmmakers and hopefully host some of the workshops and get the university students involved.
MS: This venue is perfect for the film festival on a lot of levels, but adding an educational element through an affiliation with the school opens a new dimension.
BH: It really does. Last year when I was just wandering around the festival I met several of the filmmakers who thought that lack of space for workshops was a missed opportunity. And I think Ron and Rebecca want to go in that direction with the film festival.
A lot of people in Beaufort view this center as a very convenient place to visit. It's safe, there's plenty of free parking, everyone knows where it is…
MS: It's a short walk to downtown.
BH: Exactly. There are so many benefits to this location on both sides and especially now that we've partnered with Emerging Cinemas.
MS: If this partnership with the film festival should last, is it possible that this might one day affect the art campus curriculum?
BH: Oh, I hope so. I hope so. I think [the administration] is looking in that direction with new media. But of course it's all in baby steps. I do know that the students will be excited about having the filmmakers here and having the opportunity to work with them.
NEW DIMENSIONS
MS: You mentioned Emerging Cinemas, which is part of Emerging Pictures. This is how they describe themselves on their website:
Emerging Pictures is the largest all-digital Specialty Film and Alternate Content theater network in the United States. Emerging has a network of arts institutions, media arts centers and independent art house theaters, tied together through digital technology – enabling them to cost effectively exhibit art films, documentaries, foreign language films, independent cinema and cultural programming.
This has the potential to open up an entirely new dimension for this venue and the campus. How did this come together?
BH: We have an advisory board member for the Center for the Arts who was associated with the Peace Center in Greenville and he was looking at different ways that we could generate revenue streams without a lot of risk. Because of the investment we'd made for the Metropolitan Opera, Emerging Cinemas seemed like a perfect fit.
We're only planning to run things that you wouldn't see at the local movie theaters. We'll be showing a good many documentaries, some foreign and independent film. Initially we're booking showings from October through December and then we'll take a look at audience surveys and figure out how we want to book for January.
We do want this to be audience-driven, but we're also looking at some of the things Emerging offers that have partnership potential. Sea World just did a documentary on the life cycle of a sea turtle and there's obviously a lot of interest in that locally. We'd like to get the various local groups involved with that, not only to promote their organizations but to get people through the door. We're working with the library to bring in the gospel music documentary, Rejoice and Shout, to coincide with a Smithsonian exhibit on music they're bringing in January. And we've also got films that are just fun.
MS: The beauty of Emerging Cinemas is that this a state-of-the-art, hi-def, surround sound motion picture experience with a vast selection of entertainment possibilities, everything from cutting edge indy films to remastered classics and concerts. This theater will have a brand new wide screen and state-of-the-art sound system. The possibilities are nearly endless.
BH: They are. Which is why we need to do the audience surveys and get that feedback. Another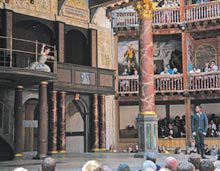 exciting part of this is that we'll also be able to show three Shakespeare shows from The Globe Theatre this year. We'll also be doing ballet from the Royal Ballet and the Bolshoi. Within this venue we'll have this really cool theater and film experience and be able to transport people to Paris, Russia and England to see these wonderful shows that would cost thousands of dollars to get to. You can see them here for twelve bucks and be there.
It's all about education, so we're going to make sure our prices are very affordable and we'll network with different community groups to make sure everyone's included.
MS: The film festival and the film society – right across the street from this building – have proved Beaufort has a real appetite for film outside of the mainstream.
BH: That's what we want to do, offer something that is unique and different that people enjoy. And as we move forward we can take that to the next level.
GET MORE
For more information on the USCB Center for the Arts visit www.uscb.edu or call the Box Office at 843-521-4145 Tuesday through Friday from 10am-2pm.
Learn more about Emerging Cinemas and affiliates at www.emergingpictures.com
Email Mark Shaffer at backyardtourist@gmail.com