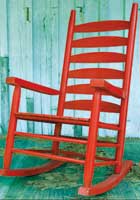 "You can tell it's a friendly town because they've got all these rocking chairs out on the street and nobody's stolen them."
– Unidentified woman commenting on the abundance of bright red rocking chairs (the town symbol) lining the downtown shops
It's after five o'clock on a weekday afternoon and The Blarney Stone in downtown Walterboro is beginning to fill up with hot, thirsty people in search of cool respite from the hammer stroke of another blistering August day. Gary Davis takes time out from our conversation to greet his regulars and welcome the newcomers, mostly day-tripping antique hunters and "halfbacks" taking a break from interstate traffic.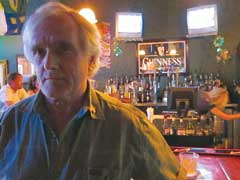 "We're halfway between Miami and New York on I-95," says Davis, "so we get a lot of people coming through who are halfway back to one place or the other – halfbacks, I call them." According to Davis a lot of the halfbacks tend to stop on both ends of their journey, drawn to the town's increasingly famous Antique District and the South Carolina Artisans Center.
Halfbacks, day-trippers, "antiquers," locals and backyard tourists – whatever your designation, inclination or destination – this unlikely Irish pub in the heart of this Lowcountry town, serves as a perfect metaphor for the cultural alchemy at work in this place. In other words, something unusual is happening here – something unexpected and rare.
"There is a sense of community – community and cooperation that sets us apart," says David Smalls, President of the Walterboro-Colleton Chamber of Commerce. "We're all in this together, everyone's aware of this and I think that's evident."
Art, History, Nature
Part of the beauty of this job is the act of discovery. In fact, that's pretty much the whole point of The Backyard Tourist – to discover or rediscover the people, places and things that make the Lowcountry
and its immediate surroundings unique. When I mentioned to my friend Bonnie that I'd never actually visited Walterboro she was insistent that it was high time I did. "You'll fall in love," she said. "I'll make some calls."
Walterboro is a crossroads town sitting at the center of a network of state roads and highways with two access points from nearby I-95. The area was settled by rice planters who built summer homes as a retreat from the heat and humidity of their coastal plantations. The Walter brothers were the first to stake claims in the wake of the American Revolution. Others soon followed and by 1822 the community boasted a magnificent Robert Mills-designed courthouse and one of the first libraries in the region – both are listed on the National Register of Historic Places.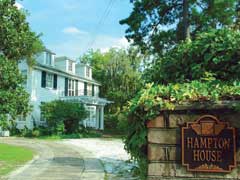 In the decades between the war for independence and the bloody conflict of secession, Walterboro emerged and flourished on the fortunes of wealthy planters. Many of the old plantations still exist, purchased as private estates and exclusive hunt clubs by northern billionaires and private corporations, off limits to the less privileged.
The rest of us can still pierce the veil of history elsewhere and the Colleton Museum in the old 1855 jail is a good place to start. It's also hard to miss, looking a bit medieval with its triple parapets and faux ramparts facing Jefferies Boulevard. "We are the historical, natural and cultural heritage museum of Colleton County," explains museum Director Gary Brightwell. She's good enough to give me a personal tour and explain a bit about the town's unique environment in the heart of the ACE Basin – 350,000 acres of diverse habitats bounded by the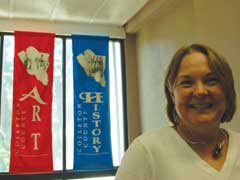 Ashepoo, Combahee and Edisto rivers. Walterboro also claims the East Coast's largest estuarine preserve. The 842-acre Great Swamp Sanctuary has been conserved from the town's inception and features a Colonial-era bridge along an old stagecoach path, hiking trails and an abundance of wildlife – including bald eagles and alligators – all within walking distance of shops and restaurants (more on the Great Swamp in Part Two).
The museum's educational outreach programs stress environmental preservation. "We work very closely with the Historical Society in the preservation of buildings and landmarks," says Brightwell.
The Pickens native has seen a lot of change since settling in Walterboro in 1976, including the revitalization of the old downtown. But everything comes at a price. "I think people are more cognizant following the loss of the Nullification House which was a real important historic property," she says. The Nullification Crisis erupted after federal tariffs passed in 1828 and1832 sparked outrage among wealthy South Carolina planters. The legislature voted to "nullify" the taxes within the state's borders and withdraw from the union if any attempt was made to collect them. At the height of the crisis, the secessionist movement gained serious momentum and President Andrew Jackson dispatched warships to Charleston before cooler heads cooked up a compromise.
"Robert Barnwell Rhett gave a famous secession speech on the steps of that house," says Brightwell. "But it was falling down, something had to be done and nobody stepped up to the plate." The home was razed and an irreplaceable piece of our national history simply vanished, a hard but perhaps necessary lesson in historic preservation – one not soon forgotten.
A Magic Combination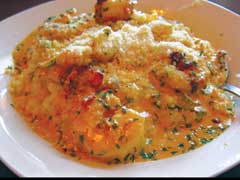 Hank Amundson is a small town convert. In fact, he's practically evangelical about it. "Everywhere I've ever lived you have to go out and seek groups and clubs. People here will invite you to do things," he says. "There's a personal touch to everything." Walterboro's dynamic young Economic Development Director was a big city boy until he married a Walterboro girl (they met working summers at Disney World) and found that small town life suited him like sweet tea on a porch swing.
"Disney spends a billion dollars a year trying to recreate Main Street USA – the same street we have right here," he notes. "My job now is to help people realize the value in that and get them involved, whether it's a group organizing a festival or someone starting a business."
I've been invited to lunch at Gary Davis' Blarney Stone for a casual discussion on all things Walterboro. Our table near the window in the main dining room is framed against Amundson's pastoral slice of Americana – the one Disney can't seem to buy at any price. Even at high noon on a brutally hot day, Washington Street – the heart of downtown Walterboro – is busy with people ducking in and out of the air-conditioned shops in search of unknown treasure.
This is also the heart of the Antique District, with more than a dozen shops spread over a couple of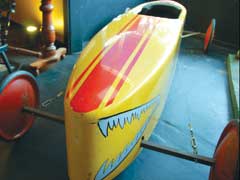 blocks, lined with plenty of free parking. Unlike in downtown Beaufort, where parking enforcement's recently become the growth industry, thanks to city outsourcing, and a bitter division among business owners, you'll never pay a dime to park in Walterboro. Beaufort, on the other hand, will cost you a buck an hour – if you can find and figure out the "state of the art" kiosks. The only sight more common than horse-drawn carriages in downtown Beaufort these days are what I like to call Parking Pods: groups of confused and disgruntled visitors huddled around something that looks like Darth Vader's personal droid, scratching their heads and muttering obscenities. But I digress.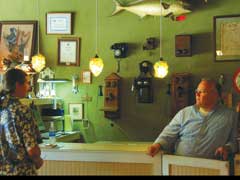 There is no such silliness in Walterboro – and for good reason, according to Amundson, Smalls and others: it's just bad for business and it pisses people off. Small towns dependent upon the business of strangers ultimately can't afford to be rude to their guests. That's particularly true in the current economy.
"How we've grown is just astounding," observes David Evans of Bachelor Hill Antiques. Evans and partner Jorge Ruiz, have been instrumental in this growth, actively recruiting other dealers and businesses since becoming disillusioned with Charleston some years back. "We've gone from three to fourteen stores with another getting ready to open up. And in a down economy when shops are closing all over the place, shops are opening here in Walterboro."
So, begs the question, why now and why Walterboro?
"We have that magic combination of a really good marketing plan and a really good support network of shop owners who don't look at new shops as competition," he says. "They look at new shops as being an added attraction. When you're trying to attract somebody's attention to make a day trip or get off the interstate, if they know they'll be able to stop and visit a dozen shops you'll be able to get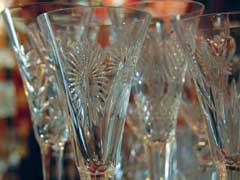 them." But it doesn't stop there, according to Evans. "From this the ancillary business prospers. The restaurants do well because people stop and have lunch and people wander into the dress shop, and the Christmas shop makes money. It's all about keeping the momentum going."
There's no doubt that a good chunk of Walterboro's business comes right off of I-95; a lot of the momentum Evans and his colleagues need to grow, let alone survive, seems to be coming from within the region.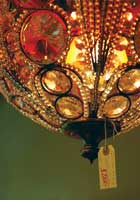 "We see more and more people from around the Lowcountry," says Vicki Smith of Gallery 225. "We get a ton from Beaufort, Bluffton and Hilton Head – the day-trippers, we call them." Smith is among Evans' recruits and another refugee from the Holy City. Having spent the better part of two decades abroad, she specializes in fine European linens, crystal, art and jewelry. "All at a discount and all very affordable," she insists. And like every shop I've visited, completely apart from the rest.
"Everybody's got their own unique take and their own unique flavor," says Smith. "This is mine. When you step in here, you step back in time."
In essence that's what downtown Walterboro's all about – a return to a simpler, less complicated era.
"It's a nice town with nice people," says Evans "It's clean, it's safe, it's pretty. It's a feel-good story."
To be continued…
Coming in the September 15th issue:
– Why the South Carolina Artisans Center may be the best-kept secret in the Lowcountry.
– A look at a growing concentration of diversity in downtown Walterboro and where it could lead.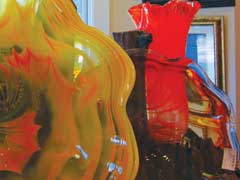 – Plus a connection to the Tuskegee Airmen, the Great Swamp Sanctuary, and more.
If you're going:
From Hilton Head/Bluffton take I-95N to exit 53 and stop in at the Welcome Center. The city's excellent "Front Porch of the Lowcountry" brochure is packed with information and features a detailed, color-coded map to get you where you want to go.
From Beaufort, avoid the interstate and take 21N to 17N, then left on 303 (Green Pond Highway) continuing until it ends at Jefferies Boulevard. Bear right and then right again just past the courthouse on Washington St. into the heart of the Antique District. Brochures are available in many of the shops.
The Backyard Tourist recommends:
The South Carolina Artisans Center (www.scartisanscenter.com)
The Great Swamp (www.thegreatswamp.org)
The City of Walterboro (www.walterborosc.org)
The Colleton Museum (www.colletoncounty.org)
and email Mark Shaffer at backyardtourist@gmail.com