A conversation with bestselling author Pat Conroy about his work from the page to the screen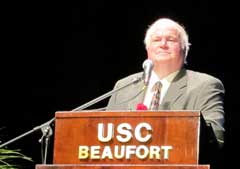 Pat Conroy's debut novel, The Great Santini was the first film to shoot in Beaufort and the movie that put the state – and the Lowcountry – on Hollywood's radar. To date four of his books have been adapted as feature films. All but one were filmed in the actual Lowcountry locations so beautifully captured on the page. A few years later (and a lifetime ago) I interviewed Pat for series of reports on the film business I produced while anchoring TV news in Columbia.  We talked about his family's very different reactions to the books and the films ("They adored the movie versions of themselves") and about sticking to the Lowcountry landscape of the novels ("They couldn't be filmed anywhere else"). Four years after collaborating with Barbra Streisand on The Prince of Tides, the experience still baffled him a bit. "I did not recognize a single word that I personally wrote in the screenplay," he said. "Despite that I was nominated for an Academy Award for my work in it. It still remains one of the great mysteries of Hollywood to me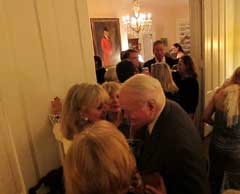 ."
The following interview  was conducted by phone a few days after the conclusion of Beaufort International Film Festival where Conroy received the Jean Ribaut Award For Writing Excellence. The 2010 BIFF also reunited Pat with old friends, Blythe Danner and Michael O'Keefe, cast mates in the The Great Santini. The trio attended a cocktail reception in their honor at Tidalholm, the historic house where much of Santini and The Big Chill were filmed.
As Part I concluded, Pat was recalling the day Santini's infamous basketball scene was shot at Tidalholm. On film the one-on-one match between father and son – taken from Pat's own experience – quickly degenerates into a family disaster. Behind the scenes something very different begins to happen as the cameras roll…
(Read Part I online at www.lcweekly.com)
The Interview, part II
Mark Shaffer: When I talked to Michael [O'Keefe] in the house where the [The Great San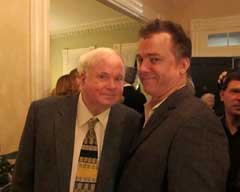 tini] was filmed, he mentioned that both you and your Dad were on the sidelines to watch them shoot the infamous basketball scene.
Pat Conroy: Yes, we were watching that. What a happy day that was.
MS: I imagine that was a little intense.
PC: Dad and I did not have a spectacular relationship at that time and did not realize that the movie was going to help bring us together – he was so enraged by the book. Even [about the scene] in the book he said "I never would have hit you in the head. I'd have knocked your (deleted) head off with one blow from a basketball. You'd have been unconscious if I'd done that." And I said, "Yeah, Dad, but I had to tone it down so human beings could believe it might actually happen." We had a million scenes like that. Dad was a nightmare to play basketball against.  So what he would do to me, he'd simply slap my face. He would guard me, so first basket [I make] he simply slaps my face. He'd slap me and he'd slap me and he'd slap me. And I'm tired and trying to get away from him and he still slaps me – slaps me on the back of the head. I was looking for a way to convey that in a dramatic fashion, so I came up with that bouncing the basketball off the head. Blythe [Danner] told me Duvall almost killed her by throwing the ball into her stomach. You can see it in the film – you can see it hurt her.
MS: You're right. I've often wondered at that. [Michael] O'Keefe, who took those basketballs to the head, says Duvall just did not hold back, did not pull his punches.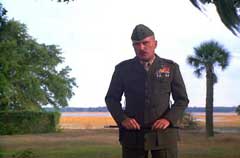 PC: Is that right? Holy crap. Poor Blythe. Some poor woman who had just moved to the Point came up and watched [the filming] with my father and me – and it was a horrible scene to watch being filmed.  That's when I realized that Duvall and Blythe Danner and Michael – these were great actors. I thought, Jesus Christ, these people are terrific.
So this poor little lady is watching this and she comes over and sees my father and says (affecting shocked woman), "Did you play these games often, Colonel?"
(Both laugh)
And he says, (deep and serious) "Every day, madam! Every damn day of my son's life!" (More laughs)
And so she just stares at him in horror and Dad looks at me and says, "I like that scene." And I said, "Dad, only you would."
MS: He was fond of pointing out that he was responsible for Duvall's career, which really took off after Santini.
PC: Oh, my God. I want to tell you, let me not de-emphasize that. Dad was not exactly a movie buff. I don't think he even knew what The Godfather was. He did afterwards, he became an aficionado of Robert Duvall's career. And he gave himself full credit for Duvall's [Best Actor] Oscar in Tender Mercies. Dad always said that wasn't half the role he had in Santini.
MS: Duvall showed up in Beaufort fresh from the epic nightmare experience of shooting Francis Ford Coppola's Apocalypse Now.
PC: Yep. Yeah.
MS: In a way he was already geared up for the character of Bull.
PC: Dad didn't know "the smell of napalm in the morning" from nothing, but [Duvall] was ready for [Bull].
MS: Did he maintain that intensity off the set?
PC: He was very nice to me off the set.
MS: Did he hang out with your Dad at all?
PC: You know, I think he did. I think there were a couple of times he and Dad went out drinking. I know that I had dinner with him over at Harriet Keyserling's house. In fact every time I have a [story] in Beaufort where I eat dinner with anybody, I usually have to end it by saying "I had it at Harriet Keyserling's house."
(Both laugh) It seems to me that every dinner I've ever had with anybody has been at Harriet Keyserling's house.
MS: Why do you suppose that is?
PC: Well, Harriet just meets everybody. She still does. Did you notice she was at the Tidalholm party?
MS: I did. In fact, I snapped a great shot of O'Keefe bending down to shake her hand.
PC: Having [the party] there was very, very special.
MS: Well, while we're there, you've got a core group of very close old friends – a number of them were at that party. This has to be a remarkable journey for friends and family over the years.
PC: Well, I think it is. It may be painful for some. My sister Kathy was [at the BIFF awards ceremony] and she had a spectacular time. She simply went nuts when Blythe Danner talked about my mother with such fondness. She said it was one of the great nights. For me it was sort of surreal. I don't know quite what to feel, just like I don't know what to feel when I see a movie made out of one of my books. I don't even know what to feel when I see a book made out of a book.
MS: It all still seems extraordinary?
PC: It does just seem extraordinary to me, unreal to me. It was a dream I had in Beaufort High School and I can't believe it worked!
MS: In your speech you explained that in a way you feel as though you're still fifteen years old.
PC: There's no question about that.  Here's how weird my association with Beaufort is: it thrilled me to get the Jean Ribaut Writing Award.  One of the reasons it thrilled me is my mother wanted me to try out for a play that was produced in Beaufort when we [arrived]. And I was not even allowed to try out for some reason. It was about the founding of Beaufort and it told the story of Jean Ribaut founding the colony – he was the first [European] to land in Beaufort County. But it tickled me and I called Julie Zachowski, who used to be the librarian and was my classmate in high school. And I said, "Julie, you were in that play." And she said, "I was an usher." My best friend was in the play and he lorded it over me because he was in it and I wasn't. He had a line and I was so jealous I could barely stand it. I said, "Julie, what was the line?" And she said, "Allo! The admiral comes." (Both laugh)
MS: Think of it this way: had you been in that play it might have meant the pre-emptive end of your life as a writer and the beginning of an acting career.
PC: (Laughs) This I doubt very much. Julie called me last night. We talked for an hour and she gave me the whole cast – all the kids I went to high school with. And the play was called "Prologue to Freedom." So that's the association [with Beaufort] that I love.
MS: Throughout your work there has indeed been a very strong association with Beaufort. It's obviously a very, very special place. You get it and that seems to factor into just about everything you do. [Charleston novelist] Josephine Humphries once told me that in Southern literature place is as much a character as anything else.
PC: It certainly is with me. I have to tell you, when I came here no one told me how beautiful Beaufort was. To Dad it was a base he got to fly out of. Mom had never heard of it. So we come into this town and I can remember my first time riding down Bay Street and the mansions and thinking "my God!" I look out to this river and I've never seen anything so pretty in my life. In landscape Beaufort County simply entered my life from the time I got here until now. It just seems prettier than any other place to me and I love writing about it. And, by the way, I lived in the eastern Siberia of "teenagerhood" in Beaufort – I lived in Laurel Bay.
MS: That's a bit of a haul, particularly for a kid without a car in those days.
PC: My God! I can tell you how much of a haul it is. I've been back in Beaufort since 1991and I have never – not one single time – even seen the gates of Laurel Bay.
MS: Wow. Just got your fill the first time around, huh?
PC: I just have no reason to go there. I'd like to see my old house, but I'm not sure they'd let me through the gates.
MS: Oh, I'm pretty sure they would.
PC: (Laughs) Now that I think of it, I'm sure they would. But who would I call to set it up?
MS: My guess is that if this makes the final edit, you'll get an invitation.
(Laughter) Back on the subject of your work, any possibility that more of it will make it to the movies?
PC: Yeah. Allan Ladd, Jr. bought Beach Music. He's had that. And somebody's talking about South of Broad now. I usually don't have anything to do with that. They just tell me about the negotiations.  Somebody just [secured the rights for] The Prince of Tides to do a regular TV series – which I never thought of. My Losing Season was bought by Brad Pitt – he owns that one. And of course when my daughters – my rude, poorly raised daughters – found out that Brad Pitt might play my part, they sank to their knees in helpless laughter.
MS:(Laughing)
PC: So I cut them out of my will.
MS: (Still laughing)
PC: They scream with laughter every time the thought crosses their minds. But I think Brad's let himself get a little too old for the role.
MS: That should be a hot property. That sort of lesson-learned sports genre is big now with the success of The Blind Side.
PC: I didn't see it. I read the book. It was terrific.
MS: Another one that got away, another big hit shot next door in Georgia.
PC: South Carolina has to change the rules. If they can get a movie made in this location it is going to bring benefits for the next hundred years to Beaufort. I hear things like Cold Mountain was mostly shot in Romania? And every movie in the world was made in Canada in the '90's, I think. Something's got to be done. They've got to make it easier, they've got to make it less expensive for these films to come here.
MS: The powers that be in Columbia can't seem to process that. We just don't have the incentives anymore to compete for big budget films with the likes of North Carolina and Georgia. Which means the odds that any of these projects of yours would film in this state are slim to none. How does that make you feel?
PC: It wouldn't be a movie made from my book, I can tell you that. It just wouldn't be. Nothing any of these legislators can do will have as lasting an impact on tourism, on business – on anything else – as getting a movie made in South Carolina.
Email Mark Shaffer at backyardtourist@gmail.com