A conversation with actor Michael O'Keefe in the house where it all took place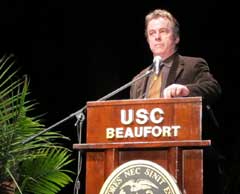 Actor Michael O'Keefe first came to Beaufort in late 1978 to play the part of Author Pat Conroy's alter ego, Ben Meechum, in the film adaptation of The Great Santini. The role would garner Oscar nominations for O'Keefe and co-star Robert Duvall. It would also mark the beginning of a lasting friendship between O'Keefe, Conroy and actress Blythe Danner who embodied the film version of the author's mother. The trio reunited for the 2010 edition of BIFF and were feted with a cocktail reception at Tidalholm,  the historic old house where both Santini and The Big Chill were filmed. Mr. O'Keefe was gracious enough to take a break from the well-heeled cacophony to sit down for a few minutes in the den at Tidalholm. The conversation took place beneath a framed poster from The Great Santini.
Mark Shaffer: How does this feel? Is it a weird sense of déjà vu or is it a little like coming home?
Michael O'Keefe: It's like going into a house I grew up in. I was here last year when they screened the film and I wanted to go into my room, I wanted to see the room I grew up in, as it were. And it felt like a house that I had childhood experiences in.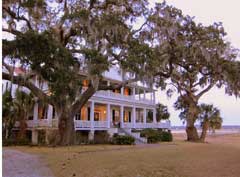 MS: Well, you did in a way. You were 23 when you shot the film, but it had to feel like a big family experience with everyone hanging out on The Point.
MO: We were all here. We never really went anywhere else but Beaufort. We were sure in this house a lot – all told about three months. It was an extraordinary experience for sure.
MS: Did you find yourself acclimating to a Lowcountry lifestyle like your character Ben Meechum did?
MO: When you're making a movie you work all day and (especially when I was younger) you look to blow off a little steam when you're through. Then you've got to get up at five in the morning, so you get into this sort of encapsulated world were everything's insular. I had some contact with the locals because Pat Conroy was here and occasionally we would see something or do something or be somewhere, so we had some connection to the community. But mainly we were this little roving city making the movie and then we all disappeared when it was over.  I didn't come back for thirty years.
MS: Both the novel and the film are iconic things for this town. When you come to Beaufort, you're not just remembered for having played a role in a famous film that was shot here, you're a Conroy character – you're part of that canon.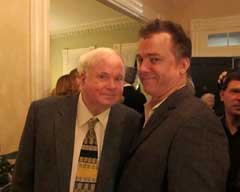 MO: It's true. One of the reasons I came down last year was that Pat had South of Broad coming out. He was doing a signing at Bay Street Trading Company and Lisa Estes, the owner, had me sign copies of the book, too.  So there's this connection between us from me playing his alter ego in the movie.  The line was unbelievable . He signed books for about five hours. Incredible.
MS: I remember. There were literally hundreds of people walking the streets of Beaufort with big stacks of Pat Conroy books under their arms. It was a little eerie.
MO: I remember the first time I met him was in Charleston and he came walking up looking like he'd seen a ghost. I'm a little taller than he is, but we do sort of have similar features. He saw me and goes (in astonished whisper) 'Where'd they find you?'
MS: You soon found out that the two of you had a lot in common.
MO: We're both the oldest of seven kids, we're both Irish Catholics, both raised by arguably dangerous, charismatic, powerful fathers. I mean one of the reasons I got the part was that I know that world. I'm very familiar with that kind of dynamic. So for me to get the opportunity to turn that into something I could use was a big part of becoming an actor, and that role was a big part of me kind of going as far as you can go with that sort of thing.
MS: It still holds up. I just recently watched it again.
MO: I had not seen it since it was released. So when I finally did see it again last year, the thing for me to watch is Bobby [Duvall] and Blythe [Danner]. When you watch Duvall's rage and brutality and humor and – forgive the word – bullish instincts and balance that with Blythe's compassion and patience and wisdom and long-suffering endurance for the family, for my money that's the real meat of the movie. And the two of them are both experts in that kind of spontaneous moment-to-moment reality. When I was that young my work was suffering, I wasn't that spontaneous. I was thinking about how I should do it. They were just extraordinary to watch.
MS: Bull Meechum was a breakout role for Duvall and Pat says his dad was fond of claiming credit for Duvall's career, that maybe Duvall owed him a little piece of the action.
MO: (Laughs) That's not bad, that's not far off. The day we shot the basketball scene [Pat's father] Don was here with Pat. The two of them watched us do that scene.
MS: That had to be a bit surreal.
MO: It was intense. Yeah,  it was interesting. I mean Don was an interesting character, you know?
MS: I get the feeling that not only would the real life father and son watching on the sidelines raise the intensity level with that part of their lives being portrayed, but that Robert Duvall comes fully charged himself.
MO: He doesn't pull his punches, if you know what I mean. He didn't do that. (Laughing) I was constantly like 'Okay man, it's just a movie! Just a movie!' Of course, it all pays off on film. He was at the height of his powers. He still had that youth and athleticism.
MS: He'd just finished Francis Ford Coppola's Apocalypse Now when he showed up here.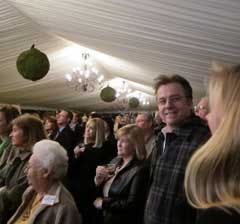 MO: [Santini] was the movie he made right after Apocalypse. Oddly enough I had screen tested for the role in L.A. and I was at Sean Penn's house because his father, Leo, had directed me when I was a teenager. He had me over for lunch or something and I knew I had the part. Martin Sheen lived next door and as we're leaving Leo caught Marty and said, 'This is Michael O'Keefe. He's going to work with Bobby Duvall in South Carolina.'
MS: Tiny circles. And there the two of you were on Oscar night. What was that like at 23?
MO: I was probably too young to appreciate it. Twenty years later you kind of go 'oh, I guess that was a pretty cool thing.' If I'd won I certainly would have been fumbling for something to say because I hadn't prepared anything.  Last year when I was watching the film, I relate to that being me, but it's another lifetime. Now, it seems almost like a dream.