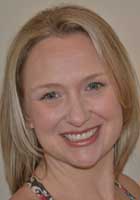 What happens when you take 21 women of different ages (from their 20s to their 50s), shapes and sizes, from different careers and backgrounds, and put them through 14 hot and sweaty power vinyasa yoga classes, a three day fruit cleanse (no food but fruit for three days— really), intense self-inquiry and twice-daily meditation all in eight days?
Transformation happens, that's what.
Last week, Dancing Dogs conducted the area's first yoga boot camp, based on Baron Baptiste's Journey Into Power and 40 Days to Personal Revolu
tion. Revolution Yoga Boot Camp brought many grueling physical and mental challenges and triumphs to an amazing group of local women. In search of a personal revolution, they practiced, meditated, cleansed, and looked deep within themselves to discover their own personal power.
We started with Baron Baptiste's 12 laws of transformation: Seek the truth. Be willing to come apart. Step out of your comfort zone. Commit to growth. Shift your vision. Drop what you know. Relax with what is. Remove the Rocks. Don't rush the process. Be true to yourself. Be still and know. Understand that the whole is the goal.
When I scheduled this boot camp, I expected a few die-hard yogis to sign up for the intense physical challenge of twice-daily power yoga. The thought of twice-daily vigorous vinyasa and a 72 hour fruit fast does not appeal to the general public. Frankly, I did not expect the overwhelming response we received.
As a practitioner of Baptiste Power Vinyasa Yoga, I know that this practice can change lives. It changed mine. BPVY has helped me sculpt and change my physical body, and at almost 39 I am stronger than I have ever been in my life. In addition to strength, I have gained flexibility, in body and in mind.   Through BPVY, I found my place in this world. I have the confidence to pursue and realize my dreams. I have opened my heart, allowing me to love deeper, to listen intently, and to have more openness and honesty in my relationships. I have become a better person.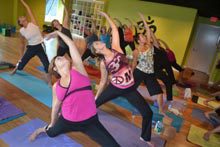 This week, I expected to see my students grow and watch their practices blossom. I expected to see breakdowns and breakthroughs. I was not disappointed. They sought the truth. Through self-inquiry, they examined their lives. The boot-campers showed up every day in an enthusiastic attitude of "YES" and worked diligently, without (much) complaint and without reservation or hesitation. They stepped outside of their comfort zones, and through intense physical training and commitment to growth, discovered their own personal power. They found their SHINE.
They shifted their vision, looking at things from a different point of view – literally in handstands and inversions, and figuratively, through self inquiry. They learned to drop their preconceived notions, about their practice and about their perceived shortcomings, and learned to go with the flow– to relax with what is.
As they achieved acceptance, these yoga warriors removed the rocks, the obstacles in their lives, and through patience, came to know their true selves. As their inner light shone through, they could be still and know that as Baron says, the whole IS the goal.
Many of these amazing women lost weight. All of them left stronger, physically and mentally. Many confronted– and conquered– fears of inversions, of backbends, of a myriad of personal fears. They made connections and friendships and discovered that great lesson of humanity– that we are more alike in our humanity that we are different.
One student expressed that she found her ability to write again, after years of writer's block. By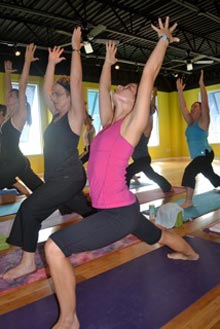 stepping outside of her comfort zone, she found the confidence to express herself in a way that she thought was lost to her. Her yoga practice relit a flame of confidence that is again burning brightly.
Another student overcame her fear of inversions, and started to break down some of the walls she built around herself. She found more openness and connection in her life.
Still another student said she found the confidence to go after what she wants in life – to not allow people, including herself, to tell her that she can't and instead, to know that she can. She discovered that if she has the will, she has the power.
These women are all yogic warriors. The most important aspect of the warrior is not the ability to fight, but instead quiet strength. In the asana Virahabdrasana II, or Warrior II, we have one foot behind us, strong and rooted in our past, representing our connection to where we come from and part of our foundation. Our heart and core sit in the middle of this pose, representing the present – the here and now – our connection to ourselves, the present, and our inner light. Our front foot reaches out in front of us, connected to where we are going, our goals and dreams. Both of our feet, back and front, past and future, are equally important to our current state. Without a keen understanding of where we came from, and without a clear understanding of where we are going, the present can become weak and unsteady. While it is important to be rooted in the past and looking to the future, however, we can only thrive and LIVE in the present. As with everything in life, we must find the balance and the connection.
Connection. Of all of the breakthroughs in Revolution Yoga Boot Camp, connection – to each other, to the practice, to other human beings – may be the experience most felt among the participants.
While I expected and depended on the breakthroughs of my students, I was unaware of the profound effect that this program would have on me as a teacher. For all of the breakthroughs that I witnessed in my students, my own was unexpected. I felt all of their fear, elation, joy, exhaustion and jubilation as if it were my own.
I feel raw compassion and connection to these amazing women, and an overwhelming sense of pride in their accomplishments. I also feel incomparable gratitude for what they have given me: I am a teacher. When my students shine, I shine, and now that I know where I am coming from as a teacher, I can be present for my students. Like the great yogic warrior, I can presence myself in my teaching, step forward into the future and know exactly where I am going.