The Backyard Tourist's Ego Takes a Paddling
Story by Mark Shaffer
Photos by Mark Shaffer & Tim Lovett

Just before I hit the water – in that time-bending moment of suspended animation – two thoughts run through my head: A) This is going to be cold, and B) Did I forget to secure my glasses? A third thought might have flitted past in that nano-second, something along the lines of "What the hell am I doing out here?"
Frankly, I don't remember, but to remove the suspense, I'd say the water was "bracing" and the answer to "B" is "Absolutely." And the answer to that third fleeting question? Well, I'm falling off of a stand up paddleboard and landing on a thoroughly bruised ego. And I would – I will – do it all again. I'm a Pisces. Water is our thing, right? (Or is that Aquarius? I forget.) So what better place for a Pisces to live than in a place surrounded by water? Cue the segue:
For a lot of locals and visitors alike living in the Lowcountry is all about being on, in or near the water. The "salt life" is second nature for natives, but chances are the rest of us are here because we are drawn to it. After all, when you live on an island you're never far from water, it's part of the culture. And no matter where you are in Beaufort, you are only a few minutes from marsh, creek or river. This time of year the heady scent of the salt marsh means spring's arrived and summer's right behind. The wintry brown Spartina grass gives way to fresh growth. Live oak leaves and pollen fill the air until a thunderstorm strips the remaining leaves from the trees and rinses the air temporarily clean. Everything is suddenly green or blooming or both.
This signals a lot of things in the Lowcountry: soft-shell crabs, the Easter holiday, flocks of visitors from Ohio and the return of our bloodsucking indigenous insects from their ancestral spawning grounds in Hell. And for hordes of Lowcountry residents who stowed their various watercrafts for a winter that never really showed up, it's time to get back on the water.
My wife Susan – who, by the way, is not even close to being a water sign – is indeed drawn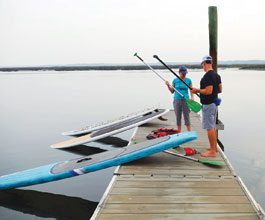 to it. She's recently become fascinated with the idea of SUP – Stand Up Paddleboarding, and I've promised to give it a try along with her.
This also works to make good on a longstanding promise to Tim Lovett, owner of Higher Ground Outfitters. I've been promising Tim to give it a shot for years, but somehow the season has always managed to slip by.
Tim stepped on his first board back in 2010 and immediately fell in love.
"It was just starting to catch on," he recalls. "I was introduced to it by my sister in Charleston. She started paddling up there just before I bought Higher Ground. It all happened right around the same time. I saw the writing on the wall and thought, this might be a good thing to get into."
SUP became an instant passion for him. He introduced the boards to Beaufort shortly after buying his outfitting business (See accompanying story). Six years later SUP is one of the most popular water sports on the planet.
"Board technology continues to evolve," says Tim. "We've got all-around boards and race boards, but there are a couple of companies out there really getting specific with things like expedition boards and fishing boards you can attach rods and reels to. It's all about the point of attachment these days."
Stand up paddling traces its DNA back to ancient Polynesia, where surfing in some form or another has been part of the culture for thousands of years. In 1778, Captain James Cook became the first European to witness the Hawaiian people doing what they called he'e nalu. It is also thought he immediately coined the terms "cowabunga" and "shoot the curl." The native islanders rode boards carved from the Koa tree. Boards were like status symbols: the bigger the board, the more important the person. This also allegedly led Cook to invent the term "Big Kahuna."
Stand up boarding began to re-emerge in the early 1960's as a way for surf instructors on the islands to better observe their students. Surf legends Laird Hamilton and Dave Kalama are credited with helping to make SUP the fastest growing board sport on the planet.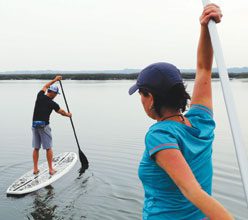 "My biggest demographic is women from 25 to around 55," says Tim. The reasons are pretty simple: the boards are light – around 20 pounds average – and that makes them easy to manage. For many, Susan included, the stand up board is a means to independence on the water.
"If I have a kayak that weighs 40 or 50 pounds I can deal with it," she says, " but I'm going to have to drag it around and it's going to be more of a hassle." But there is another appeal to the board, she says, that was initially also something of a concern. "That's the feeling of being so close to the water, of being so… exposed. You don't have that sense of being in a vessel."
The morning of St. Patrick's Day is grey and calm. Crossing the Woods Memorial Bridge there is barely a ripple on the water and not a soul on it. We have Lady's Island landing to ourselves, as well. Tim's already got the boards positioned at the end of the dock. His current board of choice is a 14-foot Riviera Racer, a sleek blue torpedo. He's picked a pair of more stable 11 footers for us.
Tim's a natural instructor, patient and thorough. He runs down the basics and then hops on his board to demonstrate. Keep your knees slightly bent, feet parallel and spread shoulder width apart. Grip the paddle firmly from the top of the handle and take deep, full strokes. And until you get the hang of it always look ahead, never look down. Don't look down.
Susan takes to it almost immediately, quickly finding her balance on the board, gaining confidence with each paddle stroke. Me? Not so much. I've got a lousy sense of balance made lousier still by a weak left leg. I just didn't realize how weak until now.
"That's okay," says Tim. "You can kneel or sit on the board. We'll get you up. I haven't lost one yet."
So, I kneel and paddle and make a few attempts to stand, none successful. Tim doesn't give up on me. Eventually, I give it a rest and decide to sit and paddle and enjoy the morning. We glide up Factory Creek past the marina and cut back toward the river and the bridge. We hear the dolphins before we see them. A group of four or five adults with a single juvenile, one has a distinctive notch at the top of his dorsal fin. They roll up from behind and cruise by, sometimes popping up at a discreet distance to check us out, clearly feeding as they go.
Now I get what Susan means when she talks about the difference between this experience on a board versus a kayak. There is indeed a sense of exposure, but it is an intimate sensation, more of a thrill.
Susan sums it up as "a full body interaction where the board and the body seem like extensions of each other, like magic shoes that let me "walk" on water with barely a sound or wake. Moving with so little between me, the dolphins, marsh and water had me imagining for a brief time that I belonged there as much as they – not an interloper but a sister creature of the wild." Yep, she's hooked.
Before we return to the dock I make a few more attempts to get vertical with Tim coaching, "Don't look down."
I look down. But in that final attempt, I manage to stay up long enough to actually get the feel of it. And keep Tim's streak alive. I've got some work to do, but I'll be back. Bet on it.
Meanwhile if anyone should find a pair of prescription Nautica sunglasses in Factory Creek, give me a call.

For information on SUP lessons, sales & rentals contact:
HIGHER GROUND OUTFITTERS
Beaufort Town Center (across from BiLo)
843.379.4327
www.highergroundoutfitters.com