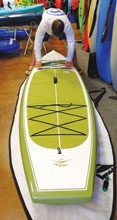 Story & photos by Mark Shaffer

Higher Ground's been the heartbeat of the local paddling community since its doors first opened in 2004. After nearly twenty years of selling sporting gear for someone else, Tim Lovett (left) decided to go into business for himself and bought the shop in 2010. Beaufort native Leslie Norris signed on soon after. Tim first took up paddle boarding that same year and immediately sensed that SUP was the next wave in water sports.
"It offers something for all ages," he says. But the largest single demographic buying boards might surprise some. "Women from about 25 to 55," says Tim. The reasons are simple. "It's easier to manage than a kayak (most boards weigh around 20 lbs). There's not a lot of gear and you don't need help to get it on the car or in the water. I also get a lot of young mothers and military wives with their children who are looking for something fun to do. They're buying boards, putting life jackets on their kids and getting out on the water to explore the Lowcoutry." Higher Ground stocks four major brands of stand up boards: NSP(New Surf Project), Riviera, Adventure, and Bic Sport (no relation to the pen people). "The type of board you buy," says Tim, "depends on what you see yourself doing with it." Boards come in wide variety of styles, lengths and configurations. And just like the latest rage in the kayak industry, you can outfit a board for fishing. Tim and Leslie will be happy to consult.
Higher Ground is kayak central for Beaufort specializing in a full line of Hobie boats, so it's no coincidence that the store mascot and resident badger hound answers to Hobie. Hobie's exclusive line of MirageDrive kayaks replace paddles with pedals. The pedal drive makes for hands-free silent running, the perfect choice for fishing and photography. There are plenty of conventional paddle-powered boats in stock and a large selection of the latest generation of fishing boats. Tim and Leslie will be happy to arrange for classes and lessons on anything that floats and if you want to try before you buy both paddleboards and kayaks are available for rent.
KEEP COOL
Whether you're headed out for a day at Hunting Island or a day on the water you need a few essential spring and summer survival items. Tim and Leslie have some recommendations that will help keep your stuff cool while raising your personal cool factor at the same time.
Two of the hottest items to cool off with include the new Corkcicle line of thermal containers and the state-of-the-art K2 Coolers. The cleverly designed Corkcicle Vinnebago canteen keeps the chill on your chardonnay for up to 24 hours while the Arctican keeps your cans cooler way longer than the average koozie.
Lowcountry summers can be brutal and a good cooler is an absolute essential. Nothing
matches K2 for toughness and ice retention. K2 coolers are insulated with up to 3 inches of premium grade high-density polyurethane foam. It's all wrapped in the same material used to make hockey rink walls. Yeah, it's tough. The 20-quart fits snug and secure in most kayaks and can be used as an optional seat on your paddleboard. Trick it out with a couple of rod holders to turn your SUP into a mobile fishing platform.
On the subject of cool, a good pair of shades is a must. Tim and Leslie recommend Costa del Mar, created by professional fishermen who wanted extra clarity, protection and durability out on the water. Each pair of Costas is handcrafted in Florida and guaranteed for life. And take it from me; make sure you keep them with a set of Cablz Zipz. Zipz easily attach to most glasses and adjust for a snug fit to the back of the head. I recently neglected to attach my Zipz before my first paddleboard experience. If you snag a pair of prescription shades in Nautica frames out of Factory Creek, call me.
Summer fun is synonymous with summer sun. But with one in five of us likely to develop skin cancer, taking some precautions just makes sense. Sun Bum Sunscreens are tested, approved and recommended by The Skin Cancer Foundation. So remember what the good folks from Cocoa Beach like to say, "the next time you're out in the sun, protect your lazy ass and grow old with us." Trust the bum.
Hit the beach, boat or board in the latest active wear from Howler Brothers. Company founders Chase Heard and Andy Stepanian took inspiration for their distinctive clothing line (and logo) from the loudest animal on the continent, the Howler Monkey. Their bold designs make for the ultimate in cool, functional comfort.
Here in the Lowcountry it's simply a cultural necessity to own at least half a dozen pairs of sandals and flip flops in various stages of wear and decay, and one pair good enough to make the transition from beach to bar. Higher Ground is the only place in the Beaufort area where you'll find Sparky Longley's legendary Rainbow Sandals and walk out with the perfect fit. Sparky started making sandals in his Laguna Beach garage back in '72. Today each pair is still made by hand in the U.S. with a commitment to quality you just won't find in the average beachwear shop. Higher Ground is located in the K-Mart shopping center on Boundary Street across from Bi Lo and online at www.highergroundoutfitters.com. And be sure to take a treat for Hobie.