A conversation about the Port Royal Sound Foundation with director Jody Hayward
Interview and Photos by Mark Shaffer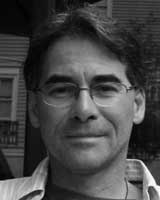 On a breezy Saturday in mid-May a mob of people gather at the old Lemon Island Marina in the shadow of the 170 bridge at low tide. The once derelict property has recently been transformed into the Port Royal Sound Foundation Maritime Center. Today an unprecedented number of volunteers have turned out to build a huge oyster reef along the shoreline of the Center's Chechessee river waterfront. Made of bagged oyster shell, recycled crab traps and specially designed concrete blocks, the reef will serve as a living research project and classroom as it rebuilds a strip of long lost marsh habitat. It is also a metaphor for what the non-profit Port Royal Sound Foundation is all about, says Director Jody Hayward.
           PRSF grew out of Friends of the River in 2011 (read the full history at http://portroyalsoundfoundation.org). After several years as lead fundraiser, Hayward took the helm as Director in the spring of 2014 as the property was undergoing renovations. A little more than a year later, the Maritime Center is quickly becoming an education and research hub with the help of partners like the Lowcountry Institute, the South Carolina Department of Natural Resources, USCB and the Open Land Trust and the Beaufort County School system.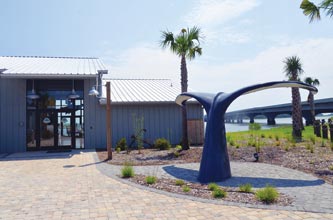 "When you think about it, it's really amazing that it's taken so long to have something like this in the area," says Hayward. She's quick to point out that this isn't meant to belittle the Coastal Discovery Museum at Honey Horn. "They're awesome, but we're different. We're all about Port Royal Sound and doing anything we can to bring awareness and appreciation to the Sound."
            Hayward sees that as a multi-tiered approach featuring a wide range of components like ecology, history, culture, art, recreation and research. "And hopefully," she says, "one day that will include research we're helping to fund."
Mark Shaffer: As you mentioned, a lot of what you do boils down to education and you work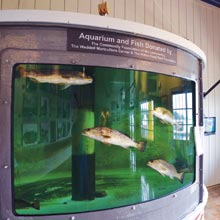 very closely with the Department of Natural Resouces.
            Jody Hayward: The feed us a lot of information and we're really trying to promote what they do. A lot of people don't really understand all the work they do. I didn't until I started working here. They're doing fish counts, monitoring the health of the sound and the work that they do at the Waddell Mariculture Center is world renown.
            MS: It might just be the best-kept secret in the state.
            JH: We recently had a cobia forum here at the center. Dick Stewart, one of our board members and one of the reasons we're here in the first place, was instrumental in putting it together. It was all about educating people about what Waddell is doing and showcasing their aquaculture methodology. They can teach people all over the world about how to raise fish and provide great sources of protein. The knowledge is there for anybody to use – they can't sell it. And wouldn't it be great to bring back some of these traditional fisheries and help them to raise awareness and make sure that the sound is in great condition so that oystering and crabbing can get back to the numbers we once had?
            MS: There's a great exhibit here featuring a look back on those fisheries. Just part of a number of exhibits yet to come.
            JH: I've got so many exhibits I'm working on. [Beaufort Historian] Dr. Larry Rowland was here yesterday. We're working on phase two of our history exhibit. We submitted our first list of moments in history to put on our Beaufort County Timeline and he went through it thoroughly and was so excited to help us.
            (A group of small children from a local daycare stream past the window following naturalists Rachel Jones and Chris Kehrer to the Maritime Center for what will likely be their first interactive lesson in the history and environment of this place.)
            JH: This is what it's all about and we do it for all ages. We get so many kids out here who have never been on the Sound. They've never been in a boat. They've never seen a dolphin. And you think, how is that possible? It's a waste if we don't use the Sound as a classroom for everyone.
            I have a great desire to bring all the different entities in this area together for a common good. If we can help promote what they're doing at Coastal Discovery or what some tour guide is doing to bring awareness to the Sound, then we want to do it.
            MS: The boom in ecotourism has to be a factor in all of this.
            JH: I don't know the numbers, but Beaufort County is definitely on the radar more so
than it used to be. This presents a great opportunity but we also want to make sure it's done in a thoughtful way that it doesn't explode so fast that we lose the reason why all those people are coming here. But like I said, we're just barely getting started with all the things we want to do.
           We're in this spot on purpose. We're right in the middle of the county so that we're accessible to everyone. We're also accessible by water. We've had a lot of visitors come by boat this summer.
            MS: It's part of the package – a big beautiful dock facility right on the Chechessee. The YMCA does its boating camp here and all sorts of kayak tours use it.
            JH: And Capt. Amber Kuehn [of Spartina Marine Education Charters] does an eco boat tour at least a couple of times each month. She can seat about 20 people and it's not dolphin watching, she's talking about the importance of the Sound and all its different aspects. It's an amazing experience. We just got a grant from the Community Foundation of the Lowcountry to help finance Amber's boat tours for our school field trip program in the fall. I think we're going to start adding more things like that – fishing and photo trips. We're setting up our partnerships with DNR, the [Beaufort County] Open Land Trust, the school system and the list goes on and on.
            We do a book each year with Beaufort County schools called "The River of Words."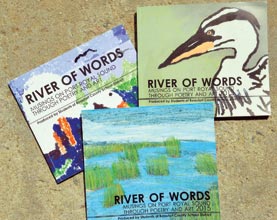 It's all about getting the kids out into the Port Royal Sound and then coming back to the classroom and creating something out of that experience – a poem, a drawing, a photo – and the county chooses the best of this and it goes into this beautiful book. We've just had a meeting about raising participation and getting the word out. We'd love to get the hospitals and hotels to buy these books and spread them around.
            MS: Let's talk about the backbone of all non-profits: the volunteers.
            JH: We've got about 75 volunteers and they're phenomenal. We couldn't operate without them. The Maritime Center is completely run by volunteers. Everything's set up online so they can schedule their own time. We train them well because we really want them to be like storytellers so that when you take a tour you'll walk away having learned something really interesting. And we also want to provide our volunteers with as many learning opportunities as we can, and quite honestly make sure they know how much we appreciate them because we couldn't open the doors without them.
            MS: They certainly showed up for the oyster reef build here in May that was indeed phenomenal.
            JH: They did.
            MS: This is part of your teaching environment and something that will have a long-term pay-off for the Center.
            JH: The two key words that we try to use with everything are education and research. The [reef project] had so many different components that worked so well because of our relationship with DNR and allowed us to let people be a part of something that will positively impact their community. The reef creates a living exhibit for us.
            MS: And they built it in about 2 hours.
            JH: It was closer to an hour. DNR asked for 100 volunteers and we had around 135 and they just knocked it out. And that was great, but what you didn't see was all the school groups who came out long before that and bagged the oyster shell. We had kids out here in pouring rain and they were all about it – it was a competition. Now when they come back they'll be able to see what they helped accomplish.
            The educational component is so key – getting groups here, getting school field trips here, working with the teachers and making this place a resource for them. Our events, and presentations like our "Tuesday Talks," and all of our exhibits are all about trying to tell a story and educate people about this thing that covers more than 50 percent of our county. You don't have to be a fisherman to love it. So many people like me who moved here from somewhere else did so because it's so beautiful and a big part of why it's so beautiful is that out there (motions to the marsh). Anything that we can do to further the appreciation of what's going on out there, that's what we want to be a part of.

CLICK, LEARN, EXPLORE, AND MORE
The Maritime Center is free and open to the public Tuesday – Saturday, 10:00 a.m. – 5:00 p.m.
Check out the calendar of upcoming events and programs, learn more about the history of the Port Royal Sound, explore current and upcoming exhibits, and volunteer at
http://portroyalsoundfoundation.org
Celebrate Halloween with A Night on the Sound featuring guest speaker Philippe Cousteau, grandson of famed ocean explorer Jacques Cousteau during the Port Royal Sound Foundation's Celebration Event at the Maritime Center on Lemon Island.
The evening includes live music, a cocktail reception, a seated dinner with locally sourced foods, and a silent auction. Proceeds support the PRSF's education, cultural, and research programs. Tickets and table sponsorships are available online and by phone at (843) 645-7774.