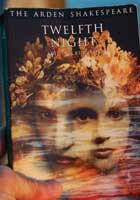 "You haven't heard Shakespeare until you've heard it in the original Klingon."
Chancellor Gorkon, Star Trek VI
Revenge of The Bard
Voltaire once wrote, "Shakespeare is a drunken savage with some imagination whose plays please only in London and Canada." He may have slightly underestimated Shakespeare's appeal and longevity. It's been said that the sun never sets on the works of William Shakespeare – that at any given moment somewhere in the world his words are being spoken in nearly ever language known to man. There are hundreds of festivals devoted to the works of The Bard worldwide. In fact, it's quite possible that Voltaire not only misjudged the playwright's international appeal, but his interstellar popularity as well. The Washington Shakespeare Company recently presented "By Any Other Name: An Evening of Shakespeare in Klingon" with Star Trek's original Mr. Sulu, George Takei. The sell-out event featured a scene from Hamlet. In case you were wondering, the Melancholy Dane's burning question looks like this: "taH pagh, taHbe?"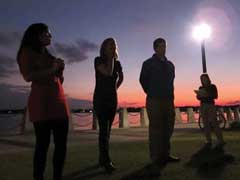 Outside of YouTube I have yet to see the Bard performed in the original Klingon. I have seen his works performed in strange places. Utah, springs to mind. While living in Seattle I saw "Romeo and Juliet" performed on and around the giant "life size" troll under the hulking expanse of the Aurora Bridge. The balcony scene featured Juliet on the troll's head, while Romeo climbed atop the Volkswagen in the creature's left hand. Klingons and Trolls are unlikely to factor into the first Shakespearean production in the Waterfront Park since it's extensive renovation. The show is co-produced by USCB, The Beaufort Theater Company and Lowcountry Shakespeare and made possible by a generous contribution from The Greenery. The play is directed by Lowcountry Shakespeare founder (and Lowcountry Weekly Publisher), Jeff Evans, whose last production in the park was 2004's "A Midsummer Night's Dream." The cast is a lively mix of battle hardened veterans and enthusiastic new recruits. Evans calls this bunch one of the best he's ever had (see the accompanying interview).
An Assortment of Players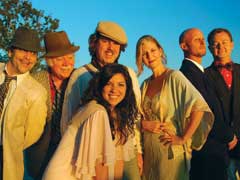 "What's amazing about this show is the diversity of the people in the cast," says Michael Kane (Sir Toby Belch). "It truly is Community Theater." Kane's one of the veterans as is cast-mate and Lowcountry Weekly Editor & Columnist, Margaret Evans (Olivia).
"Almost everybody in this cast has done a lot of theater," she points out. "This is getting to be a pretty good town for Community Theater. We went through a bit of a dry spell, but now there seems to be a lot going on." She points out that Christine Smith is rehearsing two shows simultaneously, as Shelby in the upcoming ArtWorks production of "Steel Magnolias" and as the Countess Olivia's savvy clown, Feste – a part traditionally played by a man.
"I think Jeff really wanted to take a different turn on it," says Smith. "It's been fun. I get to be silly
and seductive and actually quite feminine. It's not at all what I expected." And neither is the fool she plays, a fool only by occupation. "Feste says something in Latin which basically means don't judge a book by its cover. That's still very relevant today."
Smith was in high school when she played the Fairies in "A Midsummer Night's Dream." This time around she sometimes brings her two-year old daughter, Faith, to rehearsal. On this particular evening, the company rehearses on the main stage at the USCB Performing Arts Center. Faith provides a little distraction practice for the performances in the park, eventually squirting out of Christine's reach and tearing off backstage with mom in hot pursuit. The actors on stage never break stride.
"The people I've worked with before are always great," says Dave Falls (Sir Andrew Aguecheek), "Margaret, the famous Michael Kane and others. But the young talent is really awesome in this play and we need that here."
Lynleigh McLain and Elliott Chucta represent a good portion of that young talent. The two Beaufort High students (she's a senior, he's a junior) have shared the stage in school productions like "Beauty and the Beast" and "High School Musical." This is the first real Shakespearean production for either of them, although both have studied the work. Their roles as the shipwrecked and separated twins, Viola and Sebastian, are pivotal to the ensemble. And for Lynleigh there is the double challenge of playing a young woman who spends nearly the entire play masquerading as a man.
"I'm a girl in the first scene and then I'm a guy for the rest of the play. There's no pressure or anything," she jokes.
And how about advice from the veterans?
"You can get advice from them, but I think they're all a little insane," she laughs. "They're a lot of fun to work with. Ian Sprague (Malvolio) has done a lot of productions and he's helped me dissect some of the bigger lines and get into that thought process."
"It's important to take a broad view of what you're reading instead of word for word," says Elliott.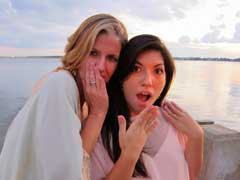 "Figure out the main meaning of each paragraph and work paragraph by paragraph to understand a scene. That also makes it easier to memorize."
Apart from understanding the lines they're speaking, it's also the actors' job to help the audience comprehend what's going on, as well. The dialogue and action in "Twelfth Night" fires off fast and furious in places like an Elizabethan version of a Marx Brothers routine. "It really helps if the actor can nail the intonation and can get the physicality of the character going for the audience," says Sprague, who also teaches at Beaufort Academy. "That way even if the audience doesn't know exactly what's being said, they can still get the gist of it."
"The language really is amazing," says Margaret Evans. "Once you're up on that stage and you really understand what you're saying, you just can't believe how brilliant and clever it is."
"That's where the fun begins," says Kane.
The Lowcountry Spin
I have a theory that one of the major reasons for Shakespeare's four centuries of endurance is the fact that much of the work can be produced in an endless stream of variation. Characters may be altered (in this case Feste) and settings, time, costumes and music are the whims of producers, directors and stars. The film versions of the plays offer some good examples. Sir Ian McKellan spun his Richard III into a shocking alternate pre-world War II fascist reality. Kenneth Branagh, famous for daring interpretations of the Bard, directed Love's Labour's Lost as a 1930's era musical, complete with Cole Porter tunes and elegant dance numbers – a choice possibly more shocking than McKellan's. And this Christmas Helen Mirren takes on the traditionally male lead in Julie Taymor's stunning new version of The Tempest, playing Prospera rather than Prospero.
For "Twelfth Night" Evans wanted to avoid the usual, as well (thankfully no fascists or dance numbers are involved). He wanted a look and feel that seemed to fit more organically into the striking Lowcountry backdrop. For starters the show will go up in the center of the park, right in front of the river, instead of the gazebo area.
"Honestly, I wanted a more visually friendly place so we moved it to this big piece of green lawn so the actors' backs are to the river," he says. "I just think it's friendlier."
He's also rolled over that approach to other aspects of the production.
"There's more music in this play than in anything else Shakespeare did," he says. "It's the second word in the play and the last thing we hear at the end. There are about six or seven songs, and at the beginning Duke Orsino makes a number of references to 'the South.' He's actually talking about the south wind, but he never says 'wind.' So I thought I'll just set it in the South in the 1920's." Evans says live musicians will provide the musical cues he describes as "New Orleans jazzy, delta bluesy."
Next came the costumes. Instead of the usual extravagant Elizabethan finery, the show now calls for vintage Americana. He turned to local artist and designer Pat Wilcox.
"I think it's fun for Jeff to play with time and put this sort of spin on it," she says. Wilcox, who's
costumed big budget movies like Days of Thunder, immediately went to work scouring the racks at local antique and second hand shops. She was surprised with the results. "I've been very lucky to find a lot of authentic 1920's dresses. So that's pretty exciting." Some of her finds are spread out on her shop table.  The treasures include slinky silk gowns, flapper-style skirts, men's suits of all sizes, and an impressive array of period hats – all tools for the actors to use.
"When I start costuming a character I'll ask the actor for a description of what they feel their character is like," she explains. "It helps me to see the character and I think it helps them to define how they see the character and how this individual interacts with the others. "
Wilcox thinks the audience is in for a real treat. "I think they'll see Shakespeare in a new way," she says. "It's going to be fun and glamorous and it's going to have a Southern drawl."
I'll take that over Klingon any day.
The Where and When
William Shakespeare's comedy "Twelfth Night" is presented free to the public in Beaufort's Waterfront Park Friday, October 22nd 7:30pm, Saturday, October 23rd 7:30pm, Sunday, October 24th, 2pm with an additional performance at USCB's New River Campus on Wednesday, October 27th at 7pm.
Mark Shaffer's email address is backyardtourist@gmail.com