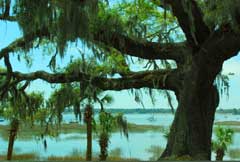 Editor's note: The Beaufort Three-Century Project presented "Beaufort's Live Oak Tree Legacy and Community Forestry: Past, Present & Future—A Symposium" Thursday, April 29, in the MacLean Hall auditorium (Building 12) at the Technical College of the Lowcountry. The program – unprecedented in the area – included local and international experts including Dr. Henri Grissino-Mayer (see accompanying interview), one of the world's foremost experts in the field of dendrochronology (tree rings).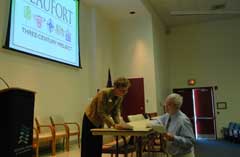 "We were very fortunate to be positioned to bring this level of scholarship to the community through these fascinating presenters—both those among our local experts and those we invited to Beaufort for this special program," says B3C Project Coordinator Deborah Johnson. "The grant from the SC Forestry Commission certainly helped add credibility and it along with the generous in-kind donations let us keep the registration fee as low as possible to encourage broad participation."
Dr. Kelby Fite of Bartlett Tree Research Laboratories spoke about preserving and caring for large trees. Liz Gilland of the SC Forestry Commission addressed the importance of community forestry (a timely local subject) while the Clemson Extension's Laura Lee Rose clarified the proper planting methods for Lowcountry trees. Symposium co-coordinator Michael Murphy opened the presentations with his year-long study of the area's largest and oldest live oak trees.
Of all man's works of art, a cathedral is greatest. A vast and majestic tree is greater than that.

–   Henry Ward Beecher, Proverbs from Plymouth Pulpit, 1870
If trees could talk…
Michael Murphy is an arborist, not a comedian. But as arborists go, he's a pretty funny guy. He's the lead-off hitter on the program, presenting the much-anticipated results of his year long survey of Beaufort County's live oaks, a project form which this symposium ultimately grew.
He opens up with a story allegedly told by the brother of a state politician. While standing on the edge of the Grand Canyon, in absolute awe at the shear spectacle of Nature's handiwork he's barely able to sum up the experience with a monosyllabic, "Wow." A total stranger standing next to him says, "Sure. But have you ever seen the sun set on the Bluff in Beaufort?"
Of course, Murphy reminds the room, the involvement of a politician in this story lends a somewhat dubious nature to its authenticity. The crowd laughs, but the point's well made.
"Life in the Lowcountry," he says, "requires a sense of everyday awe."
It is that sense of everyday awe that attracts so many visitors to our region. Indeed, it has attracted a good many residents as well (yours truly included). A great many things factor into this wonder – all part of the convergence of land and sea, saltwater and fresh, sky and marsh. But perhaps nothing is as ubiquitous as the sweeping expanses of our regal live oaks. Our history has played out beneath their branches. Bluffton's Secession Oak and the Emancipation Oak on St. Helena Island bear eponymous witness to events that shaped the nation. But for all of our association and identification with the live oak, we still know surprisingly little about it. And the trees do not give up their secrets easily as Murphy ultimately discovered.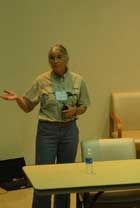 During his twelve month quest for the county's most impressive oaks, Murphy and his Preservation Tree Service crews catalogued one hundred and thirty-six trees and have yet to set foot on any of the vast area controlled by the military. What he hoped to find – something on the order of the Angel Oak near Charleston – has so far eluded him. What he did find were a lot of big trees, most with stories, some with historical references. A journal entry confirms a tree known as The Graveyard Oak was already a giant two centuries ago. The remnants of an ancient tabby wall are strewn beneath the sprawling canopy of an oak known for countless generations as The Trading Tree. Once slaves were "traded" in its shade – if trees could talk, indeed.
Still the question of just how old these trees actually are will likely remain unanswered for some time to come. The only really accurate way to date a live oak is to cut it or core it, something any ethical arborist or forester is loathe to do.  "Like a mysterious woman unwilling to reveal her age, we know that they are old," says Murphy. "That is the one thing we can agree on."
And while Murphy hasn't found his Angel Oak – yet – he did find a tree bigger than the Angel Oak, but without that tree's famous expanse. Its trunk measures nearly nine and a half feet in diameter while the Angel Oak is just over eight feet. This colossus lords over a forgotten corner of the Cherry Hill Plantation in Burton, the scars of old lightning strikes burned into its limbs. This is one of two privately owned sites available to tour by special arrangement at the conclusion of the symposium. The other – an historic farm site on the bluffs of the Broad River – boasts half a dozen similarly sized trees near the old house.
This afternoon I drive out with my friend and colleague Richard Brooks to see the trees. Being cynical jaded old journalists we are not easily impressed. Right. We spend the better part of the next two hours slack-jawed and humbled in that very palpable sense of everyday awe.
If a man walks in the woods for love of them half of each day he is in danger of being regarded as a loafer.  But if he spends his days as a speculator, shearing off those woods and making the earth bald before her time, he is deemed an industrious and enterprising citizen. –  Henry David Thoreau
If Trees Could Scream…
The timing couldn't have been any better. In the days leading up to the April 29th B3C Tree Symposium, Beaufort's trees were under attack. Literally. Crews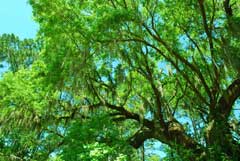 contracted by South Carolina Electric & Gas were busy shearing a wide swath through the oaks to clear space around power lines. There were just a few problems, though. Parts of North Street, Ribaut Road and others began to resemble logging camps. Massive portions of the canopy were hacked away. Some of the crews didn't seem to know what they were doing. "This isn't tree management," observed a friend. "This is mutilation. This is tree mismanagement." When queried by a local landscaper familiar with trees and process, one crew foreman admitted he didn't even know which species his men were cutting or the proper way to prune it.
Things got heated and confrontational. Mayor Billy Keyserling called a special town meeting the day before the symposium to address the issue. Many of the attendees of that meeting also took part in the symposium the next day where the issue of tree management was the topic of discussion.
"Although this symposium has been in the planning for about a year and the date set for at least 6 months, it was certainly timely as we 'talk trees' all across the county," says Deborah Johnson. "The audience participation was strong with good questions and dialogue.  We were delighted to see so many elected officials, city and county employees, board and commission members.  It bodes well as we make decisions about our treescape for the future."
So how do we ensure that this sense of everyday awe survives into that future?
"There's a saying that the best time to plant a tree was twenty years ago," says Michael Murphy. "The second best time is today."
Get involved with the B3C online at http://beaufortthreecentury.org or call 843.489.1711.
Get more Lowcountry online at www.lcweekly.com and look for us on Facebook.
Mark Shaffer's email is backyardtourist@gmail.com