Locals and out-of-towners gear up to celebrate a beloved Beaufort institution.
For our money, the most rollicking celebration planned around Beaufort's big 3-0-0 (hands down!) has got to be the upcoming reunion of the Yankee Tavern. What? You've never heard of "the Yankee"? Neither had we. But that's only because our people don't hail from these parts…
According to our sources – and there are many, many sources – the Yankee was THE happening hangout in Beaufort for a good chunk of the late 20th Century. Owned and operated by Pearl and Manny Palmer from 1959-1985, the Yankee was lunch spot by day, watering hole by night, regular gathering place of poets and politicians, truck drivers and movie stars, bankers and bottle washers. And everybody else, too.
The Yankee occupation ended almost 25 years ago, but the memories never died. And on Saturday, May 29th, the Yankee will rise again as regulars from far and wide come together to celebrate their glory days and pay tribute to Manny and Pearl.
"I decided to do this after an interview with the Beaufort 3-Century Project," says Jim Gibson, one of the reunion organizers. "I was asked what I thought made Beaufort special, and I said I thought it was the fact that Beaufort was so unstructured… that everybody associated with everybody else, regardless of their station in life. I gave the Yankee as an example. And in Beaufort's 300-year history, I was sure there was not another place like it. B3C asked people who had an idea to act on it… not just pass on suggestions to them… so I did. We have a good size core group of about 40 people who have helped to various degrees. So far, we have people coming in for the reunion from Michigan, Virginia, Tennessee and North Carolina."
The Yankee Tavern Reunion will be held at St. Peter's Catholic Church in the Palmetto Room from 7 –11 pm. It will feature an open bar, Yankee sandwiches, the famous Damn Good Chowder, and assorted Yankee-style desserts. Every guest will also receive a forty-page book of Yankee memorabilia.
So, why all the hoopla? What, exactly, made the Yankee so special? Let's hear from some of those who loved the joint, in their own words.
Cast Of Characters
(Through the eyes of longtime Yankee employee, Sandy Dawes)
PEARL
Ah, the [ubiquitous] dangling cigarette. If you were eating, drinking – no matter, Pearl's got a cig dangling from her lips. To my knowledge, no ashes ever actually landed in anyone's food, and, uh, not to make an issue of it, but there's really nothing more "sterile" and "germ-free" than ashes!
As a fellow smoker, I tried a couple times to do that dangle thing, but, invariably, the smoke wafted directly into my eyes or up my nose, causing drippage, drooling, hacking, and otherwise unsightly behaviors, so I eventually had to accept the fact I totally lacked that je ne sais quoi flair Pearl had when it came to dangling.
There were a few people who were Pearl's favorite customers, and when she saw them coming through the door, she'd pop up and greet them so warmly and happily! I can name a few, but in particular, there was this gal named Barbara Tedder. I knew Barbara had been one of the crew who had been instrumental in helping change the Yankee from what was (I believe?) a low-key, mostly Marine hangout into a swingin', happenin' joint! Anyway, here's what I'm wondering: when Pearl saw Barbara hit the door, did she (1) take the time to put her cigarette in her ashtray, or (2) did she greet Barbara with that ever-dangling cigarette? Only Barbara can tell us for sure!
I particularly remember her telling me one quiet evening (and have carried it with me all these years): "Lemme tell you something, kid. A 'successful' person is one who gets up every morning and goes to a job he/she enjoys, and makes a little salary at the same time. Money's not important; Doing what you love – that's important."
Pearl made a deal with the head worker of the migrant workers, who came in yearly to harvest the vast tomato crops in Beaufort. Her basic deal with him was: you bring your workers in, make sure they behave, and I will protect you all from any and all problems my patrons may try to present you. There was, in my time there, never any trouble…she was always so glad to see that head man, and, in a short time, he knew that Pearl's "protection" was for real.
MANNY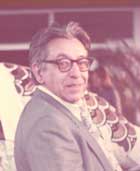 • Manny's favorite movies? "Yankee Doodle Dandy" and "Alexander's Ragtime Band."
• Manny's 3 greatest people who ever lived: Jesus Christ, Johannes Gutenberg, Albert Einstein
• Manny's favorite word: "Obstreperous"
Every now and then a fussy newcomer would get on our nerves and send something back  – usually during the lunch crush. (It was always a newcomer; our beloved regulars would never send something back, ever! We had them trained to love whatever they were served and be damn glad to have it!) On days when someone returned something, Manny would invoke the Yankee adage: "The customer is never right!" If his mood wasn't too dour, he'd go with: "The customer is rarely right!"
One day, a woman ordered a "hot corned beef on rye… with mayo." It about killed Manny to put mayo on a corned beef sandwich – "Aren't there Federal laws prohibiting this??!!" – but, he aimed to please, and did as the lady asked. He spent the rest of the afternoon shaking his head in wonderment over this blatant, nauseating aberration of the Natural Laws of the (Deli) Universe. Frankly, I don't think he ever got over it.
Two historical events I remember sharing with Manny: We got word that Elvis had died. We said, "Long live Elvis!". We also watched Secretariat win that Triple Crown, and we thought that was pretty cool!
Manny's favorite songs on the jukebox were "Dead Skunk in the Middle of the Road" and the "Jingle Bells" song as "sung" by a bunch of dogs ("woof woof woof – woof woof woof – woof woof woof woof WOOF!"). He didn't listen to them that much, but just the idea that they existed tickled him no end!!  (more later on his favorite jukebox songs)
BIG BILL BOWDEN
Bill rarely stopped moving, except for a little lunch after the rush. He mopped, scrubbed, scraped, took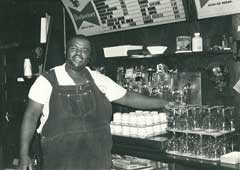 out the trash, unloaded delivery trucks with Manny, then unpacked them into their proper place, drained and cleaned the deep fat fryers as needed (not a fun job!), ran the dishwasher, bussed tables, hauled food from the walk-in to the kitchen as needed, etc ETC ETC… and all without a complaint. I never, ever heard him whining about how his day was going or how hard he was working, and I considered him to be my personal guru/spiritual adviser. (Me? I can piss and moan with the best of 'em, baby! Years of practice have made me a professional whiner! You see, I found something I could do well, and I stuck to it!) I would look to him for advice on how to improve my attitude, and the one thing I remember him telling me was, "Put your best on the outside!" Wise words, indeed, and Bill managed to do that every single day he worked. I must repeat: every single day.
THANKS FOR THE (MISCELLANEOUS) MEMORIES…
As a new reporter in town, the Yankee was the essential place to be if you needed to catch up with the late state senator Jim Waddell, whose office was across the street; he was an early-morning Yankee regular. He was almost impossible to reach by phone, but if you could catch him before he headed up to Columbia, he'd steer you in the right direction.
"I remember when Operation Jackpot was still in the rumor stage (no indictments had been handed down, only investigators crawling all over the place); everyone was abuzz about who was 'going down.' Everybody was picking every one else's brain about who knew what. The Yankee was rumor-central! And of course, that Damn Good Chowder was one of my favorite comfort foods! Never had any like it… ever! –   Lolita Watson
The Yankee was probably one of the only spots in Beaufort where military and civilians hung out together. Remember, this was a very political time period. The local were waiting to see who would be leaving for military duty while the boys already in the military were waiting to see who would be deployed. Pearl and Linda watched like hawks (haha) when there was pool table competition between Marines and locals – those two pool tables seemed to be the place where fuel was consistently thrown on the fire. By the way, it wasn't just Marine vs. Beaufortonian or long-hairs vs. short-hairs (a few Marines even wore wigs to fit in); many disagreements began just because someone looked at your flirty girlfriend too often. I remember Pearl muttering through the side of her mouth that didn't hold the cigarette, "Take it outside." I also remember we seemed to have speed dial (which didn't exist) to the local authorities, and often Joe Linnen arrived on the scene almost immediately if a dispute got too heated…. Just flashed through my head; when I came to South Carolina from above the Mason Dixon line, I thought the war everyone was discussing was the Viet Nam War. Took me a while to figure out it was The War. The War of Yankee Aggression. – Barbara Tedder
Future-Oscar-award winner Gwyneth Paltrow came with our family to The Yankee in 1979 or 1980 on the night her mother's movie 'The Great Santini' premiered at The Plaza Theater. We were 7 or 8. My brothers and I and Gwyneth and her brother Jake all tried our favorite Yankee game of jumping from chair to chair and we tried to jump on the tables. Our parents were of no use in the situation. Pearl yelled from up at the bar, "Sit down, kids" and down we sat. Gwyneth intoned, "Who's the mean old lady?" We told Gwyneth that was no mean old lady; that was just Pearl! – Hamlin O'Kelley
I am the one that put the bagel on the ceiling. I stood on a chair and pushed the bagel to the ceiling and gave it a quarter-twist. And it stuck; I guess it looked like a smoke detector – until it turned green. After the bagel had been on the ceiling for a few years, I pointed it out to Pearl. She gave an impressed shrug and went back to playing black jack." –  Mike Elias
It was a great place to eat, to relax and to socialize. We took our kids there on Saturday morning and they watched cartoons played on the pool table and the pin ball machines and had pancakes with M&M's in them that Manny made for them; and we all had creative omelette's (lobster for example) accompanied by an adult beverage. You were always surrounded by a cast of characters and there was never a dull moment. It was also the only place to get anything to eat after about 8:30 pm for a long time….The food was of a high quality and good price. If you wanted to invent your own sandwich, the Yankee made it for you, and if proved to be popular, it was put on the menu and named after you – The Skipper, The Pearl, They Jewel, The Harry, The Bruce… –  Jim Gibson
Working behind the bar felt like being a duck in a shooting gallery.  When the kitchen bell rang to pick up an order, then to serve the food, take the next order and back to the kitchen.  I remember I didn't gain any weight working there, even though I sure ate good!
I worked there when Manny had his heart surgery… Remember he asked the doctor if the pig valve they were putting in was kosher?  I still feel that Manny was born too early. He would have loved all the technology and gadgets we have now.  The Madam…. Not so much.
I also recall meeting the local lawyers, doctors, professors, Senator Waddell, then came HOLLYWOOD. (Both of them…the one from California and the Hollywood that was created at The Yankee.)
I may not have remembered everyone's name but I sure as hell remembered what you drank and what your usual order was.
So here we are in 2010, and to this day, I'll run into people I haven't seen in years, and they'll ask me "Didn't you use to work at The Yankee?"…My standard reply is …"Yes… I was 12!" – Lynne Tyler
IF YOU GO
Yankee Tavern Reunion
Palmetto Room, St. Peter's on Lady's Island
Saturday, May 29th
7 – 11 pm
Tickets are $60
Send checks to:
James S. Gibson, PO Box 334, Port Royal, SC 29935
Tickets are limited and sales end May 20.
For more information, visit the Yankee Tavern on Facebook.