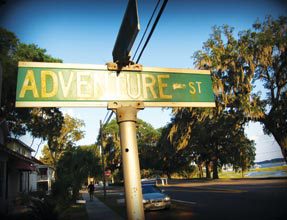 Story and Photos by Mark Shaffer
I recently had a series of conversations

with friends who mentioned that for one reason or another an actual summer vacation just wasn't in the books this year. This got me thinking about the original concept for this column, essentially a local behaving like a tourist and doing things most natives and residents take for granted or simply ignore.
 
Back in 2008 I wrote that I'd be "willing to bet that the overwhelming majority of New Yorkers have never been to the Statue of Liberty… Or that "a similar percentage of Parisians have never gazed down upon the City of Light from the Eiffel Tower, startling numbers of Los Angelinos have yet to pass through the turnstiles of Disneyland, and perhaps millions of native Romans will never tread in the footsteps of gladiators by visiting the Coliseum. As a species we tend to take our surroundings for granted, which explains a lot when you think about it."
Indeed. When I lived in Las Vegas all I wanted to do on my time off was escape. And then I came to heed the sage advice of a friend and colleague who said, "Embrace it and it will surprise you." And so it did. Not always in a good way, either. But I got what he meant and I've tried to apply this philosophy here, as well. Which brings me back to the original point: even if you can't take a vacation, a staycation is the next best thing. And one of the best things about taking a staycation in a tourist town is the long list of choices when it comes to actual tours. There's a tour for just about every taste, age, physical ability and meteorological circumstance. You can walk, boat, bike and even surrey (provided that's a verb). You can bone up on local history during a leisurely ride in a horse drawn carriage, relax in an air-conditioned van, head out on a river cruise or lace up the walking shoes and hoof it, the choice is yours.
HIT THE BRICKS. Of course the most popular way to hoof it in Beaufort involves an actual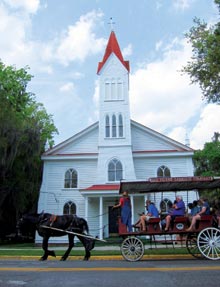 horse. Two carriage companies operate out of the downtown marina. Southurn Rose Buggy Tours (843-524-2900) and Sea Island Carriage Company (843-525-1821) offer the town's quintessential tourist experience via a leisurely, relaxing ride through our canopied, moss-drenched streets. Drift back in time to the clomp, clomp, clomp of the big draft horses.
Reservations are recommended and during the summer months it's best to call ahead and make sure the tours are running. When the mercury spikes the horses tend to get a well-deserved day off.
Evelene at The Spirit of Old Beaufort has been walking around Beaufort in period dress for so long she's practically part of the scenery. Evelene and her staff offer a wide variety of experiences highlighting the area's rich cultural heritage. Check out the full menu at www.thespiritofoldbeaufort.com. We recommend the famous walking tour through the historic district. It's a well-paced two-hour journey through more than three centuries of Beaufort history with Evelene or one of her guides decked out in period garb serenading the tour with songs from the past. The Spirit of Old Beaufort is located at 1001 Bay Street across from the marina. Call (843) 525-0459.
EAT, DRINK, REPEAT. If you're like me the ideal summer stroll is the shortest distance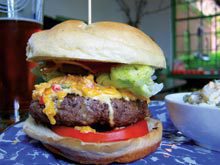 between two bars. Beaufort's blessed with a vibrant and eclectic downtown bar and restaurant scene. So much so, in fact, that one average staycation simply may not afford enough time to sample all the good stuff. That's why we're here. We've already done it for you. Someone had to. You'll find our complete rundown of the cocktail trail at LowcountryWeekly.com. Hit the "Cuisine" button on the main menu and click on Life Behind Bars. Our two-part "Drinking in Beaufort" guide is all you need to know. Use it wisely. And remember the words of Benjamin Franklin, "In wine there is wisdom, in beer there is freedom, in water there is bacteria." Cheers.
If you're looking for a more food-themed walkabout consider taking A Taste of the Lowcountry. Erin Walker created this ever-changing 2 1/2 hour culinary adventure out of her own curiosity about our regional cuisine. She personally guides each group through a half dozen stops, each featuring a different and unique component of our rapidly growing local food scene. Space is limited and reservations are required. Book yours at 843-441-7923.
GO FISH. Beaufort has been called a "Quaint drinking town with a fishing problem." The only way to confront a problem is by facing it head-on. Tony Royal and his crew of Orvis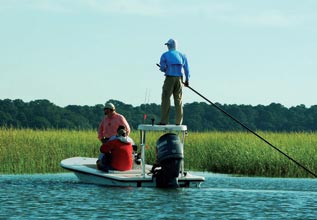 certified guides at Bay Street Outfitters have been helping individuals and groups deal with their fishing "problems" for nearly two decades, one charter at time. Hell, if you don't know how to fish, they'll fix that, too. The Beaufort area offers some of the finest sport fishing on the planet. The biggest draw is the wily and splendid Red Drum. The reason reds thrive here is what makes us unique: a quarter of all marshland water on the east coast is right here in Beaufort County. BSO is located in the historic Lipsitz Building at 805 Bay. Go online at baystreetoutfitters.com or call 843 524-5250.
If, like most locals, you own some form of watercraft your summer staycation is likely to be a wet and wild one spent with other like-minded individuals on a local sandbar. If you don't have a boat, well, start thinking about getting one. We live on an island, for Pete's sake.
Our magnificent and complex system of tidal flats, marshes, rivers and creeks attract much more than fish and anglers. This environment offers some of the richest opportunities for birders and paddlers alike on the east coast.
POINT & SHOOT. Eric Horan's stunning nature photography has appeared in this publication for as long as we can remember. He's also been published in Business Week, Fortune, Southern Living, The New York Times Sunday Travel, OUTSIDE, Yachting, Sail and Cruising World and on the cover of Smithsonian. Aside from all that street cred, Eric's one of the finest guides around and a Lowcountry Photo Safari in his 19 foot Carolina Skiff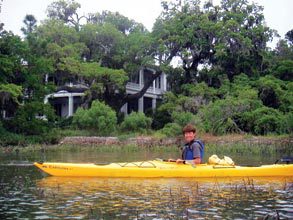 is at the top of my list for any staycationing shutterbug. If a picture truly is worth a thousand words, I'll let his do the talking at www.horanphoto.com. Each trip with Eric is a remarkable educational experience as well as an adventure.
START PADDLING. The same can be said of Beaufort Kayak Tours "crew of two." Master Naturalists (and craft brew enthusiasts) Kim Gundler and David Gorzynski have been paddling groups through these intricate waterways since 2002. BKT offers an assortment of tours covering the ACE Basin, Hunting Island and downtown Beaufort. Each one is a unique encounter with a different aspect of what sets Beaufort apart and there is never a rush. BKT offers one tour a day. There's no beating it back to the dock to take out another group and even seasoned Lowcountry paddlers will come back a little smarter for the experience.  
CRUISING. If paddling's not your thing and your staycation includes young children climb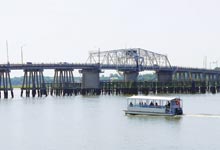 aboard the Prince of Tides with Capt. Dick and First Mate Linda for their famous River Tour & Dolphin Watch. This fun and easy voyage up the Beaufort River takes you past the historic homes of the Old Point and into waters where large pods of dolphin are common. Capt. Dick offers two and sometimes three trips daily with sunset cruises Thursday through Saturday. Call the marina at 843-524-4422 for tickets and info.
HIT THE BEACH. And finally, what coastal staycation would be complete without some quality beach time? Hunting Island State Park consistently ranks as one of the best beaches on the east coast, but you won't find any high rise resorts or condos. What you will find is 5000 acres of semi-tropical barrier island with a maritime forest that literally falls into the Atlantic Ocean. This is a beach like no other. At high tide it virtually disappears in places. During extreme low tides on the north end at the mouth of Johnson Creek the sand seems to stretch on forever.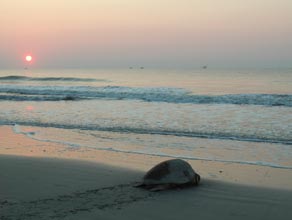 Climb the lighthouse to get an entirely different Lowcountry perspective. Summer sunrises on the beach are spectacular with local shrimpers trawling offshore as dolphins roll behind the boats and local volunteers scour the sand for turtle nests. Find out more: http://southcarolinaparks.com/huntingisland
Of course, we've only just scratched the surface here. A visit to Penn Center is a must and Fort Fremont at Land's End may be the area's best-kept historical secret. Not for long, though. And there's so much more. What's on your staycation list? Email us at backyardtourist@gmail.com.