Sam Shepard's classic American drama finds kismet in the Lowcountry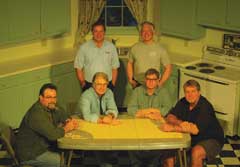 Note: Sam Shepard's Tony Award-nominated True West runs through the month of April at SCETV's WJWJ studios in Beaufort, SC. The production – a first for the facility – also marks the initial collaboration of an extraordinary collection of talents as well as a remarkable series of circumstances and events. Lowcountry Shakespeare founder, Jeff Evans, shares producing/directing duties with veteran stage and film actor, Tom Schuster. Evans also publishes Lowcountry Weekly.
Ser-en-dip-i-t-y   – noun
An aptitude for making desirable discoveries by accident.
Good fortune; luck.
The Load In
Let's begin in the middle. I'm standing on the banks of the Beaufort River on a spectacular spring morning. The breeze is cool and fresh. Dolphins roll in silhouette against sparkling ripples across the water's surface. This is the view from the studios of ETV Lowcountry, WJWJ. Today represents a landmark for a facility straddling the omnipresent razor's edge of state budget cuts. This is the "load in" for the True West set and with it fresh potential for a valuable community resource, a resource in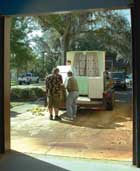 real danger of simply vanishing. (See the sidebar interview with Operations Manager, Scott Johnson.)
Jim Passanante deftly maneuvers his flatbed trailer with the disassembled set up to the loading dock. On board, awaiting reassembly, is the set. He's designed, foraged, built and painted the whole thing from scratch by himself in six days – mere child's play for a guy who once built a New York subway station in an abandoned warehouse for a Die Hard movie (see the sidebar interview).  Passanante put the set together so quickly that few involved with this endeavor have seen it.  Even before the straps come off and the first piece is unloaded, it is apparent from the slack-jawed expressions that he's exceeded expectations by a significant margin, like maybe the moon.
Within forty-five minutes the load-in is done and part of the generic vacuum of the TV studio becomes a sea foam green "nifty fifties" kitchen complete with matching period dinette set, working refrigerator and a checkerboard linoleum floor. I swear I can hear the theme from Leave it to Beaver. The transformation is as stunning as the reality this make-believe thing represents: this is really happening.
A small world story
I was introduced to Sam Shepard at the old Poynor Auditorium in Florence back in 1988. True West was the play then, too. I was working for SCETV at the time and ended up shooting a piece on the fledgling theater group – Broad Reach Productions – and the pair of local brothers behind it. Bob and Tom Schuster were siblings on stage, as well. Bob was Austin, the promising screenwriter whose career is beginning to simmer. Tom played older brother Lee, a silver-tongued thief and drifter whose most heinous theft is his kid brother's big break. I have been a Shepard fan ever since.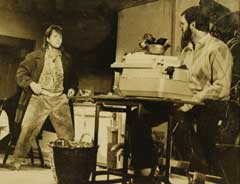 Flash forward a couple of decades to Beaufort. Rehearsals are underway in the USCB Performing Arts Center for a production of Arsenic and Old Lace. Evans directs the debut production for the Beaufort Theater Company. There is something strangely familiar about the guy playing Jonathan, Mortimer's murderous older brother. It doesn't take long to connect the dots once that voice booms across the theater.  During the intervening years, Tom Schuster's logged more than a hundred stage plays and dozens of film and television roles, shari
ng screen time with the likes of John Voight, Kathy Bates, Kris Kristofferson and Chuck Norris. "Basically, I haven't unpacked my suitcase in twenty years," he says.  Based in south Florida, he's in town to help care for his ailing parents and answers an ad for the audition on a whim.  Serendipity.
Arsenic is a hit and pretty soon Evans and Schuster are kicking around the idea of doing something on stage together. Evans is eager to be back on the boards himself after a brief hiatus. He's tackled roles like Macbeth, Iago and Tybalt on both coasts and – like Schuster – he's no stranger to True West, having filled Austin's shoes for the Marin Theater Company. In fact, once True West entered the conversation the show practically seemed like fate. Schuster and Evans realized they each had played Lee and Austin, respectively, in practically simultaneous productions on different coasts. Both still shared a passion for it and Tom was available.  "We were talking during Arsenic," he says. "I told Jeff if I've got to be here in this town I've got to do something I love to do or I'll go nuts. This is a way to make that happen."
"I've done Shakespeare around the Lowcountry for a long time and always wanted to do something contemporary," explains Evans. But the choice of the material runs back to his theatrical roots on the West Coast. "Being from San Francisco where Sam Shepard was the playwright in residence at the Magic Theater – where the play was first produced – probably had a bit to do with it. That being said, Shepard is truly one of the great American playwrights and True West ranks among his best work." The scaled down size of the production made it even more appealing and possible. The entire show takes place in a single setting and the cast numbers four with the lion's share of the load split between the two leads, in this case, Schuster and Evans.
"It's about two
estranged brothers who don't have a lot in common," Evans explains. "Austin is the good son, Ivy League educated with aspirations of becoming a professional screenwriter. Lee is…"
"Danny the tunnel rat," laughs Schuster. "He's got issues."
More to the point, Lee's a weapons-grade black sheep, a desert rat and drifter whose only good intentions involve himself.
"They both end up at their mother's house because she's on vacation in Alaska," continues Evans. "Austin's finishing up a screenplay deal with a producer named Saul when Lee shows up and essentially steals his dream."
Mary Strick, Arsenic's Elaine, steps into Mama's pumps for what amounts to a brief walk-on at the end of the play. It's a sign of shear passion to show up each and every performance for such a fleeting moment, but one Strick approaches as if it were a lead role.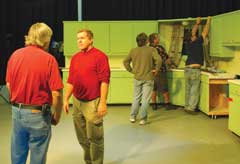 For Saul, the Hollywood producer and force behind the inevitable final clash between the brothers, Evans called in his old friend Leo Gannon.
"So," I ask Leo, "was this the thespian version of a naval press gang? Did they march through Habersham and conscript you on the spot?"
"Something like that," He laughs. We're sitting in the Green Room at WJWJ. "I've known Jeff for a long time and he's always been very helpful to me over the years with a lot of the things I was working on as an actor. He's been after me to do something since I came back to Beaufort in 2001 and I keep turning him down for one reason or another."
So what's different this time?
"I guess I finally ran out of excuses," he says. "Jeff told me he was doing True West. It's a good play. I'm familiar with that play and basically saw this as an opportunity to help him out with a role in a production he's been talking about for at least ten years."
Gannon first felt the first exquisite sting of the acting bug in 1991 when Barbra Streisand's production of Pat Conroy's The Prince of Tides rolled into Beaufort.
"I was on the set as Nick Nolte's stand-in for six weeks," he recalls, "which was a real eye-opening experience – my first time on a big time movie set." Armed with a brand new Screen Actor's Guild card he picked up enough work and built up enough confidence to move to New York.  Just before that move, Gannon needed a last minute audition piece taped for a film role, and called Evans. "That's one of the reasons I remain loyal to him," he says. "I didn't have to ask twice. He shot it, I got the part and I spent the next seven years in New York and the rest is history."
These days Leo Gannon is a successful builder. He knows a thing or two about solid construction and sees the potential for this production to serve as a foundation for a fresh perspective on the performing arts in Beaufort. "That's one of the reasons I think so many people are excited about this," he says. "I really think that this space is the most well-suited space for this kind of thing that I've seen in Beaufort, ever."
Space has always been the unconquerable final frontier for the performing arts in Beaufort. The suggestion to boldly go where no theater production had gone before came from Tom's brother Bob. "I told them to call Scott Johnson at WJWJ," he says. "It's a beautiful studio and they're not doing anything with it. That afternoon they came out and talked to him." Bob would know. In addition to handling marketing and public relations for Clemson University, he's also attached to SCETV's "Your Day" radio and television programs. This production will be featured on both shows. "It's a win-win for everybody," he says. "It gives WJWJ an opportunity so show off what they've got. It gives the theater community something to hang their hats on, and it gives these guys an opportunity to showcase their talents."
Self-proclaimed "fish out of water" Alex Cooper comes aboard as Production Manager.  "These guys have faith in me and I am privileged to be in this company," she says. Her first order of business is to find the slew of props the actors will destroy each show. "Go find thirty typewriters and toasters these days. Not easy."
With the cast, crew and venue in place, all that remains is the set when Evans and Schuster bump into Jim Passanante while scouring the Goodwill for props. The play pops up during the course of the conversation, and – once again – serendipity steps in. Passanante's one of the film industry's most sought after "Scenics" – master craftsmen who build and paint sets. "I started working at Universal Studios when I was seventeen," he says. Today the business spans three generations of Passanantes. "My Dad ran the plastering department, my brother was a carpenter, I was a painter, my younger brother was a painter, and my son is a painter." Passanante's got more than seventy-five films to his credit with titles like Cold Mountain, Die Hard With a Vengeance and Forrest Gump. He's just wrapped Robert Redford's The Conspirator in Savannah and has a little time to kill between gigs. Bingo. The "S" word strikes again. Sam Shepard hasn't mustered this much fuss since he stole Jessica Lange from Mikhail Baryshnikov.
The Final Frontier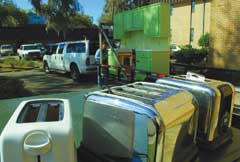 Distilled down to its absolute essence, True West is to sibling rivalry what King Kong is to apes. "It scares some people," says Schuster, "but if you do it right, it's hilarious stuff. In the end it's what most of Shepard's stuff is about: not really knowing the people you think you know." It's also a slow burn between the two brothers that will literally have them at each other's throats – an idea that didn't work very well for real life brothers Randy and Dennis Quaid. During the 1982 Steppenwolf Theater Production in Chicago, the Quaid's onstage conflict erupted into a legendary backstage brawl. Allegedly, the two brothers didn't speak for years. That same production also launched the careers of Gary Sinise and John Malkovich and solidified the fledgling Steppenwolf as a company to watch out for. Could this production of True West point the way for a new theater company in the Lowcountry? Absolutely, say Schuster and Evans. They're currently exploring the possibility of taking the show on the road once the initial Beaufort run is finished. Naturally, the next project is already being discussed.
Leo Gannon sums it up best. "There sure are a lot of pieces falling together right now and that makes it exciting." To paraphrase Tom Stoppard's Shakespeare in Love, it all seems to work out in the end, although how remains a mystery. However, should this production give birth to a new theater company, I'd seriously consider the name "Serendipity."
TICKET INFORMATION
True West runs April 9th – May 2nd at ETV Lowcountry, WJWJ-TV 925 Ribaut Road in Beaufort.  Show times are Friday & Saturday at 8pm, Sunday's at 3pm.
Performances run approximately 75 minutes
Tickets are available  by calling 843-525-8534 or 843-522-0418 and online at www.lcweekly.com