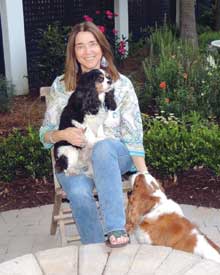 Recently, Mary Alice Monroe invited me to her home to  discuss her newest trilogy, The Lowcountry Summer. Here's Mary Alice, with Buster Brown and Magnolia, in her garden on the Isle of Palms; she is a personal literary inspiration and mentor.
                          – Wendy Nilsen Pollitzer
A few years ago, I read a book that changed the cadence of my life. The Beach House, by Mary Alice Monroe, inspired me like nothing I had ever read. In just three short days, I read the story about Caretta Rutledge and her ill mother, and it brought me to tears and to action.
The novel incorporates woven themes of love, sacrifice and forgiveness. It defines the beauty of the South Carolina Lowcountry while symbolically relating life's most precious lessons to Monroe's true passion for coastal conservancy.
When I read The Beach House, I felt connected to Caretta's story, not only because Monroe described so many parallels to my own life, but also because she initiated an interest in the protection of the South Caroline state reptile, the Loggerhead Sea Turtle (Caretta caretta).
I lived at Coffin point at the time, only a five-minute drive from Hunting Island State Park. I inquired about The Loggerhead Sea Turtle Protection Program, which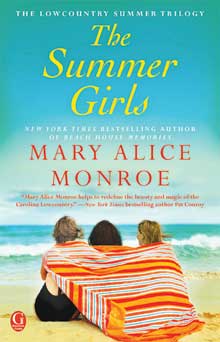 was led by the Interpretive Program Manager and organized by the Friends of Hunting Island. Before I knew it, I was on the Tuesday team with my new friends, Lolita Huckaby and Abby Morris. Each week, we watched breathtaking sunrises while shrimp boats dotted the horizon and peacefully strolled the high water line in search of turtle tracks. That summer was magical, and I owed my newfound appreciation for the endemic marine species to Mary Alice Monroe.
That's what is so special about Monroe's writing. She pens from real experience, and her love of a resource is contagious. Her many years of volunteer work gives her inspiration, and her novels deliver messages of coastal concern while developing characters, themes and dialogue to best represent the setting of the South Carolina coast and the state of mind of its residents.
Her multi-layered love stories not only incorporate Monroe's conservation ethic, they also maintain Southern customs and valued life lessons. Almost all of her novels feature a generational narrative between a wise, older woman and a younger lost soul and the cherished institution of tradition.
As many females in the South understand, we are raised to be strong women, "but we can't forget our pearls," laughs Monroe. She continues, "Expectations change as values change, so tradition grounds our Southern values."
In addition to the well-researched natural aspects of her stories, Monroe's characters underline various psychological traits, all descriptive of the multi-faceted family. Whether her novels include topics of alcoholism, lack of confidence or terminal illness, the depth of her characters define strength and weakness; and their development in the plot is meticulously thought out and woven strategically to maintain environmental, historical and spiritual integrity.
And this talent can be attributed to Monroe's years of dedicated volunteer work with SCDNR's Loggerhead Sea Turtle Protection program and the South Carolina Aquarium.
"It's the activity that changed my life. Volunteering gave me something to believe in, and the reward is tenfold," smiles Monroe.
And for every book Monroe writes, she does so from an authentic perspective. She's had to do the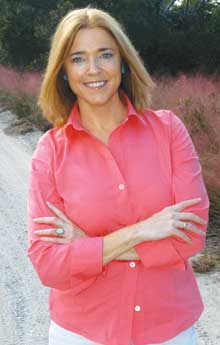 dirtiest and seemingly most monotonous jobs, from cleaning after birds to sweeping walkways to scrubbing decks. But she did it all to gain the trust of the organization for which she volunteered.
"I wouldn't have known what questions to ask if I didn't do a little bit of everything. As I worked, I watched. There is nothing I can read or research that can top the power of observation," explains Monroe.
Four years ago, Monroe began volunteering at the Dolphin Research Center in Grassy Key, Florida and started to explore the Atlantic Bottlenose Dolphin for her newest trilogy, The Lowcountry Summer. The trilogy is inspired by her volunteer work at the center and encouragement from Dr. Patricia Fair, Director of the Marine Mammal Program, NOAA and Philippe Cousteau, explorer and social entrepreneur.
The first book in The Lowcountry Summer trilogy is The Summer Girls, which will be launched at a luncheon in Monroe's honor as part of the Salt Marsh Author series at Moss Creek Clubhouse on June 25th at Noon.
The Summer Girls introduces Marietta Muir, "Mamaw", and her three granddaughters, half-sisters who are scattered across the country and reunited at "Sea Breeze," their ancestral summer beach home. Fearing the family bond will disappear when she is gone, Mamaw is determined to host one last memorable summer with her granddaughters. During the visit, many surprising truths are revealed, mistakes are forgiven and a friendship with a charismatic dolphin named Delphine is made.
Delphine is the thread in the trilogy that will weave the relationships of each granddaughter into a blanket of connections that will endure long beyond one summer, and Monroe purposefully uses her as a theme to raise awareness about major concerns threatening the Atlantic Bottlenose Dolphin, like water quality and biotoxins that contribute to neonatal deaths, and the shocking statistic that 48% of our resident dolphins in South Carolina are sick. Additionally, she addresses rehabilitation and release as well as the harmful consequences of feeding dolphins.
"Hilton Head is the perfect place to launch The Summer Girls because of the area's concern and love for the Atlantic Bottlenose Dolphin," says Monroe.
Like Loggerhead Sea Turtles, the more we are educated on the dolphin, the less strandings we will see on the beach and in our marshes. Dolphins, in particular, are a social species. And as they become more comfortable with people, they are commonly challenged with human objects like fishing lines and boat propellers that can deliver an ill fate.
"There was so much to write about concerning the issues facing the Atlantic Bottlenose Dolphin. I couldn't fit it all into one book, so a trilogy made sense."
If I know Monroe's writing, I know The Lowcountry Summer trilogy will truly engage the reader and possibly initiate a call to action. It will also reflect Monroe's energy and passion for our beloved dolphins.
Monroe does it best. Her intuitive understanding of people and her surroundings yields sincere script and nurtures her creativity. And her love of the Lowcountry landscape and neighboring ocean is consistent with her love of family. Both are worth fighting for.
"If we don't take action, we will lose what we value most," explains Monroe.
I'm taking a four-day weekend on a remote island (surrounded by dolphins) this month to read The Summer Girls, just in time for the launch party. I simply can't wait.
The launch party for The Summer Girls will be held June 25th at Noon at the Moss Creek Clubhouse. Tickets are $21 and can be purchased by emailing Eileen Hutton at Eileenhutton@att.net. For more information, please call the Moss Creek Clubhouse at (843) 837-2229. Books may be purchased at Barnes and Noble or online at www.barnesandnoble.com.