Story and Photos by Mark Shaffer
Note: The Beaufort Three Century Project (B3C) begins its final act as we count down to the Tricentennial Celebration on January 17, 2011. Lowcountry Weekly will continue to spotlight the unique history, people, places and events woven into the fabric of this landmark celebration.
The Historians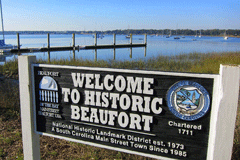 About this time last year the initial presentation of the Tricentennial Lecture Series generated the small town equivalent of a smash Broadway show. Hundreds of people were turned away for the first event and the rest of the series was an immediate sell-out. Even people who knew people couldn't get a seat. In fact, some of the people one would need to know to get a seat couldn't get a seat. An encore presentation wasn't simply necessary, it was practically mandated. B3C and USCB, co-sponsors of the series, have made it so. The trio of scholars has agreed to take the stage once again in what can only be described in certain circles as "Beatles-esque."
I recently joined B3C Project Coordinator, Deborah Johnson for a lively lunchtime conversation with two of the three principles involved. Dr. Lawrence Rowland is the Distinguished Professor Emeritus in History at USCB and author of The History of Beaufort County, Vol. I. His longtime partner in the series, Dr. Stephen Wise, applies his expertise on the Civil War in the upcoming second volume as co-author. Wise is also director of the USMC's Parris Island Museum. The third member of this supergroup of historians is absent. The distinguished former President of Middlebury College, Dr. John McCardell, was recently named Vice Chancellor of the University of the South, better known as Sewanee. This seemed an acceptable excuse and rather a stretch just to avoid lunch with a journalist, although he did miss some pretty good chili…
Mark Shaffer: You've actually been doing these lectures for quite a while.
Lawrence Rowland: "We put this series together years ago and have been doing it ever since. We have never had the kind of success we had with B3C last year. All of a sudden it was a hit, perf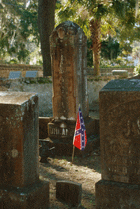 ectly timed, perfectly spaced. So we're doing it again, doing what we've done periodically for fifteen years or so.
MS: So the packed houses, the standing-room-only crowds really took you by surprise.
LR: Oh, yeah. It took everyone by surprise.
MS: Deborah's mentioned that the three of you sort of got the rock star treatment.
LR: In as much as we've been doing it for fifteen years, (laughing) where were they for all those years? Not that we've had bad attendance – we've always had good attendance (at least on this side of the river).
MS: Stephen, why do you think it was such a sudden smash?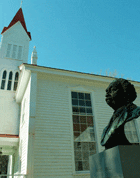 Stephen Wise: Advertising. Deborah got the word out to all the different areas and that's what did it.
MS: There was a real buzz around town during these events.
LR: It was different.
MS: People also have to be interested in the subject matter, though, to pack the house like they did.
SW: Deborah was able to hit the markets right. [In previous years] a press release would be sent out and the newspapers might or might not print it. This was definitely more organized.
Deborah Johnson: I think there were also a couple of other things that helped. We lowered the price of admission because a part of B3C's mission is to make it accessible to everyone. So [the lecture series] was as inexpensive as we could possibly run it so that anybody could attend. And secondly – and partly because it was tied to B3C – people really want more in-depth history. They want to understand the deeper levels of our history.
LR: I have a theory on that. Steve has probably found this as well, but over the course of my career I've found that when people get to be about fifty years old, they become interested in history – their own family history, community history, and a lot become interested in specific periods like The Civil War. There's a huge interest around here in The Civil War. [The study of] history is an enterprise that older people tend to gravitate to. So as more and more retired people move here and the demographics change, our audience gets bigger and bigger. Which is not to discourage "youngsters" from attending.
MS: Do you find that a lot of people who move here from somewhere else do so specifically for the history – specifically, because of an interest in, say, The Civil War?
LR: Oh yes. When Charles Fraser developed Hilton Head Island (which was the beginning of this whole real estate boom), one of the things he sold was history. He was a great history buff and collector. He was a great friend of mine. He didn't always want to talk about business, but he always wanted to talk about history.
So he started selling the history of Hilton Head and the history of Beaufort County before I got here years ago. He understood its appeal. So I think history is more of a valuable commercial product than most people realize. Ask Steve about his museum.
MS: I'm embarrassed to say I've not been – yet.
SW: Well, we get over a hundred thousand people a year. We're the only museum in the area that covers any of the history.
LR: It's the best museum in the Lowcountry, by far. And they have archeological sites, too.
MS: What are some of the current highlights?
SW: We're working on our local military history area. That should be finished in the next couple of months. It's open now, but it's not finished. And we do all the history of the Marine Corps from 1900 on, most of the history of Parris Island, which includes the French and the Spanish. We have the old village sites out on the island with walking trails, and we do a bike tour twice a year of all the historic sites.
A brief discussion follows on the current lack of a viable municipal/county museum in historic Beaufort – a subject we'll address as this tricentennial series progresses. Beyond certain political issues, money seems to be at the core of the matter along with a few other obstacles.
MS: What are the major challenges involved in putting something like this together.
SW: A proper facility – one that will protect the collection – a proper staff, the exhibits themselves. Exhibitry's come down a great deal in cost but, you're competing with Disney World. A lot of museums are going to non-artifact exhibits, what's called "emersion history." It's like walking through a scene but everything in the scene is fake – a reproduction – you're not actually seeing the artifacts themselves. You may be walking through a scene from the Korean War but are you really learning that much about it? It's hard to say. Where does the entertainment begin and the education component end?
MS: In this day and age does history have to be presented as entertainment?
LR: It's an interesting question. I think that the audience we appeal too, that Deborah found for us, would be just as happy to sit down with a good book. As she indicated earlier, they really are interested in the substance. Different generations, different audiences. My suspicion is that people who are now twenty or thirty will be happy to sit down with a good book when they're fifty.
MS: Back to the lectures. What sort of feedback are you getting? Are people amazed at what they're learning?
LR: They'll say to me "Gosh, I never realized how much [local] history there was." For years my schtick throughout these lectures has been to prove that all of American history actually began in Beaufort, South Carolina. And when people walk away they say, "you know, that's not a joke" particularly after they see all the "firsts" we have.
MS: Convince me.
LR: Well, Steve is the custodian of the first protestant colony in the New World. Before Plymouth Rock, before Virginia, [French Huguenots] were on Parris Island building a Presbyterian church.
SW: Before St. Augustine.
LR: The city of Santa Helena – the Spanish city that Stephen's also custodian for – was the first official capital of Florida. People don't know that. It's a technicality but it's true. And then you have a series of "firsts" after that – a lot of them around the Civil War and Reconstruction. Beaufort County was the site of the first commercial cotton crop – which I go into at length in this lecture. People don't understand what a profound economic revolution cotton was to the history of the United States. It was colossal. We have never had an agricultural product in the history of America that was worth what cotton was worth, to this day. It transformed the American South, it transformed politics, it transformed slavery and it transformed Beaufort County. And it began on Hilton Head. I mean that's pretty interesting.
MS: What are some of the Civil War "firsts."
SW: The first black regiment was raised with slaves from here. This is the first Deep South city seized by the North, and the prototype for reconstruction after the war.
MS: The first rumblings of secession?
LR: It was the seed bed of secession, no doubt. This was the home of Robert Barnwell Rhett who was the father of secession in the South and that's a story that John [McCardell] will tell. He's an expert on Southern Nationalism.
DJ: Last year was the first time you'd done the lecture series together, right?
LR: He's an expert on the subject and a loyal Beaufortonian so we figured why not give him that lecture. He can do it better than I can. John's book, The Idea of a Southern Nation, is an intellectual history of Southern Nationalism. When this dissertation was published at Harvard, it was selected as the best dissertation in the United States. So we figured as long as we've got him around we'll sign him up.
MS: We've talked a lot lately about how certain factions of the community seem to be taking a rather casual approach to the tricentennial. Why is that?
LR: Daily life doesn't change and on January 11th, 2011 nothing's going to change.
MS: So, it's just a date to a lot of people. But to historians like yourselves this is quite benchmark.
LR: Historians tend to think that all significant anniversaries should be celebrated. What was the Macaulay quote? Lord Thomas Babington Macaulay, the great 19th Century British historian, said in his introduction to his great The History of England from the Accession of James the Second, "Any people who are ignorant of the noble achievements of their remote ancestors are unlikely to achieve anything worth being remembered by their descendents." There's the justification in celebrating all these anniversaries. The university is celebrating its fiftieth anniversary, the Presbyterian Church is having its centennial next year, the city's having its tricentennial next year, St. Helena's Church is celebrating its tricentennial the following year and [Stephen and I] are about to go to a meeting on the sesquicentennial of The Civil War, which is going to be bigger than all of the others combined – and it should be. This was a colossal event. It's got to be the most import
ant thing that ever happened in American History.
SW: The defining moment.
LR: So, yeah, anniversaries are good for history.
MS: So by shining a light on the past are we able to shed some light on the future?
LR: People will often say that the past predicts the future. That's rarely the case, but it does have lessons. I don't thing there's any predictive value in history. Do you?
SW: No – at least no directly predictive value.
MS: So the series is back by popular demand, so to speak. Will there be any changes?
SW: I'm changing a few things. There will be a few variations in my part, and I might add a bit because I ended twenty minutes early last time. Of course, everybody liked me ending twenty minutes early since Larry always goes twenty minutes over.
MS: Well then, it all balances out.
LR: You see, I have far more material than I can deliver and I never know which part I'm going to deliver. I have an outline and kind of glance down at it once in a while whereas Stephen is much more organized. Meanwhile, there's this big hook behind the stage.
(Laughter)
SW: Larry doesn't let people go to the bathroom.
LR: They can get up and go, I'm not going to stop. I'll be here when they get back.
(More laughs)
DJ: One of the most common comments we got last year was how well the three different styles worked together – three different styles of telling the history, all wonderful and engaging and easily understandable for the non-scholar. All three are very different but amazingly effective.
LR: What I do is tell a series of stories and relate the history through them. Stephen's got a very different style.
MS: Larry, you're boiling down about four hundred years but you mentioned that you found that easier than dealing with The Civil War?
LR: Oh, yeah. It's immensely complicated.
MS: So it's up to Stephen to distill that essence. How do you manage that?
SW: I know it so well that it's not that complicated [for me]. I lead people through certain topics so that they can better understand them. One thing that we did get some feed back on from last time was how the Emancipation Proclamation did or did not free slaves, why it was done and how it was done. Too often that story is not properly told. It's very important because of its impact here.
People also don't realize what the name of the war actually is. It's not the Civil War, it's the War of the Rebellion, and it's called that because the South is outside the Constitution rebelling against the United States. That allows the federal government to do certain things they couldn't do had the South stayed in the Union. One of those things is the Emancipation Proclamation. So it can get complicated. People like knowing the background and the details. I don't want to [disparage] any carriage drivers, but they don't want the carriage driver version of the story, they want to know how and why these things occurred. And then there are so many fascinating characters from this area.
LR: Tell Mark about some of the characters. I'm learning by the stuff that [Stephen's] writing about people who were here that I didn't know about.
MS: Which is sort of incredible. I had never heard of Robert Smalls until I landed in Beaufort. What a phenomenal story.
LR: A fabulous American story. Absolutely.
SW: Working here in Beaufort we had people like Frances Gage, a very well known abolitionist, feminist, universalist, anti-drink individual.
LR: Aunt Fanny Gage – a very famous author of the era.
SW: Clara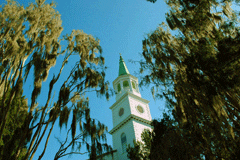 Barton [founder of the American Red Cross] was here. Jean Davenport Lander was in charge of the nurses in Beaufort. She was a renowned Shakespearean actress. Thomas Wentworth Higginson, leading Unitarian and intellectual and the guy who [kind of] discovered Emily Dickenson. Well, he didn't really "discover" her. He actually thought she was a little lame but told her to keep trying. So she did.
(Laughter)
And John has a whole cast of characters as well.
LR: You really have to be a specialist in the Civil War. You have to spend your whole career studying nothing but the Civil War in order to get it right.
When I wrote [The History of Beaufort County, South Carolina, Vol. I, 1514-1861] there was very little local record – almost none. The local records that existed from 1789 on had all been burned in the Civil War. So I had to immerse myself in the state record, glean the history of Beaufort County largely from the state records of the colonial period. And fortunately in the antebellum period there's a fair amount of secondary literature that I can rely on. But during the Civil War it's all federal records, the whole thing is this mass of federal government stuff. I didn't know anything about that. So that's when I grabbed Steve. He's memorized the federal record: twenty-two volumes of The Records of the War of the Rebellion. After the war there are a lot of records to be found and that's a delight – lots of detail. There's a very large colonial record in South Carolina. The South Carolina State Archives still has the largest collection of unpublished colonial records in the Untied States.
MS: Wow. I think from my own experience as a South Carolinian that the Colonial Period tends to suffer from the shadow of the Civil War. I don't recall spending too much time on it in school. And this state is just lousy with important colonial history.
LR: Turning points in history occurred here. The one I like to focus on down here is the Yemassee War, the most dangerous Indian war in colonial American history – the most casualties, the largest number of combatants [on the Yemassee side], and the greatest effect. The direct effect of that war was that the Spanish and French, who had dominated the American southeast at that time, were basically swept aside and the southeast was thereafter dominated by the English from South Carolina. That changed the course of the North American continent and changed the geo-politics of the United States.
MS: You have now convinced me that all American history springs from Beaufort County.
(Laughter)
LR: An awful lot of history was bubbling up from this little corner of South Carolina.
MS: So why Beaufort? Why such a saturation of such important stuff?
LR: You'll just have to come to the lectures.
(Laughter)
LR: A lot of it's geography and a lot of it is chance.
SW: Geography influenced everything. It attracted the people and then once they're here you've got the personalities –
LR: The politics and economics–
SW: And the cotton.
MS: It all begins to domino.
LR: Port Royal Sound is the key. It's the deepest natural harbor south of New York Harbor. And that's the dominant piece of salient geography in this part of the state. That's what influenced the Yankee invasion – excuse me – the Federal invasion.
(Laughs)
SW: You know, a lot of South Carolinians were in command of ships that attacked here.
MS: That's not well known.
LR: Beaufortonians were not just on one side.
SW: This city completely changes during the Civil War.
LR: It became a Yankee colony.
SW: These [historic] homes were totally rebuilt after the war into what you see today. Most of them didn't look like [they do now].
MS: That's a grand misconception that this is what Beaufort looked like during the Civil War.
SW: That's phosphate and railroad money that came in after the war.
LR: Reconstruction money. We had a very large and prosperous business in the phosphate mining industry here that provided good paying jobs for thousands of people. It generated a lot of m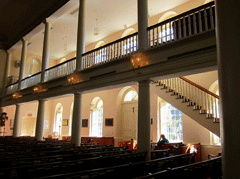 oney for the merchants. It brought in the maritime industry, brought in the railroad industry. It was very important for thirty years because it brought prosperity.
But most of these homes were very plain. Even [the very rich] plantation houses tended to be very plain and casual. And these [wealthy northerners] came down, used to urban mansions, and made [the houses] all Victorian. The Anchorage is the most famous example of that. It didn't look like that until Admiral Beardsley took it on and he made it look like a wedding cake. It was a plain federal style house the southerners built. Before the war they were all very plain – big houses, but not lusciously appointed in many cases. But I did discover that before the war the Beaufort district ordered more grand pianos than any district in South Carolina. So houses that might not have any shutters or even any windows had these very expensive accoutrements. So that's interesting.
MS: Everyone has priorities.
The Tricentennial Lecture Series continues January 22nd and 29th and concludes February 5th. Tickets are $10 per lecture while they last and are available through the Beaufort Perform Arts Box Office at 843-521-4145.
Get more online at www.lcweekly.com and visit the Backyard Tourist blog at http://thebackyardtourist.blogspot.com. Mark Shaffer's email is backyardtourist@gmail.com