By Lanier Laney
As strange as that title may sound, it's true. I found that out at my first camellia show in Charleston about 4 years ago. Camellia shows aren't a contact sport like football, but there's every bit as much intensity and passion that you find at a Clemson-Carolina game going on at a camellia show; just quietly. And the majority of the top winners are men or husband/wife teams.
The blossoms have to meet all sorts of strict American Camellia Society rules – were they grown out in the open or protected, treated or non-treated? – and categories are carefully delineated. There are five major camellia competitions in South Carolina and many more than that in Georgia and North Carolina, and I noticed that many of the winning names show up at different shows. This means that during the 'season' (October – February) these fierce competitors are traveling around, hitting the different shows and duking it out with one of nature's most fragile objects – a perfectly blooming camellia blossom. As one competitor told me, the blossom can hit its peak a day or two early or a day later than the show date and you are out of the competition. Many have massive gardens both outside and in greenhouses, and they have to know the blooming status of every single blossom they have daily. Apparently there are a number of tricks to arrive at that perfect show-winning bloom; they were hinted at by several of the competitors, but I could get none to reveal their secrets. There also was a bit of 'trash talk' by one of the guys about his fellow (winning) competitor, a suggestion that the winner had secretly and illegally used what I'm guessing is the camellia version of 'steroids.'
All three major camellia gardens in Beaufort County were started and maintained by men. Apparently, once the camellia growing bug bites, the men learn to hybridize and start creating their own camellias and often name them after their wives (or themselves). Beaufort County is the buckle of the 'Camellia Belt' – a narrow strip that stretches from Florida to the bottom of Virginia. The first camellias in America were allegedly planted at Middleton Plantation in Charleston in the 1700's. But this claim is refuted by next door rival camellia garden competitors Magnolia Plantation and Gardens who claim that the first camellias in America were actually grown in a doctor's yard downtown in Charleston's historic district, and then at Middleton Plantation second, and at the same time as Magnolia. Whoever was first, both plantations have wonderful ancient camellia collections and all sorts of special camellia walks and lectures during the next few months that are worth googling. One of the South's best camellia experts is Director of Gardens at Magnolia – Tom Johnson, also known as 'The Camellia Man.' You will see varieties there that just don't exist other places, because when new varieties are created, the majority don't go into commercial production. Tom Johnson
Savannah has been a hot bed of camellia growing and competitions since the earliest days, and two of its most legendary growers were 'tough guys.' Marvin Jernigan was a prison warden and camellia judge and creator of many beautiful varieties that we see in people's yards today. He was known for his extreme generosity and would give others dozens of cuttings off wonderful new plants he had created – so many off one plant that the original plant died and he had to get a cutting back off one of the plants a friend was growing from his original cutting. Marvin was in the habit of giving others pails filled with camellia seeds, enough to start an entire huge collection. He said he got into the habit of giving to others when as a young man, a camellia grower had generously given him eight plants to start his collection and it brought him such great joy in his life that he wanted to repeat the process with others. Marvin Jernigan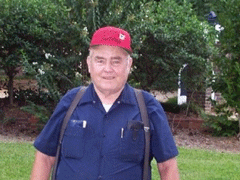 The other famous Savannah grower was a man by the name of Judge Arthur Solomon. When he got the camellia bug in the early part of this century, he wanted to find varieties that were not grown here to cross breed with his plants to create new blossoms, so he went to France and bought 200 rare plants and had them dug up and put on the Queen Mary, along with the roots still in French soil. It was illegal to bring French soil through customs into America, so a few days out, he and some other men went down to the cold unheated hold and hand washed all the dirt off the roots and repacked them in damp Spanish moss. Then muddy and wet he would slog back to his stateroom. It's said that, on one of these slogs past the swank passengers, his embarrassed wife pretended she didn't know him when he waved to her. Only 40 out of the 200 plants survived the trip, but they were enough to contribute greatly to camellia breeding programs that came out of Savannah and spread all over the South. The Judge as County Commissioner went on to change the whole look of Savannah by building greenhouses on county land that would furnish camellias, azaleas, and oak trees for all the parks, squares and roadsides in Savannah and the whole county. If you visit Savannah today and wonder why it's so much lusher with plants than Beaufort, it's primarily due to the efforts of this one man.
If you would like to visit a camellia show yourself, there's one coming up this Saturday in Charleston at the Citadel Mall, sponsored by the Coastal Carolina Camellia Society. The big Savannah show is on Saturday and Sunday, Feb. 6 & 7, at the Oglethorpe Mall, sponsored by the Savannah Camellia Club.
The American Camellia society lists all the camellia competitions in the southeast, in case you'd like to pick favorite competitors and follow them around like Nascar. It's a whole fascinating world of competition that once or twice a year the rest of us get a peek at.
For more info go to www.camelliaweb.org
Judge Solomon