THE LOWDOWN
What: Junsei Japanese Cuisine
Where: Beaufort Town Center next to K-Mart
Why: Full Japanese menu featuring "unique sauces, dazzling sushi and delicious hibachi.
Alcohol: Beer, Wine & Sake (ask about the $9.99 draft beer special)Hours: Monday – Friday 11:30 – 9:00, Saturday 12 – 9, closed Sunday
Phone: 843-379-5525
Do: Sit at the sushi bar, order a house special sake cocktail (Sake Sangria!) and let David and Lee personalize your experience. Highly recommended for the sushi novice.
We're fools whether we dance or not, so we might as well dance. – Japanese proverb
If there is truth in a name, the people of Junsei have set a lofty standard indeed. The word translates to "pure, genuine and perfect," three things we True Believers seek in our sushi. Co-owner and Sushi Chef, David Flynn, says the Junsei approach also comes with a twist. "It's a little more Americanized," he explains. "Our sushi bar is really popular and we do all the traditional Japanese fare, but we also have some rolls for people who may not be into eating sushi. We do one with filet mignon." In other words this ain't Mr. Miyagi's sushi bar. "No, not really."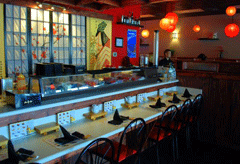 Flynn and partner, Lee Tsui, practically grew up behind the sushi bar of Savannah's venerable Masato – a restaurant they now own. When presented with the opportunity to create Junsei, they were determined to put their own culinary spin on an otherwise rigid, traditional discipline by taking aim at the American palette. "I get a little nervous when I make sushi for Japanese customers," Flynn admits. "But I always get compliments on the sushi being exactly what was expected. So I can emulate the traditional style and work in my own style, as well."
That sense of pushing the style boundaries literally works from the ground up at Junsei. Flynn traveled to Las Vegas where names like Nobu, Okada, Roku and RA are practically considered temples to the sushi gods – really hip and trendy sushi gods. He took notes and boiled that down to a sort of funky feng shui (the big red lanterns come from RA) that hits all three "C's" – comfy, casual and cool. And while Junsei may borrow a little style from The Strip, patrons won't see it in the bill. That's where Junsei bucks the trend. They've kept the overhead low partly by keeping the hibachi in the kitchen, where customers can watch their meals prepared through a wall of windows. Prices run from reasonable to a downright steal with most of the menu hovering in the $6 to $7 range and lunch prices are the rule from open to close. "What you pay for lunch is what you pay for dinner," says David.
With the sudden boom in sushi bars and Japanese restaurants in the Lowcountry, it's good to know what's in a name.