Local Oak is State's 2013 Heritage Tree
Story and Photos by Mark Shaffer
"Trees are nature's ultimate recorders of what goes on in the environment. Trees can talk. I just try and interpret what they say."
The speaker is Dr. Henri Grissino-Mayer, one of the world's foremost experts in deciphering the language of tree rings, or Dendrochronology. Grissino-Mayer heads the University of Tennessee's Laboratory of Tree Ring Science and he is to Dendrochronology what Indiana Jones is to Archeology, minus the bullwhip and fedora.
  It's late spring, 2010 and Mclean Hall at the Technical College of the Lowcountry is packed with a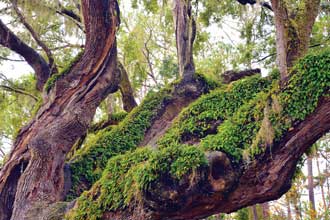 rapt audience of professional arborists, foresters and tree lovers of all types. This is the Beaufort Three Century Project's highly anticipated Tree Symposium and it will go down as one of the organization's crowning achievements leading up to Beaufort's Tercentennial the following year. This is one result of a countywide call for projects by B3C Executive Director, Deborah Johnson. Master Arborist and then owner of Preservation Tree Care, Michael Murphy, undertook an exhaustive search for the oldest tree in Beaufort. The idea was to find trees older than the town, trees that would have born witness to those centuries.
  Flash forward to December 10, 2013. A group of state and local dignitaries brave a stormy day to gather at the end of a lane leading into what was once the Cherry Hill Plantation. It is appropriately named Oak View Drive. At road's end is a marsh side meadow dominated by a grand old towering oak. A huge portion of its massive trunk is missing, the result of a lightning strike several decades ago. Beaufort City Councilman, Mike McFee, points to the scars still visible in the wood.
  "That took out about two thirds of the canopy," he says.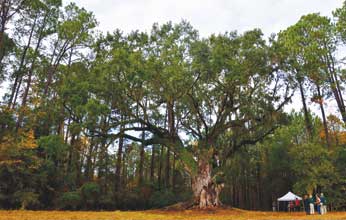 I try and imagine the enormity of the tree's spread at the time. The canopy is still impressive, but…
  Mike points in a sweeping motion to a pine thicket and the rest of the pasture.
  "Those pines weren't there back then. The canopy created a mammoth coverage over most of this area. It was enormous."
  McFee grew up on the property. His aunt and uncle lived in a house on the edge of the marsh. His father and stepmother still reside next door.
  "We had a tree house up there."
  "How high?"
  He grins. "Pretty high. It's such a magnificent tree, but it was even more magnificent when we were kids."
  Today Michael Murphy is retired, but his passion for this project has brought the 2013 Heritage Tree Award to this secluded corner of Port Royal. He knew the tree was pretty special, but the damaged trunk made it hard to see just how special at the time.
  "We measured the trunk and found out it was bigger in diameter than the Angel Oak in Charleston,"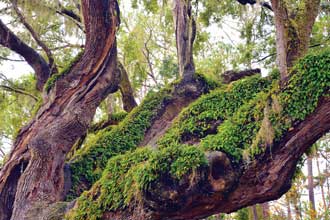 says Murphy. "We just sort of stood back in awe. The first limb we measured was bigger than some of the smaller trees we measured for the survey."
  That limb is 60 inches in diameter. The tree itself measures 30 feet 1 inch in circumference and even with the loss of so much mass the spread is still 114 feet across. Murphy estimates it is between 350 and 400 years old.
  TreeSC presents the Heritage Tree Award each year. Executive Director Karen Hauck first learned of the Cherry Hill Oak from Murphy while attending the B3C tree symposium. I first saw the tree during a symposium tour led by Michael Murphy. There were a lot of impressive trees that day, but I clearly recall the slack-jawed wonder this regal oak inspired. I still have the photos.
  "I think Mike McFee put it best when he said that this tree is a testament to what Beaufort and Port Royal have gone through and seen these last three centuries," says Hauck. "We say 'if only trees could talk.' Well, I think if this one could talk it would have a lot of interesting stories to share."
  One of those stories – the grave of Mary Pope – lies at the base of its trunk. Said to be a former slave who loved to read in the shade of the canopy, her final resting place is marked by a carved and cracked marble slab.
  For both Murphy and Jo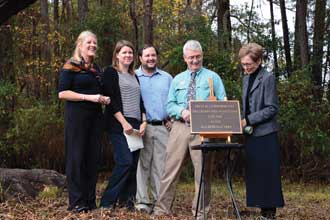 hnson the Heritage Tree Award is something of a bittersweet reminder that B3C continues to pay dividends long after its end.
  "It was a great project to be on," says Murphy. "To think of it as finite is a bit sad, but knowing that it lives on through things like this is pretty great."
  "There are so many of those B3C projects that people still talk about," says Deborah Johnson, "Legacy was a big word in B3C and this is a living legacy. The fact that it's been recognized three years later is certainly something we're proud of."
  As the ceremony comes to a close we are each handed a single tiny acorn. I am reminded of a Ralph Waldo Emerson quote: "The creation of a thousand forests is in one acorn."
Get more info online at www.treessc.org
Mark Shaffer's email is backyardtourist@gmail.com