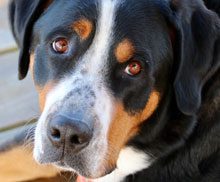 Therapy dogs have been sidelined by the pandemic. And just like humans, they miss their jobs!
 By Mindy Lucas
Tosh misses her work. So do Jasper and Maggie.
In fact, some days they lie about moping, either in their favorite chair or curled up with a warm blanket. Perhaps they're thinking about the good old days when they had an office to go to and someone friendly to lick.
Yes, you read that right, and we're talking about therapy dogs. What did you think we were talking about?
As it turns out humans aren't the only ones that have been sidelined by the pandemic.
As Russ and Sandy Dimke with the Beaufort Chapter of Therapy Dogs International (TDI) said recently, these amazing animals have been affected too, and they miss their work.
"We miss it too," said Russ Dimke, who serves as the organization's director.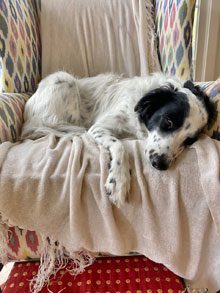 With more than 30 members in their chapter, TDI handlers and their dogs are used to visiting assisted living centers, rehab facilities, hospitals and other healthcare facilities around the Lowcountry. 
They also offer such programs as Tail Waggin' Tutor, an innovative reading program in elementary schools, and provide stress relief to students at USC Beaufort and Technical College of the Lowcountry during midterms and final exams.
But since March, those visits and programs have dried up.
"Within a week it all changed," he said, recounting what it was like when Covid-19 began to spread across the country, shutting down hospitals and other healthcare facilities to visitors.
And it isn't just the dogs that miss those visits. The residents in these living facilities miss them as well.
"Many had dogs earlier in their lives," said Russ Dimke. "And so if they had a Golden Retriever at one time, they want to pet the Golden Retriever in the group because it reminds them of their dog."
TDI also works with Alzheimer's and dementia patients.
For these patients, sometimes all it takes is the feel of dog fur to elicit a good feeling or memory. It's a tactile experience, but a powerful one, explain the Dimkes.
While the dogs love the attention as well, like any working dog they can be very serious about their work and know how to work a room.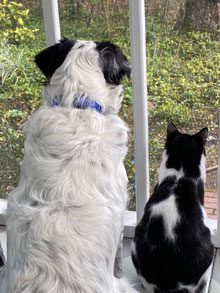 On one such visit where residents were sitting in a large circle, the Dimke's previous dog, Dixie, went from person to person as if giving each personalized attention.
"She would go to the first person and then in a counterclockwise fashion would go to each person to be petted," said Sandy Dimke, laughing.
The Dimkes lost their beloved Dixie to cancer over a year ago, but have since introduced a new dog to the household. An English Setter/ Border Collie mix, Tosh gets excited the minute she dons her bandana, which signals it's time to go to work.
"A lot of the members will tell you, the dogs are geared in on doing this and excited to go out," Russ Dimke said.
"They know they're going to get lots of petting," added Sandy.
Rebecca Bass, a tester/observer with Alliance of Therapy Dogs, another area organization that works with therapy dogs, agreed.
"Just like their human counterparts, dogs appreciate positive attention and recognition when they are performing their job," she said.
Having trained and worked with therapy dogs for nearly 40 years, Bass says all dogs really need a job, even if it's something designed to keep them busy or to provide physical activity.
"A tired dog is a good dog," she said.
For therapy dogs, getting lots of love and attention – and maybe even a treat or two – just happens to come with the job. And who wouldn't miss that?
Bass and her three Doberman Pinschers, Elke, Mousse and Ocho, along with other members of Alliance of Therapy Dogs also visit assisted living facilities in the area, participate in reading programs in schools and special events. 
With many hospitals and healthcare facilities still closed to visitors, the challenge has been to keep the dogs active and social and their skills sharp.
In addition to increasing their exercise, Bass takes her dogs to retail stores where "well behaved dogs are welcomed" and creates other simulated social experiences where they can meet and interact with people.
"They don't forget how to do it and they get that charge when they do," she said.
The Dimkes said members also miss interacting with other members.
"It's a social outlet for us too," said Sandy, adding that members would often meet up for lunch outdoors where their dogs could also gather. The lunch dates would wind up being a sort of advertisement for the work TDI does.
"When people would see us out they would say, 'What a bunch of well trained, good dogs,'" Russ said, laughing.
Both organizations have hosted social-distancing events such as drive-by parades with dogs in vehicles or other events where residents can wave at and see the dogs from a distance, but it's not the same handlers say.
"There's not much we can do until this thing subsides," Russ said. "It's up to the facilities or their corporate
policy for when they feel it's safe (to return). And we want them to be safe."
Over the summer, the Dimkes mailed a postcard to area healthcare facilities featuring a collage of TDI's dogs. It was a way to let residents and patients know they miss them and have not forgotten about them.
"When you do a lot of work with these retirement homes, you really feel how isolated some of the people are," said Russ. "They get to know us and we get to know them, these wonderful people; some of them are sharp as a tack at 90 years old. So they get something out of it, and we get something out of it too."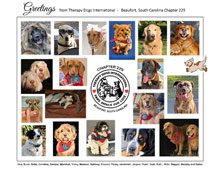 In the meantime, both Bass and the Dimkes say they are looking forward to a time when hospitals, schools and facilities can accept visitors again. 
"As soon as they green light us we'll be back," Bass said.
Undoubtedly it will be with tails wagging.
Think Your Dog Could Be a Therapy Dog?
If your dog has a good temperament, loves people, tolerates petting, and is obedience-trained, you may have a good candidate for a therapy dog. 
The Beaufort Chapter of TDI offers a free clinic so that dog owners can get a feel for what is involved with testing and certification.
For more information on Therapy Dogs International – Beaufort Chapter, email Russ Dimke at dimke@hargray.com. For more information on Alliance of Therapy Dogs, email Rebecca Bass at muttleycrew2008@gmail.com.
From top:
Maggie misses her work
Tosh moping
Tosh & Molly must shelter in place
Greta & Elke bringing cheer to Parris Island
Therapy Dog Parade at Sprenger by Alliance of Therapy Dogs Teams
Elke sharing joy at local fire station
TDI collage