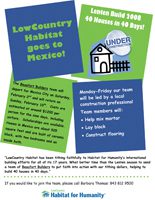 Shopping at the ReStore
Editor's Note: This summer, Lowcountry Habitat for Humanity's ReStore will celebrate 10 years in operation as the Beaufort area's 'store that builds houses." Lowcountry Habitat, the northern Beaufort County affiliate of Habitat for Humanity International, was founded here in 1990.
The local ReStore started officially in 2004. To celebrate this 10th anniversary, the ReStore will hold an "Upcycled Art Auction" Saturday, August 23, at the Shed, 809 Paris Avenue in Port Royal. This is the site of the ReStore's former location. As a run-up to that event, Lowcountry Weekly will feature four articles (one per month) about different aspects of the ReStore. This third article is about the shoppers who come to the ReStore, purchase all manner of donated items and contribute a stream of profit that is channeled toward building houses.
Every Thursday morning at the Lowcountry Habitat ReStore, tension builds toward the store's 10 am first opening of the week. ReStore staff and volunteers have arrived well before 9:30, are inside busily getting ready-doing last minute arranging and pricing of merchandise.
Out in the parking lot, cars of shoppers begin arriving at the store between 9:30 and 9:45. A line of people forms in front of the door at 612 Parris Island Gateway. On a recent sunny and mild morning, about 30 shoppers stood in front, anticipating opening of the door. It was a festive atmosphere. Thursday morning opening is when many items newly donated earlier in the week, are first put on sale. Shoppers come with a sense of adventure and discovery. "You never know what you are going to find," several say.
Many of these shoppers come here at this time every week; they get to know each other and the workers inside the store. These regulars swap jokes and stories about recent noteworthy purchases they have made. At 10:01 am, the ReStore's front door opens and the crowd of shoppers politely work their way inside, spreading out to their various areas of interest around the interior. One volunteer cracks, "We always try to open the door on time, or someone might get irate."
Two minutes later, a purchase is made- A small plastic bucket with handle, sells for 50 cents.
"This might be your big sale of the day," the buyer jokes with the volunteer working the cash register. A few minutes later, a ceiling fan is sold for considerably more than the first item. A little later, a stainless steel refrigerator is sold and wheeled out the door with some assistance.
Shortly after, a shopper approaches with a decorator lamp, along with a stack of four books. The volunteer at the cash register explains that, "If you buy five books, you get one free." The shopper goes back to the book department and soon returns with two additional volumes, making five she pays for and the "freebie," plus the lamp of course.
Another shopper, Stanley White, appears to be a connoisseur of older jazz music, as he carries some 60's vinyl records that appeal to him. "I started coming to the ReStore soon after it first opened; it must have been nine or ten years ago," he said.
White views his ReStore visits (he also goes to other secondhand stores) as part hobby, part recycling duty and part opportunity to make a little money reselling some of the things he buys. He also feels his purchases here help Habitat for Humanity with the mission of building homes. Helping the community is important. He also volunteers as an instructor with the Red Cross.
He remembers growing up in Baltimore, taking his little wagon around the neighborhood to collect metal, bottles, newspapers, etc. He would sell these to scrap dealers to "get a few pennies" for spending money. At 18, he joined the Marines and after 27 years in the Corps, retired to the Beaufort area.
As a ReStore shopper, he particularly looks for books about the military, African and Gullah history and art, as well as those music albums. Sometimes he resells these things, and sometimes he keeps them if they are particularly attractive to him. "I can't live off the selling I do, but this is a passion," White states. He rarely misses a week of shopping here.
Sandy Somerall is another shopper who comes almost every week. "It's mostly about the hunt, finding just the right thing," she says. Sometimes she comes looking for something specific, "but usually just to look. I try to be here before it opens. That's the way to find the best things. Sometimes I see something and say I'll get it later, but then it might be gone. It's best to buy those things the first time."
Annie Rivers, from Gardens Corners, is another shopper on a first name basis with the volunteers and staff. She says she comes to the ReStore every Thursday, often every Friday and Saturday too. "I love to shop here. I've furnished my living room, bedroom and kitchen from the ReStore." In addition to furnishing her own home, she also is on the lookout for furniture and appliances for family and neighbors. "I have furnished so many people's houses here. I'm always picking up things for my friends."
Elaine Anderson of Beaufort is one of several local owners of rental property who purchase furnishings for their rentals at the ReStore. "I'm in here a lot. I've furnished a lot of places for my business and for myself and for others here. Sometimes I see something good and buy it, then hold onto it to use later when the occasion arises. I'm about saving money and finding things I can't get other places."
John Payne, who moved here from near Rock Hill about a year ago, is a veteran shopper of "a lot of ReStores. It's so much fun. I have more stuff from here! Recently, my wife told me I can't go to the ReStore anymore. I knew what point she was trying to make. But we have truly furnished our house at the ReStore, and our son's too. You have to have some adventure in you and not be afraid to fail. Sometimes I find amazing items here, really well-made furniture and furnishings and such, in very good condition." He was carefully studying an attractive table lamp as he said this, then took it to the checkout and made his purchase.
Flora Owens, a retired interior designer who used to have an antique store on Bay Street, visits the ReStore often. "It's about the adventure of shopping. It's very exciting because you never know what you'll find here. I've been coming since they opened down on Paris Avenue in Port Royal. I come almost every week. I used to buy pieces here for my store. Now I love "re-purposing" things. Part of reason to come is building knowledge. I also love visiting with the staff and volunteers," she related.
John Winner, engaged in a struggle with an old, dark-colored, good-sized wooden box as the sale was rung up at checkout, said "Let me show you why I come here." He pointed out that the 6-panel piece had been hand-made and hand-painted with a detailed but faded floral design. Turning it upside down, he showed the large signature of someone and the date, "1861." He ventured that the box had not come to Beaufort with the Union Army during the Civil War, but had been brought much later by recent migrations from the North. His purpose in buying it was to ship it out of town to an auction for markup and resale. He felt he had gotten a very good deal.
A couple of related couples from Ontario, Canada browsed the store for a long while. Bob and Jan Haw, carrying her toy white Maltese Tuffy, said "We come here every Thursday, sometimes also on Friday and Saturday." Dick and Donna Haw said, "We come down here for six months each year." Dick noted they had furnished two homes almost completely from this store. For years they have been coming regularly- buying, upgrading, donating items back and recycling.
Mary Legree, from Lady's Island, said she's been coming here for the past seven or eight years. "The number one reason I come is, I find the items are reasonably priced and good quality, used but good quality. In today's market, that's difficult to find. This place fills the bill. My house is outfitted with things I've gotten from the ReStore. It's a non-profit, so there's no sales tax. It's a win-win situation," she said.
Caroline Hogan, from Virginia, who rents a place in the area, said "I do enjoy shopping; I love coming here. Look at this fondue pot. Look at this candle- I'm going to take it!"
Eddie Johnson concisely summarized, "It's nice to shop here. You can get good things for reasonable prices."
A volunteer points out, "Things calm down after the first hour." That is when the shopping does settle into a slower pace– steady sales still are being made, but the store is less busy. It feels more like the small-town retail establishment that it is, all in a very good way! The checkout inside the ReStore is never anywhere as large as the crowd outside before the store first opens in the morning. However, there are times that shoppers have to form a short line at the cash register, while sales are completed one at a time in cash, or for purchases more than $10, plastic cards may be used.
The atmosphere remains comfortable– customers chat, joke and gossip with each other and the person doing checkout. So many people say it– it seems almost like a family setting. Many do tell each other, "We'll see you next week." These happy bargain hunters also seem to take an extra measure of enjoyment knowing that while they are shopping for good deals, their purchases are helping pay for the construction of a home for a needy, deserving local family, and the shoppers therefore are making that family connection as well.