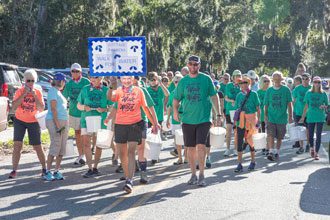 Beaufort Walk for Water attracted over 660 walkers to Port Royal on Saturday, September 21. The annual Walk is a family-friendly community event that promotes awareness of the global water crisis while raising funds to provide safe, sustainable water around the world.
All the proceeds, this year estimated at $65,000, benefit Water Mission, a Charleston-based nonprofit Christian engineering organization that builds safe water solutions in developing countries and disaster areas.
Some 660 walkers gathered at Live Oaks park Saturday morning before 9 am. Coffee was served, and the community was entertained with live music during registration. 
Kevin Herr of Water Mission International demonstrated how a typical water filtration system is used, and the impact clean and safe water has in the 55 countries Water Mission is active in. 
Robert Lasher of the Beaufort Walk committee, explained the urgency of helping; a person dies every 37 seconds from water-related illnesses, while $25 could provide that person safe water for life. 
Most walkers signed up for a team. The 47 teams taking part in the walk represented businesses, neighborhoods, churches, and other interest groups, and friendly rivalry took place between teams. (See top picture.)

This family-friendly event attracted walkers and their pets of all ages and stages, and the weather made for a very pleasant walk and a chance to catch up with friends along the route. 
Local high school students helped and cheered on walkers along the route, providing encouragement and helpful water-related facts to motivate the three-mile walk through Port Royal.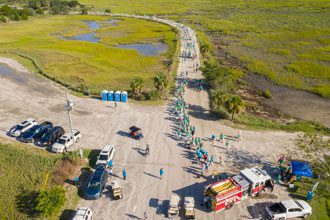 Empty buckets in hand, walkers made their way to Sands Beach, where the Port Royal Fire Department filled up their buckets for the remaining walk back to Live Oaks Park. 

Filling up the bucket at roughly the half-way point was to symbolize the trek millions of women and children make every day to fetch water for their family's needs; Water that is often dirty, and makes them sick.