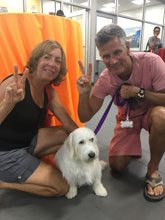 Peacock Subaru to host 4th Annual "SubieStock" to support Palmetto Animal League
The cool cats (and dogs) of Palmetto Animal League are ready to share the love at SubieStock 2019 on Thursday, October 17 at 5:30 p.m. at Peacock Subaru. This 4thannual concert event, supporting PAL's rescue programs, has become known for fantastic food, beverages, groovy door prizes and, of course, live music, which will be provided by rock band Cranford Hollow this year. 
Adoption fees are waived during Subiestock thanks to a generous grant from the ASPCA. Adoptable pets will mingle with concert goers throughout the evening in hopes of finding their forever home.  
"As a Palmetto Animal League Partner in Rescue, Peacock Subaru embraces our compassionate, no kill mission," said PAL President Amy Campanini. "SubieStock is far more than just a great time. This event gives community members the power to save animals' lives by adopting, donating, or simply by spreading the word that homeless pets are lives worth saving!"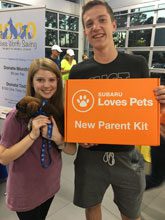 The first 100 people to arrive at SubieStock with a pet supply or monetary donation for PAL will receive a free tie-dyed T-shirt. The party is "BYOD" (Bring Your Own Dog) as Peacock Subaru is a dog-friendly dealership. 
"Subaru Loves Pets is more than a motto," explains Jill Jauch, advertising and marketing manager at Peacock Automotive, which owns Peacock Subaru. "Helping homeless animals is something all of us at Peacock Subaru care about, as many of us have rescue pets of our own. We love meeting all of the dogs that our guests bring and watching them fall in love with the adoptable dogs, too."  
Attendees may RSVP to for a free ticket at https://subiestock2019.eventbrite.com.
For those who can't make the concert, PAL is also waiving adoption fees October 17, starting at noon, during their annual SubieStock Pre-Party at the PAL Adoption Center located in Okatie's River Walk Business Park.
Palmetto Animal League is a private, non-profit, no kill animal rescue organization that believes every animal deserves a second chance at life. PAL's no kill adoption center serves as a temporary residence for approximately 200 dogs and cats while they wait to find a loving home. Learn more about Palmetto Animal League and the No Kill Movement at www.PalmettoAnimalLeague.org.