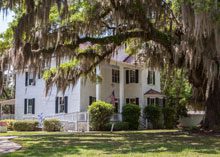 A living history program with battles, infantry and period demonstrations, local authors, Gullah historian Aunt Pearlie Sue and a traveling exhibit of a life-size replica of the CSS H.L. Hunley Submarine will take place on the grounds of Frampton Plantation House and Visitors' Center in Yemassee, SC, January 21 & January 22. The program runs from 10 am to 5 pm both days and admission is free.
About Frampton Plantation House: This property in Point South was a King's Grant to the Frampton family in the 1700s and site of John Edward Frampton's successful cotton plantation named "The Hill." A South Carolina State Senator and signer of the state's Ordinance of Secession, Frampton's home was destroyed by Sherman's troops in 1865 and he rebuilt a modest farmhouse in 1868. Hilton Head developer Charles Fraser bought the property in 1970 and used it as a point of sale center for the Sea Pines Resort until 1974. Vacant and neglected over the next several years, "The Frampton House" was donated to the Lowcountry Tourism Commission in 1993. After extensive renovations, the Commission now has office space upstairs and the downstairs serves as the Frampton Plantation Visitors Center. For more information about the SC Lowcountry & Resort Islands Tourism Commission or the Frampton Plantation House, contact Peach Morrison at (843) 717-3090 or e-mail peach@southcarolinalowcountry.com.

About the CSS H.L. Hunley Traveling Exhibit:
The CSS H.L. Hunley, the first submarine in history to successfully sink an enemy warship.
During the American Civil War, Confederate inventor Horace Lawson Hunley converted a steam boiler into a submarine in Mobile, Alabama. After proving to be an effective new weapon that could be used to break the Union blockade, it was moved by rail to Charleston, South Carolina, in August of 1863. Unfortunately, the submarine sank twice during trials, costing the lives of two crews, including the inventor himself. Raised and renamed the H.L. Hunley, it became the first successful combat submarine in world history by sinking the Federal steam sloop, USS Housatonic, at the entrance to Charleston Harbor on February 17, 1864. After the successful attack, the Hunley disappeared and her fate remained unknown for 131 years.

In 1995, the wreck of the Hunley was found four miles off Sullivan's Island, South Carolina. It is in memory of H.L. Hunley and all those who served their country that this traveling exhibit was created and available for all generations to see and know the true valor and courage of those who fought for their beliefs and freedom from tyranny. www.hlhunley.org.

Pocotaligo Living History: On October 21, 1862, a Union Force of 4,200 men under the command of General John M. Brannan sailed up the Broad River from Hilton Head Island and Beaufort and then marched on the village of Pocotaligo. Warned by Confederate pickets of this attempt to destroy the Charleston to Savannah Railroad and hinder a major supply line, Colonel W.S. Walker of Georgia telegraphed General Beauregard in Charleston. "I am holding & intend to hold my position at Old Pocotaligo," read his urgent telegram. "Hurry up the reinforcements for God's sake."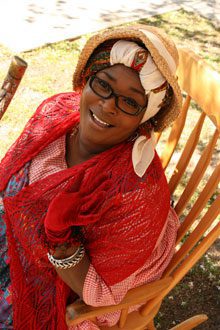 Thanks in large part to a series of earthwork trenches General Robert E. Lee ordered dug during his time in the Lowcountry, a Confederate force of fewer than 450 men, including eight Confederate artillery pieces, two cavalry companies, three companies of the 11th South Carolina Volunteers and the First South Carolina Sharpshooters, managed to stall the Federal advance. Today, a portion of these earthworks are still visible behind the Frampton Plantation House.

Special Appearance: Aunt Pearlie Sue
Hear about Gullah traditions, history and culture from Lowcountry Legend Aunt Pearlie Sue.