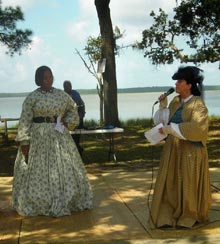 The Lands End Woodland, Inc. of St. Helena Island, SC will celebrate the 8th Annual Lands End Woodland River Festival on Labor Day weekend, August 31-September 1.  The festival is a multi-cultural community celebration of the Gullah ancestry and history of the people of St. Helena Island through music, storytelling, historical presentations, crafts, art, and food.
 This year will feature the new "Water Walkers" fun ride–imagine running or walking in a hamster-like giant plastic bubble filled with air, but you stay dry in the middle of a giant wading pool.
The River Festival has become an annual favorite for residents and visitors from Beaufort, Hilton Head, Columbia, Charleston, and Savannah looking to enjoy cultural festivities over the long holiday weekend.  On Friday, August 31st, beginning at 5:00 p.m., a good old  fashion  fish fry will include fried fish dinners and music on the riverbanks.  On Saturday, September 1st, from 11:00 a.m. to 5:00 p.m., center stage performances by choirs, dancers, musicians, storytellers, and re-enactors will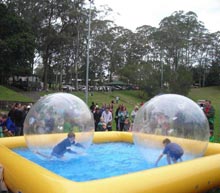 entertain visitors on the site of the historic Riverside Plantation. This year will be the first time that PJ's Jump-n-Climb Company will set-up a giant water pool for a fun ride for adults and children called Water Walkers, letting anyone walk or run on water inside a large plastic air-filled bubble without getting wet.  There will also be fun for the entire family to enjoy Civil War and historical exhibits, environmental/educational demonstrations,  local art, crafts, food vendors, and a tour and lecture at historic Fort Fremont (2:00 p.m.) on Lands End.
The Lands End Woodland, Inc. is a non-profit organization seeking funds to conserve the ecologic and historic natural treasures handed down by their forefathers.  The tabby ruins on the former Riverside Plantation are listed on the National Register of Historic Places as one of the oldest tabby sites in the state. Lectures and historical exhibits will be open throughout the day.  The Woodland also offers access to the public to use the land for fishing, hunting, bird watching, dolphin watching, hiking, camping, and private parties on the beach.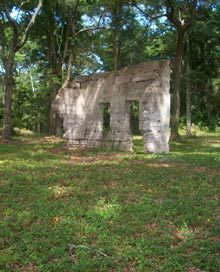 Environmentalist and philanthropist Ted Turner once donated a disputed parcel of land to the Lands End Woodland organization, during which he affirmed that he has "a special regard for the Gullah people as the heirs and protectors of one of the oldest living cultural traditions in the nation—one much older than the United States itself.  He understands that this bond of community cannot be preserved unless people stay together, and they cannot stay together unless they have land where they can gather."
River Festival Admission is $3 for Adults; children (16 and under) free. Free parking.   The Woodland beachfront property is located on Lands End Road, six miles south of Penn Center on Martin Luther King, Jr. Drive on St. Helena Island.  For more information, please call (843) 263-5261 or email rbrowne@embarqmail.com; website: www.landsendwoodland.org.