Puppy Plunge is back at the YMCA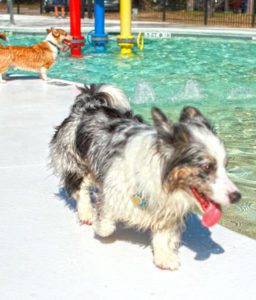 Well-behaved canines of all breeds and sizes are welcome to attend the YMCA Puppy Plunge beginning October 22, 2022 at the Y outdoor pool (1801 Richmond Ave., Port Royal) from 9 am – 11am.
The cost is $10 per DOG and all proceeds benefit the Y's Learn to Swim program, which teaches local youth and adults to swim at a reduced cost or for free.
"Since the outdoor pool will be closed to humans, it's time to let the dogs out! says Perri Flaherty, YMCA Aquatics Director. "We're looking forward to having as many pups as possible splashing, swimming and playing in our safe outdoor pool area. Of course, we're also hoping to raise as much money as possible to supplement swim lessons, so everyone bring your pups to the Y!"
Additional dates for the Puppy Plunge are November 19 and December 17, 2022 and January 28, February 25, and March 25, 2023. Owners will be required to sign a waiver before entering the enclosed, exterior pool area (use the side entrance gate), must be present with their pups at all times, and humans are not permitted to swim in the Puppy Plunge. We ask that pets be up-to-date on all vaccinations.  This event is weather dependent so check the YMCA social media (Facebook & Twitter) or call the Y front desk (843-522-9622) the morning of the Puppy Plunge to check any status update.