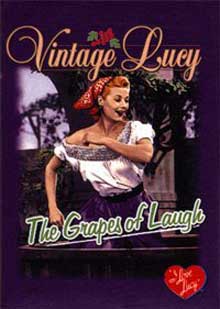 Local civic organizations are invited to compete in Grape Stomping & I Love Lucy Look-Alike contests for their favorite charity.
The 2013 Hilton Head Island Wine & Food Festival, presented by The Westin Hilton Head Island Resort & Spa is gearing up for the 28th Annual event which will be held March 4 – 9, 2013. One of the pre-Festival events taking place in January is "Uncork" the Festival on Saturday, January 26, 2013 from 6 – 8 p.m.
All Festival sponsor partners and local civic clubs are invited to assemble a team of two people for the Grape Stomping Competition. Each team must be comprised of at least one "I Love Lucy" look-alike member. The team that produces the most grape juice wins money to be donated to their favorite charity: 1st Prize of $300, 2nd prize of $200 and 3rd prize of $100. There will also be a bonus $100 cash prize awarded to the team with the most people's choice votes for the best "I Love Lucy" look-alike. Interested teams should contact Jan Gourley to register, Jan@hiltonheadwineandfood.com or please call 843-812-5802.
Uncork the Festival will be held at The Beach House by Holiday Inn on Hilton Head Island. It is fashioned after another popular wine special event founded by the Wall Street Journal, Tastings wine columnists called Open That Bottle Night. Most of us have a bottle of wine hidden away or specific vintage that we're saving for a special occasion – but it never seems to come. Uncork is the perfect venue to share that bottle with some old friends, and make some new friends that know and enjoy wine. There is limited ticket availability for the Uncork event and attendees are asked to bring their own special bottle(s) of wine to taste and share with friends and other attendees. In addition, an attendee will receive a souvenir glass, select vineyard wine tasting and delectable hors d'oeuvres. Tickets for Uncork the Festival are $35 and are available online.
The Hilton Head Island Wine & Food Festival International Wine Judging & Competition takes place on Saturday, January 26 and Sunday, January 27, 2013 at The Westin Hilton Head Island Resort & Spa. The judges, including a Master Sommelier will be on-hand at Uncork to discuss the fine art of palate cultivation and wine tasting. The weekend competition is closed to the public, so Uncork is the only opportunity to rub elbows with the judges. Additional information can be found online at,
www.hiltonheadwineandfood.com. The Hilton Head Island Wine & Food Festival in a non-profit 501-(c)3, with proceeds from its Silent Auctions benefiting educational opportunities for students in the Hospitality management programs of study at the University of South Carolina Beaufort and the Technical College of the Lowcountry through the John F. and Valerie Curry scholarship fund.