MARK SHAFFER gets to the root of Beaufort's sweetest landmark
Ideas should be clear and chocolate thick – Spanish proverb.
I'm sitting in Pat Green's office at The Chocolate Tree , Beaufort's homegrown answer to Godiva, wondering which piece of candy Dennis Hopper preferred out of the assortment Viggo Mortensen sent him. But we'll get to that later.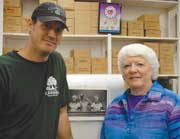 The subject at hand is, perhaps, the single most important day of the year for dozens and dozens of chocoholics all aver the Southeast: the Chocolate Tree's annual All You Can Eat Night.
Was that a pin I heard drop?
This is the 24th time that Green and company have marked the end of the summer season with their cacao-infused bacchanal. "We just make it like one last fling," she laughs. "Then who cares about the bikinis, right?"
Right.
Turns out the idea came from a customer who confided to Pat that one of her greatest fantasies was to be locked up in the Chocolate Tree at night and eat whatever she wanted. This is a fantasy that made a lot of money for Roald Dahl (see Charlie and the Chocolate Factory ). Even so, the first few years were disappointing, but eventually word spread and now the night features two "sessions."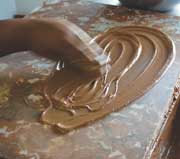 "So the store becomes a sort of giant chocolate buffet?"
"Exactly," she says. "But we'll also cook a peanut brittle or something so they can see it being done, then eat it warm right off the marble slab – which is kind of cool."
No argument here. In fact, as I later learn, just the aroma of her famous peanut brittle once shut down a movie set. We'll get to that, too.
The annual chocolate chow-down also gives the candy makers a chance to try out new products on a captive and enthusiastic focus group. "That's how we introduced our white chocolate popcorn," says Pat. "I was very skeptical, but you can't keep it [on the shelves]. The response was so phenomenal we went, we've got a good one here!"
Her son and Production Manager, Gene, is cooking up something special for this year's event. Details are kept tightly under wraps, as it were. "I could tell you, but I'd have to kill you," she laughs. This is a woman who likes to laugh, hence the bounty of Lucille Ball memorabilia everywhere. A shot from the famous "I Love Lucy" candy factory episode is taped, appropriately enough, to the side of the "enrober" – that similar sort of candy conveyer which wreaked such sweet havoc upon Lucy and Ethel.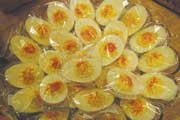 Pat Green and her family have been putting smiles on the faces of the chocolate-addicted for nearly three decades. The business grew out of a hobby, first opening its doors in 1980. "We started out with one little candy case on Port Republic Street in the office where [Congressman] Joe Wilson is. Then we built another case, and another, and another." The business quickly burst out of its Port Republic quarters and took root on Carteret, where it continues to flourish, attracting a devoted and – often famous – clientele.
The Return of the King
(and other celebrities)
"My favorite thing in the world is a box of fine European chocolates which is, for sure, better than sex." – Alicia Silverstone
Obviously Ms. Silverstone has never been to Beaufort, but plenty of other celebrities have and some keep coming back not for the laid back Lowcountry lifestyle, but for Pat Green's homemade, hand dipped confections.
Sally Field was a regular while shooting Forrest Gump . The film's signature line is a fitting welcome over the rear entrance to the shop, "life is like a box of chocolates – you never know what you're going to get." Pat laughs at the memory. "It was funny. I'd drive over to the house to deliver and I'd hear thump, thump, thump, thump – her child would be running down, they got to recognize the van."
Rob Morrow hit the shop each Friday for English toffee while filming Last Dance with Sharon Stone and loaded up on fresh chocolate covered strawberries for the cast and crew. Barbara Streisand often had sweets delivered to her leased home on the Old Point during the Prince of Tides shoot. There are no eccentric spoiled diva stories here. "She was sweet to us. We were sweet to her," says Pat. I sense a certain respect. "She's a perfectionist, you know? What she produces is good quality. You can't fault her." The same could be said of Pat Green.
And about that previously mentioned Viggo Mortensen purchase?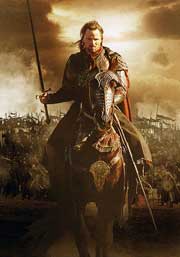 "Viggo has been in many times," says Pat. This is obviously a point of pride. "In fact he sent candy to Dennis Hopper."
Hopper? Okay, I'll bite. "What did he send?"
"I've got the order form right here," she takes a split second to consult the paper, "a three pound general assortment."
I get a sudden vision of Hopper, poolside at the Chateau Marmont , hunched over a crumpled mound of empty wrappers, pawing Nicholson away from the box. "Keep your damn hands off my Tiger Paws, Jack."
Cool.
And what of Aragorn's royal sweet tooth?
"He took a two pound box of dark chocolate with him," she says.
So the Lord of the White City likes the dark stuff, eh? And this is not an isolated incident. It seems that Viggo, like legions of others, has a Chocolate Tree monkey on his back.
"He'll come in if he's traveling on I-95 and bring his family," she chuckles. "We got 'em, baby!"
I may be going out on a limb here, but I'm guessing that – commerce aside – Pat and the other Chocolate Tree ladies don't mind the occasional visit from a hunky leading man.
And the peanut brittle story?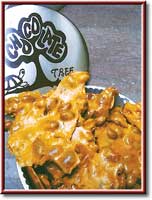 Pat: "They were filming White Squall and they were using Budget Print (across Carteret) for a bus station – they pulled in and out, in and out – and they had blocked off the street. (No business.) So we decided to get even. We cooked up some brittle, got that smell out there and closed down the set with peanut brittle…actors, crew. Everybody was in here."
The Next Generation(s)
I could give up chocolate, but I'm not a quitter – Anonymous
It's not hard to see – and taste – just why the Chocolate Tree's such a phenomenal success. No shortcuts are taken. Every piece of candy is hand made the old fashioned way with only the best ingredients: fine chocolate, real cream, fresh butter and – most important – passion.
"You can't buy reputability," explains Gene Green, "everything that goes into the candies, everything's made from scratch. We even make our own marshmallows and jellies right on premises."
His mother – who fired him twice during high school ("we had to develop the work ethic") – is proud that he's taken up the torch.
"I've created a monster," she confesses.
"The staff under me really appreciates that."
"That I fired you?"
"Twice," he deadpans.
After eleven years in Aiken, Gene's happy to be back in Beaufort with a family of his own. "It's nice to have an artistic outlet and you get instant gratification because you make something that such a wide spectrum of people appreciate. I mean we've got babies and 95 year old women who are both just ecstatic when they walk in and get that smell and take a bite. You can see it in their faces."
Perhaps he's looking forward to firing his own daughter one day?
"I'll fire her twice," he says with a grin. "I've got no problem with that."
Candy Land
"People say 'what's made the business successful?'" muses Pat. "Obviously it's the quality of the [product], but the community has taken ownership. When they have guests, it's 'come visit our candy shop.' It's not Pat Green's candy shop, it's our candy shop. And these people come in and love it and then they call and say 'I want more.' It's the pebble-in-the-pond effect. God bless 'em."
Next April Pat Green marks her 29th year in the candy business. She takes more time off than she used to. "I'm trying to take one or two days during the week," she says a little wistfully, "then the next year it'll be another one, and the next year another until I just disappear." She laughs again. "I don't want to leave cold turkey. That might be too much."
To celebrate that 29th year Pat and Gene will host a gathering of Retail Confectioners International in Savannah and Beaufort. A past president of the RCI, Pat always looks forward to the creative exchange with her colleagues from around the world.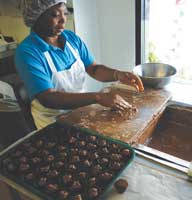 The hallway to the rear entrance is filled with professional awards and culinary ribbons, collages of clippings and autographed photos. Tom Berringer writes "you're making a fortune off of my girls." As I stand there vaguely hoping Viggo and Hopper might drop by, two small girls dart past their mother and into the shop money in hand. "They know what they want," She explains. Apparently so. That old axiom about a kid in a candy store comes to mind, but doesn't quite stick. They are totally focused, in and out in five minutes flat, clutching their bags of sweets, the next generation to claim ownership of the Chocolate Tree.
The Chocolate Tree is located as 507 Carteret St. in Beaufort, South Carolina. The 24th Annual All You Can Eat Night takes place Friday, August 22nd. Tickets are $12 each. For more information call 843-524-7980. www.thechocolatetree.us.