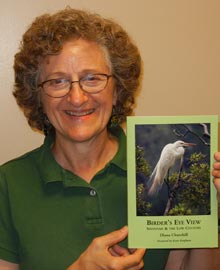 Diana Churchill will be presenting "Spring Migration – What to Watch and How to Find It" at the March 8 meeting of the Hilton Head Island Audubon Society at Honey Horn in the Sea Island Room at 3:00 pm. The meeting is open to the public and is without charge. Diana Churchill has a passion for birds. She loves watching them, photographing them, and reading about them. Diana especially loves sharing her passion with others. Whether working at Wild Birds Unlimited, leading field trips, or writing articles, Diana's enthusiasm for birds is contagious. Since 2001, Diana has been writing a twice-monthly column, "Birder's Eye View," for the
Savannah Morning News.
Now Diana has assembled 53 of these articles into a book.
Birder's Eye View: Savannah & the Low Country
includes an overview to each season followed by four articles per month. Articles feature particular bird families that visit the Lowcountry during a given season, showcase celebrity birds, or provide information about seasonal bird events, such as nesting or migration. The book is illustrated with nearly 500 color photographs, almost all taken by Diana herself. Written with both the casual bird watcher and the dedicated enthusiast in mind,
Birder's Eye View
offers guidance for turning your yard into a welcoming bird habitat, as well as a detailed list of thirty-four of the Lowcountry's top bird watching locations, ranging from Charleston, South Carolina down to Cumberland Island, Georgia.
Diana Churchill grew up in Savannah and developed an early love of the beaches, marsh, tidal creeks, and birds of the Lowcountry. She attended Eckerd College in St. Petersburg, Florida where she majored in Spanish. She took one formal class in ornithology and spent a month riding around the state of Florida watching birds. After graduating from the Boulder School of Massage Therapy, Diana moved to Massachusetts where she had a private massage practice for 17 years. There, she joined the Brookline Bird Club and got seriously hooked on birds – particularly the spring migration of songbirds. She got her bird education in the field, attending walks led by expert birders.