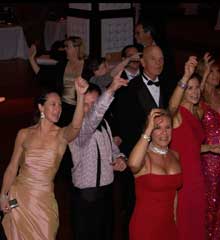 As social affairs go, Beaufort Memorial Hospital Foundation's winter fundraiser promises to be a ball. Some 50 elegant dinner parties have been planned all over town in some of the area's finest homes.
And that's just the warm-up for the main event—a black tie gala with live music, dancing and decadent desserts.
The much-talked about Valentine Ball takes place Feb. 9 at Parris Island's historic Lyceum. As many as 500 people are expected to attend the soiree—the Foundation's biggest annual fundraiser.
What sets the Valentine Ball apart from other charity functions is the pre-ball dinners. Guests who make their reservations by Jan. 14 will receive an invitation to one of the private parties hosted by area residents.
"Everybody brings out their finest china and goblets," said Becky Trask, who helped organize the first Valentine Ball and has hosted countless dinner parties over the years. "You try to make it really special with good food, an elegant place setting and beautiful decorations."
About 9 p.m., the dinner parties break up and attendees head over to the gala where they are treated to a grand selection of desserts and dancing to the music of Charleston's 17 South, an eight-piece ensemble playing everything from Motown to swing to shag.
The festivities also will include a silent auction featuring unique items up for bid, among the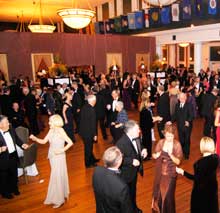 m accommodations in an English countryside flat and an oyster roast or barbecue on the banks of Lucy Creek hosted by BMH President and CEO Rick Toomey and his wife Dr. Linda Hawes.
Proceeds from this year's event will help pay for the expansion and relocation of LifeFit Wellness Services, the hospital's medically supervised fitness and wellness center.
Along with individual and group exercise, nutrition advice and personal counseling, LifeFit offers free health-related lectures, cancer education and support groups, smoking cessation programs, parenting classes and health fairs.
One of its most popular services is the LifeFit Mobile Wellness Unit, which travels throughout Beaufort and Jasper counties offering free or low cost health screenings to area residents.
Since its inception in 1990, the Valentine Ball has raised more than $3.7 million to expand and enhance services at Beaufort Memorial Hospital. The money has been used to upgrade technology throughout the hospital and expand and improve facilities and services in a wide range of areas from the cardiac cath lab and pediatric rehabilitation to the hospital's new Pratt Emergency Center.
"The hospital is a very worthy cause," said Mary Lee Grove, who is co-chairing this year's fundraiser with her husband George and BMH President Rick Toomey and Dr. Linda Hawes. "We've seen what the Foundation has done with the money. Beaufort Memorial continues to grow and improve."
Tickets to the Valentine Ball start at $150 per person and include several levels of contributions. You do not need to receive an invitation to purchase a ticket. Reservations can be made online at www.valentineball.org or by calling (843) 522-5774.