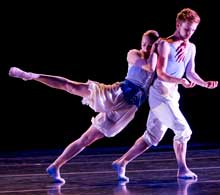 Bringing its unique sizzle to the stage, the contemporary dance company, Hubbard Street 2 (HS2), based in Chicago, IL, will be performing at the Arts Center for one night only, at 8pm, January 18th. Celebrating 15 years this season, HS2 was founded by Julie Nakaawa Bottcher and is now led by Taryn Kaschock Russell. HS2 was recently acclaimed by the Julliard Journal Online as "….a tremendous show of virtuosity, beauty and intimacy."
HS2's dancers tour to critical acclaim around the world, and with the upcoming performance at the Arts Center, visitors and Lowcountry residents will get to experience the radiating passion, athleticism and energy of Chicago's world-renowned contemporary dance company. The Los Angeles Times described their style as "a near perfect storm of movement, music and choreography."
"Even those who aren't usually dance-performance patrons will be enthralled by this athletic and entertaining show, which blends jazz, ballet and contemporary dance styles," stated Arts Center Vice President of Marketing Andrea Gannon. "It's a performance everyone will love."
Prior to the one-night only, January 18th performance – from January 15th to 18th – the Arts Center has teamed up with the Island School Council of the Arts to bring the Hubbard Street 2 Dance Company's teaching artist, Jessica Hudson, directly into three area schools to work with the students. These outreach programs bring students into the world of dance, and even into the creative arena of the arts as a whole.
HS2 has been honored to perform at many prestigious venues including the John F. Kennedy Center for the Performing Arts, New York's Joyce SoHo and North Carolina School of the Arts.
The dazzling Hubbard Street 2 performance is being sponsored by Dorothy A. and Frederick K. Beard, and is funded in part by a grant from South Arts in partnership with the National Endowment for the Arts and South Carolina Arts Commission.
Tickets are available now for $55 by visiting www.artshhi.com or by calling the box office, 843-842-ARTS or toll free at 888-860-2787.