Vacation Rentals by Owner is the way to go….
If I were ever going to be a backyard tourist, I'd choose Charleston as my destination any day. Yes, I am partial to the Holy City. It is my birthplace and the town that raised me. But most southerners would agree that it is truly one of the most magical cities in the country. And it's only an hour and a half away!
When I go home to visit my parents and friends, I usually stay in Mount Pleasant. Sure Mt. P is fun and entertaining, but it doesn't hold a candle to the distinct charm of cobblestones, earthquake bolts and cathedrals across the Cooper River. So this piece was especially fun to do, because I traveled over the Ravenel Bridge into the heart and soul of downtown Charleston to explore options of vacation rentals for the summer traveler. I could write a list a mile long about all the fun things to do in Charleston, but you already know how to have fun. The question is, do you know where to stay?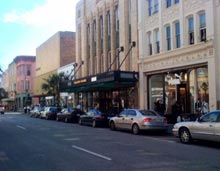 My new favorite alternative to hotels and bed and breakfasts are homes leased short term on VRBO (Vacation Rental by Owner). If you haven't gone to this website yet and are traveling this summer, you need to do so now. It is the best ticket for choosing the right place for you and your family. It's easy, affordable and can be tailored to fit your needs. Need to accommodate 8? Need handicap accessibility? Need proximity to restaurants and shopping? Whatever your desires, you can find it pretty easily on VRBO.
My friend Trey and I stayed in a couple VRBO's in early March in different parts of downtown Charleston and had two experiences far removed from each other. And each was thoroughly enjoyable.
First, we stayed at 194 Rutledge Avenue. This 2-bedroom cottage was perfect for a girls' getaway, a young family and especially tourists without a car. Personally, I thought it was the ideal rental for the romantic retreat. We arrived to a nice bottle of white wine, toured the space with the owner and made ourselves at home within a matter of minutes.
The decor was chic and Charleston themed. Modern conveniences coupled with comfortable design made this cottage unique. And the proximity to Hominy Grill, Fuel and Lana made our stay even more fun!
The following are two reviews on VRBO about this cottage: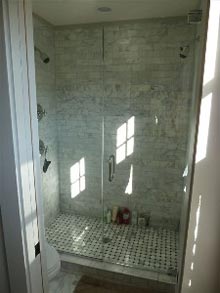 –         Many times when you rent a property it doesn't quite match the pictures you viewed and the information you saw on-line. This is not the case with this rental. It exceeded our expectations in every way. It is a well-appointed, clean, comfortable rental in a great location of Charleston. Three very good restaurants are just steps away and downtown Charleston is only blocks further. Don't miss going to the Fuel restaurant across the street and get the fresh Ahi Tuna Tacos … unbelievable!
–        We loved the cottage! It was perfect for us. We loved the off-street parking and the newly refurbished and well-maintained house. It is nicely decorated and comfortable for four. It is a short drive to downtown and is quiet at night. We enjoyed Hominy Grill (on the corner up from the cottage) with an award-winning chef/owner. The chocolate pudding was great. We also enjoyed Magnolia's and 82 Queen downtown. Thanks for a great weekend. We would definitely stay there again!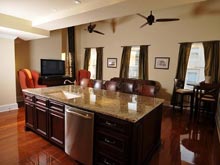 Next, we stayed at the Society House on King Street. Girls, planning a shopping getaway soon? This is the place to stay for certain! Right outside your front door, on King Street, within steps are fantastic retail stores like the NEW Louis Vuitton store, Gucci, Saks Fifth Avenue, Williams and Sonoma, J Crew, Starbucks, New Juicy Couture, Banana Republic, Lacoste, multiple Antique stores, specialty boutiques and, of course, Bob Ellis. Market Street and The Charleston Place Hotel are just down the street as well.
The location is key, no doubt about it, but this condo is luxurious!
Completely renovated with all new construction inside, it boasts hardwood flooring throughout, an elegant kitchen appointed with GE Stainless and Monogram appliances, beautiful custom handmade cabinetry and Granite counter tops. With a convenient and secure entrance from King Street, this quiet and spacious condo is all about the details.
We spent a wonderful evening dining at Hall's Chophouse and strolled King the following day. This is what another guest had to say about the Society House:
–      Thank you. Thank you. Thank you. We just returned home from an incredible girl's weekend in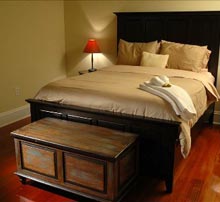 Charleston . This unit was the perfect choice for our stay. The unit was impeccably clean and the condo was elegant yet comfortable. Talk about location! WOW! We spent our days shopping and dining with everything at our doorstep. We ate at Chai's, Basil, FIG, Magnolia's and had bottomless Mimosas at Virginia 's! (S.N.O.B is still our favorite)! Everything was in walking distance. The condo was even better than the pictures. We have stayed in many Charleston hotels, but these condominiums far surpass any of those. We will never stay in Charleston again unless it is here! Thank you again for making our moms' weekend truly special.
VRBO's are truly the way to go this summer. They are in cities all over the country, so finding your home shouldn't be hard. And, you can type in your price range from the get-go to weed out the unaffordable options. Privacy is the best attribute of a VRBO. It's a home away from home; and, whether you're staying for a week or a night, VRBO will have the right spot for you. Go to www.vrbo.com to begin your search. You'll be thankful!