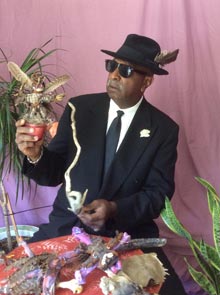 In the shadows of moss-draped live oaks, down winding sea island roads and in hidden village enclaves the stories are told in whispers and have become the stuff of legend. But to those who have lived here for generations it's no secret: "that old black magic" is alive and well in the Lowcountry. Now, thanks to an imaginative and exciting new exhibit at the Beaufort History Museum (BHM), all the tricks of the trade will be on display for locals and visitors alike to peruse and enjoy.
             The Hoodoo Exhibit, presented by the Beaufort History Museum and sponsored by The Beaufort Gazette and The Island Packet, is an imaginative creation by Bluffton artists Bernice and Andy Tate.  Titled "Doctuh Buzzard's Hoodoo Awakening," the exhibit will run October 1 – 31 in the special exhibit hall at The Museum, which is located in The Arsenal at 713 Craven Street. Admission tickets, available at the Visitors Center on the first floor, are $5 per person, $4 for seniors, free for children and active duty military.
            Festivities are planned on October 1 to launch the Hoodoo Exhibit. An Opening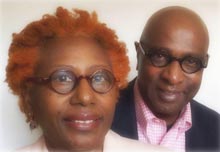 Party featuring music and refreshments will be held at 5:30 pm in the Arsenal courtyard.  Rumor has it that "Doctuh" Buzzard himself (a.k.a. Andy Tate) will make a live appearance. Many Hoodoo items including Hoodoo Dolls, Chicken Foot Charms and a large array of Blue Root Elixir Bottles will be available for purchase. Tickets for the party are on sale on the Museum's website at www.beauforthistorymuseum.com. Prices are $5 for members and $10 for the general public.
            Brought by slaves from West Africa to South Carolina's plantations, Hoodoo is a blending of Christianity, herb medicine and the supernatural, making for spellbinding stories of Boo Hags, Conjure Women and Root Doctors, who believe that they can use unseen forces of nature to manipulate people and objects throughout the world.  Fascinating artifacts and displays will bring the Hoodoo mystique to life and illuminate its profound influence in the everyday life and culture among the descendants of slaves in the Lowcountry.
           The Beaufort History Museum has evolved to focus specifically on the deep and rich history of the Beaufort District, which originally included Jasper County as well. It strives to manage and display artifacts and documents held by the City of Beaufort, telling the compelling stories of this area from the early 16th Century until modern times. Through community engagement, children's programs, educational opportunities and social events, the Museum provides many services to visitors and local residents. The next series of Docent Training classes will be announced soon. To contact the Museum: call 843.379.3079, direct email to info@beaufortschistorymuseum.com or visit www.beauforthistorymuseum.com.