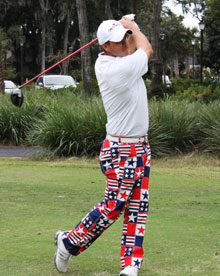 Dataw Island salutes veterans each year with a full arsenal of events honoring their service, and his year's events did not disappoint. In fact, the community rallied to hold record-breaking events this year. At time of press, an astounding $42,802.60 to support veteran's organizations had already been raised with more checks continuing to pour in – a record for this tiny private community near Beaufort.
            "When I first returned to the island right after Hurricane Matthew and saw trees criss-crossing the roadways, my heart just sank as I thought 'Man, I hope this doesn't ruin our ability to hold our Veteran's events this year," said Dataw Island's Assistant Golf Professional, Chris Fearn.
            And it did not. Thankfully, the community pooled its resources for an amazing recovery. Neighbors helped neighbors, and every staff member, family members of staff, friends, and residents who were able helped in one way or another in the storm clean-up and recovery, getting the island and its golf courses back in shape in time to honor our nation's heroes.
            The week-long Veterans Celebration kicked off Sunday with the "Flag Brigade," a group of Dataw Island volunteers who painstakingly placed 3,500 flags along 2.5 miles of roadways on the island to usher in our honored guests.
            Fearn's annual Military Charity Golf Marathon teed off at 4:30 am on Monday morning and did not end until after dark. Fearn played a mind-boggling 191 holes in this one-day fundraiser, which was based on per-hole pledges with bonuses for birdies and eagles. The first year, Fearn raised $13,500 for the On-Course Foundation; last year he raised $19,000 for the Green Beret Foundation, and this year the donation will be made to the Salute Military Golf Foundation and has already grown to $28,418.60.
            Monday also saw the arrival of many of our special honorees who arrived early to support Fearn and get in a few practice swings of their own. Guests included wounded veterans from the Salute Military Golf Foundation, On Course Foundation, and founder of the ParaLong Drive Competition, Dean Jarvis who took the opening drive the following morning at the Purple Heart Golf Classic. Jarvis said "This is a tremendous opportunity connect with these golfers and let them know that the ParaLong Drive event is available to them." He hopes to see it as a Paralympic event in coming years.
            The Eleventh Annual March and Rally started the morning off on Tuesday, and included the Dataw Choir singing beautiful renditions of each military branch's anthem and other patriotic songs. A march of 100+ veterans concluded with a color guard presenting the flag to be raised by Nicholas Thom, this year's Guest of Honor.
            Following competition, a luncheon to celebrate the service and sacrifice of many men and women included a special presentation to Thom, who served in the Charlie Company 1st Battalion, 2nd Marines, 2; he was gifted a Quilt of Valor, crafted by Dataw Island Quilters. The quilt was handmade "to cover service members and veterans touched by war with comforting and healing Quilts of Valor," says quilter Marcia Driscoll.
            A very special tree was also on display. To the untrained eye, it may first appear to be just a patriotic-themes Christmas decoration. Luncheon attendees learned Tuesday that the tree is decorated with precious memorabilia of veterans, some living and others who have gone before us. Dataw member Linda Scarfe is the keeper of the tree, and she accepts additions to this eternal flame of sorts.
            A breakfast MC'd by Jack Cummings on Thursday again honored veteran's and included a speaker from the British Armed Forces who is training with the Marine Corps at the F-35B pilot training facility at MCAS.
            The highlight of the morning was the naming of the Veteran of the Year, Charles "Bo" Tobin. Tobin has been an integral part of the veterans' events on Dataw for many years.
            Dataw Island Director of Golf, Dave Britton, is proud of his members and staff, saying "The support that the entire Dataw community has given the Veteran's Golf Classic and all the veteran's organizations over the years has been unbelievable."
            Many Dataw residents are veterans, and many are golfers – but these events are supported by so many people who are neither veterans or golfers, or even members; they are citizens who appreciate and honor the sacrifices made by our service people.
            Britton adds, "It is a great honor to be involved as part of a community that has such a great heart for supporting our military."