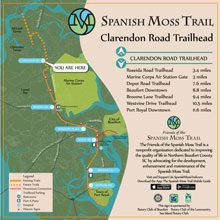 The Friends of the Spanish Moss Trail (FSMT) are pleased to announce that the Spanish Moss Trail – between Poppy Hill Road and the Clarendon Road Trailhead – is now fully paved in concrete allowing for an uninterrupted 20.4 mile round-trip experience for all to enjoy. 
This long-awaited section of the Trail remained unpaved for three years while the Marine Corps Air Station (MCAS) and Clarendon Plantation came to an agreement to allow the Trail to be completed in this area. Their agreement was finalized in late August and concrete was poured over the last several days.
"The owners of Clarendon have been very generous to our community allowing the Spanish Moss Trail to run through their property for the enjoyment of the more than 40,000 people who are using the Trail each year," said Dean Moss, Executive Director of the Friends of the Spanish Moss Trail. "This newly paved section has been an important priority for the Friends as we know there has been strong public demand for its completion."
With an estimated 40,000 people enjoying the Spanish Moss Trail each year, this rails-to-trail greenway is now one of the recreational centerpieces for Northern Beaufort County. With a current 20-mile round trip experience for residents and visitors, the Trail offers a 12-foot wide, paved path dedicated to pedestrians and bicyclists. The continued success of the Spanish Moss Trail is made possible through the FSMT with a network of sustainable partnerships, local government participation, and the generous funding from community-minded individuals. To support the efforts of the Friends of the Spanish Moss Trail, tax-deductible checks can be made payable to: Friends of the Spanish Moss Trail (P.O. Box 401, Beaufort, SC 29901) or online at www.SpanishMossTrail.com. For more information on the work of the FSMT and easy navigation to the Trail, people can download the free Mobile App, The Spanish Moss Trail Guide (available on Apple Store and Google Play).