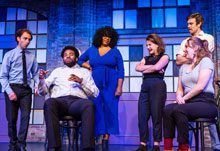 Get ready to laugh as USCB Center for the Arts hosts the famous SECOND CITY comedy tour with their Greatest Hits, Vol 59! One night only – Friday, November 15 at 7:30pm.
The Second City opened its doors in Chicago as a small cabaret theater nearly 60 years ago and has since become the world's premier name in improv-based sketch comedy and education.
Second City alumni includes some of the world's most famous comedians including: Alan Arkin, Dan Aykroyd, John Belushi, Steve Carell, John Candy, Stephen Colbert, Chris Farley, Tina Fey, Bill Murray, Mike Myers, Gilda Radner, Joan Rivers and Martin Short … just to name a few!
There's a reason the biggest names in laughter all catapulted their careers at The Second City… t's been the funniest place on the planet since '59! Come witness the next generation of comedy superstars put their spin on the legendary comedy company's greatest hits, re-booted and re-imagined for today. From sketch comedy to original songs to world-famous improv, The Second City will leave you rolling in the aisles! 
Laughter is the best medicine… and on Friday, November 15 at 7:30 pm, the doctor is in!
Adult tickets $35, Senior/Military $30, Students $15, available at www.uscbcenterforhtearts.com or at the Box Office located at 801 Carteret St. in Beaufort.