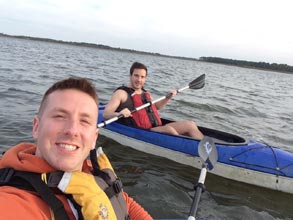 Maybe it starts in our bones and muscles. Aging, that is, complete with all those pesky aches and pains. A nice upside of getting older centers on contemplating one's boatload of wonderful experiences and milestones in this world, about which a person can be forever grateful.
(Jack Walter Sparacino and Greg Koulisis)
A quick check in life's funhouse-style rearview mirror reveals barrels of sparkling events and people, cheerful e-mails, birthday cakes and cards, newspaper headlines, breathtaking sunsets, bickering seagulls, scads of opportunities made and missed. A grand mix of reality and our perceptions of such.
Jane and I just passed a tug-at-your-heart milestone. Our son Jack Walter came down here on vacation, joined by his friend from college days Greg Koulisis. We met Jack on his birthday, a sunshiny fountain of happiness ushered in at Stamford Hospital in Connecticut, June 1985. Fittingly, the weather sparkled. He's come a long way since then, fortunately for us all. He inherited two grandparents' ice-blue eyes, Jane's creativity, and my intellectual skepticism and flat feet. Working at the Dana Farber Cancer Institute in Boston, he helps patients schedule their treatment and coordinates with doctors and staff who help them through trying, often terrifying times.
Greg, our honorary stepson (complete with paperwork), drove down here with us the day I retired from Sikorsky Aircraft. He's as close to a brother as our son might have, although they're able to get together only occasionally. Greg is a throwback to the "greatest generation." As a US Navy corpsman, he set his sights on learning medicine, hoping to work his way up to physician's assistant and then, if the wind remains at his back, a Navy physician. Works for me.
These two fellows didn't just visit the Lowcountry this time, they devoured it. We had a delicious lunch on a spectacular day at the Back Porch Grill in Port Royal, enjoying unbeatable fried oysters and cold drinks. They went to Saltus River Grill for a superb dinner one night and enjoyed chatting with Chef Brian. They ate enough wonderful fried chicken, potato salad and warm biscuits from Hardee's and Publix to nearly qualify them as honorary southerners. The two of them also went for long bike rides, paddled our kayaks up the Morgan River, explored Hunting Island, and launched a side trip to Savannah where they took in every possible sight and sound. How lovely to be at their special age.
About that torch. I couldn't just watch them in action, I had to participate at least once. That opportunity arose when the weather and tide aligned for an exquisite trip to my favorite clamming beds at Coffin Point. Usually the team leader of sorts, I needed their help just getting up the beach. My arthritic feet had a tough time on the uneven surfaces, so Jack and Greg grabbed my arm as needed to help me stay on course. Jack has a longer perspective on my physical capabilities, and I suspect that he had the nagging sensation that even resilient dads eventually wear down and need a guiding hand. This was reinforced recently at Publix when one of the employees saw me struggling to get from my car to the entrance and volunteered to fetch an electric cart. Thanks, folks, you're just what the doctor ordered.
More help ensued after Jack and Greg returned from Savannah. They had borrowed my old Audi and put gas in it but noticed how dirty it had gotten. Next thing I knew, they hauled out cleaning supplies and a Shop-Vac and detailed that car. Besting my frequent need to count everything, they pulled a pop quiz on me after they finished, asking which item they cleaned out the most of. My answer was loose change but the correct response was actually water bottle caps. Apparently they were paying more attention than I usually did to the interior of that wonderful old car. I also got some feedback on how many seconds it took to get from zero to sixty, the brakes, and handling.
What about technology, you may ask. Didn't you used to work for United Technologies? Well, yes but quite frankly it never penetrated my soul and low tech often works fine for me. Jack and Greg put on a fine photography show, having taken dozens of photos on their cell phones and then assembling a nifty presentation, complete with a cheerful soundtrack, Randy Newman's wonderful "You've Got A Friend in Me." I may have misted up a little during that. (Maybe it's time to see "Toy Story.") They also proved to me once and for all that iPhones have taken over the world, setting off a revolution like nothing perhaps since America declared its independence in 1776, as seemingly impossible an act as that was to follow.
Speaking of revolutions, David McCullough's Pulitzer Prize winning "John Adams" (2001, Simon & Schuster) casts a wide net over not only our country's bloody journey toward independence from Great Britain but also the essence of uncertainty in the face of change. Adams kept an astonishingly detailed and perceptive journal when he wasn't working or exchanging endless letters with his spectacular better half, Abigail. Speaking (he presumed) to himself during the first Continental Congress, he wrote: "I wander alone, and ponder. I muse, I mope, I ruminate. We are deficient in genius, education, in travel, fortune—in everything. I feel unalterable anxiety." He evidently took absolutely nothing for granted.
Adams had an extraordinarily brilliant and valiant son, John Quincy, to whom he all but passed the torch of freedom when the lad was just ten years old on a treacherous voyage from New England to France in February, 1778. Clear to Adams, military assistance from the French meant the difference between victory and defeat against the British. Adams' bond with his standout son was clear from the start. John Q was a gem in his own right but benefited enormously from his special position under dad's broad wing.
Over two centuries later, comedian extraordinaire Billy Crystal, in his autobiographical show "700 Sundays," works hilariously through the layers of gratitude to his hard working and loving parents in the 1950's. Whatever Billy's inherent gifts, it's obvious that both of his parents gave everything they had toward ensuring his successful start in life. That torch, again passed.
A bright and amusing fellow in his own right, my friend Jim wrote to me recently about his son and daughter's continued progress. Handsome young Matthew Leahy has completed "nearly 3 years of his 5 year initial commitment with the USMC" while sparkling daughter Shannon will be graduating from the University of Kentucky Law School shortly, "having attained a number of awards and positions while there." I've enjoyed pictures of these two attractive children and tales of their growth over many years and they are indeed impressive, just glowing around their wonderful father.
So this business of passing the torch of responsibility goes back a very long time, probably to the very beginning. It feels like I've got plenty of company as I play my tiny role. Who could ask for anything more?