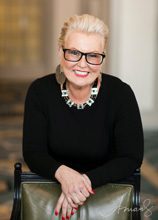 FWDG is now carrying a rug by Rizzy Home designed by Connie Post and Rizzy Home; 25% of the sales of this rug through November 30th will benefit The Breast Cancer Research Foundation. Connie Post is an award winning furniture retailer consultant; consulted on FWDG's recent renovations and through that partnership became friends with FWDG founder Larry Mark.
The mission of the Breast Cancer Research Foundation is to prevent and cure breast cancer by advancing the world's most promising research.
"Connie was diagnosed with breast cancer during our renovation," said Larry Mark, founder and President of FWDG. "We watched her fight with grace and determination – and win! These rugs represent her spirit and personality but also are an important tool to raise money for breast cancer research and treatment."
Made in India, the hand carved, looped wool rugs are available in 8×10 and 5×8 sizes and feature stunning pink peonies. The 8×10 rug retails at $849.99 and the 5×8 rug retails for $469.99. 
Connie Post describes what influenced her choice of flower for the rug's design. "The peony is
the perfect representation for the moment you hear you are cancer-free," she says. 
Post adds: "The rug is part of a collection I designed, part of a major project that kept me creatively focused during chemotherapy treatment for breast cancer. Working on this particular design brought me a sense of peace in a time of great uncertainty, and today, when I'm blessed to call myself a one-year survivor, I hope that it has the same effect on others."
Rugs! At FWDG is open 7 days a week. Visit and ask to see the Connie Post "Pink Peony Rug." 
About FWDG: Founded in 1972 by Larry Mark and his father Ernest, FWDG sells fine quality furniture, area rugs and mattresses throughout Beaufort County and beyond. The company remains family-owned and operated. www.FWDGonline.com.